The U.S. Dismal Middle East Policy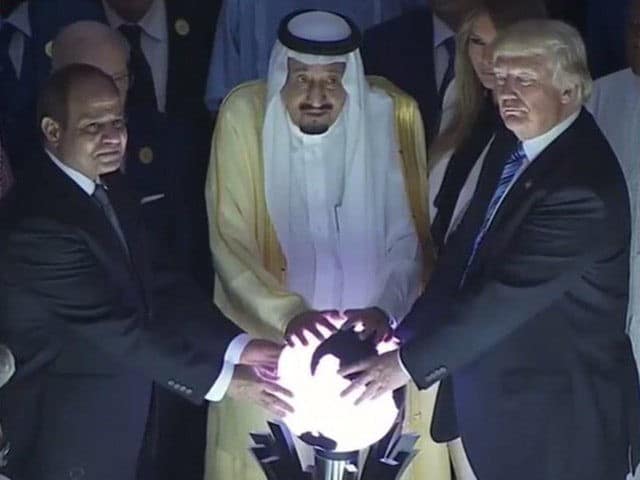 Egyptian President Abdel Fattah el-Sisi, Saudi King Salman al-Saud and President Donald Trump touching the glowing orb of wealth and knowledge in Riyadh, May 2017. (Photo: Rex/Shutterstock)
In 2016, then-candidate Donald Trump stated: "We will no longer surrender this country or its people to the false song of globalism." It, i.e., the policy of non-intervention, not only appealed to the average American who was tired of the U.S. constantly going to fight someone else's war, specifically in the Middle East, but it became a promise that if elected he would get the U.S. out of such entanglements. Unfortunately, as we have seen for the past three and a half years, the Trump administration has only deepened and extended America's fighting in the region, as in Afghanistan. And the only winners in this have been our pretentious allies, such as Saudi Arabia, Turkey, the United Arab Emirates and so on.

Last year, after he pulled U.S. troops from the buffer zone in Syria,  at the behest of the Turkish government, Trump stated: "Let someone else fight over this long-bloodstained sand…. [The U.S. needs] to get out of endless wars [carried out by the Bush (Jr.) and Obama administrations], to bring our soldiers back home, to not be policing agents all over the world." What the President did was transfer his military personnel unto another part of the country to seize Syrian oil fields, simultaneously allowing the Turks to crush the Kurdish fighters who fought alongside the Americans against ISIS.

As can be seen by his actions, as well as his circumventing Congress to continue the flow of weapons to war criminals in the Islamic world, Trump's complaint about "endless wars" tends to be more about, as what Daniel Larison, columnist with The American Conservative,  said: "[T]he U.S. [not] 'getting' anything tangible from them. [Trump] didn't see anything wrong in attacking other countries, but lamented that the U.S. didn't 'take' their resources [and that] he never called for an end to the wars that were still ongoing, but talked only about 'winning' them."

The U.S. government, in fact, has jettisoned the concept of human rights whenever it would suit it financially, as can be seen in its business affairs with international thugs, such as the $110 billion arms sale to Prince Mohammad bin Salman of Saudi Arabia and the $3.5 missiles deal with Turkish President Recep Tayyip Erdoğan. This policy that gives precedence to financial transactions was confirmed by then-Secretary of State Rex Tillerson in May 2017, during a speech to State Department employees when he argued that holding a firm line against human rights abuses  'creates obstacles' for advancing economic interests:

"Guiding all our foreign policy actions are our fundamental values—our values around freedom, human dignity, the way people are treated. If we condition too heavily that others must adopt this value that we've come to after a long history of our own, it really creates obstacles to our ability to advance our national security interests, our economic interests."

Trump has done well in pulling out of the Iran nuclear deal, especially after it was reported by the International Atomic Energy Agency that Iran been violating the deal all along by stockpiling enriched uranium to build a nuclear bomb. He also had the international terrorists ISIS leader Abu Bakr al-Baghdadi and Iranian General Qassem Soleimani killed, thereby protecting innocent civilians. At the same time, Trump has been ambiguous in pursuing Islamic jihadists when he invoked a 19th century isolationist view that America is protected from harm by oceans. Referring to ISIS militants, Trump mentioned: "They can't walk to our country. We have lots of water in between our country and them." Just maybe he fails to recall how al-Qaeda jihadists based in Afghanistan killed nearly 3,000 people in America on September 11, 2001. Or the 21-year-old Mohammed Saeed Alshamrani, a Saudi national who was training at Naval Air Station Pensacola, Florida. He opened fire inside a classroom on December 6, 2019, killing three and wounding eight others before being shot and killed.
In any case, as reported by the think tank the Quincy Institute for Responsible Statecraft, the U.S. has thus far spent $6.4 trillion on military operations designated as part of the war on terror. The single costliest instance of U.S. overreach in the region—the war in Iraq that began in 2003—incurred hundreds of thousands of Iraqi casualties, thousands of American casualties and trillions of dollars in expenditures, to say nothing of the political harm the invasion caused. This operation and its associated costs did not produce even remotely comparable benefits. The lauded military "surge" in Iraq in 2007–8 contributed to a short-term reduction in violence but failed to give Iraqi political factions space to make necessary accommodations for longer-term peace and stability. The negative longer-term consequences of the U.S.–led invasion include triggering an extended civil war, stimulating sectarian conflict inside and outside Iraq and producing the conditions for the emergence of ISIS.
The invasion of Iraq, under the pretension that former Iraqi dictator Saddam Hussein could threaten America with weapons of mass destruction—weapons he no longer possessed—demonstrates how U.S. foreign policy undermines its national security as well as stability across the region. The U.S. remains in Iraq in order to combat so-called radical Muslims and to keep a check on the Iranian regime, and yet developments since then indicate that appropriate lessons have not been learned—the problem in combatting jihadists will not be resolved militarily since the Islamic threat is not pyramidal.
The military intervention, with U.S. support and involvement, that led to the overthrow of Colonel Muammar Gaddafi in 2011 has left Libya in chaos. The continuing civil war has had a destabilizing effect beyond Libya's borders, including a notable increase in terrorist groups operating in the Sahel—the ecoclimatic and biogeographic zone of transition in Africa between the Sahara to the north and the Sudanian savanna to the south—and West and Central Africa. Furthermore, the involvement of Turkey and European governments in support of opposed Libyan factions has deepened rifts within the European Union and NATO. And let us not forget how U.S. backing for the Saudi-led five-year war in Yemen has resulted in the world's worst ongoing humanitarian catastrophe—a genocide of an entire population.
We cannot and should not, at the same time, pull all of our soldiers out of the region, keeping in mind that there are innocent civilians and U.S. interests to defend. Yet unconditional support for rogue countries like Egypt, Saudi Arabia and the UAE has to stop. It has not only tied the U.S. to governments that are notorious for their human rights violations but it has also undermined the Trump administration's claim that it is serious in wanting to get American troops out of the "endless wars."
__________________________________________________
Mario Alexis Portella is a priest of the Cathedral of Santa Maria del Fiore and Chancellor of the Archdiocese of Florence, Italy. He has a doctorate in canon law and civil law from the Pontifical Lateran University in Rome; he also holds a M. A. in Medieval History from Fordham University, as well as a B.A. in Government & Politics from St. John's University. He is also author of Islam: Religion of Peace – The Violation of Natural Rights and Western Cover-Up.