U.S. Weapon Commerce in the Islamic World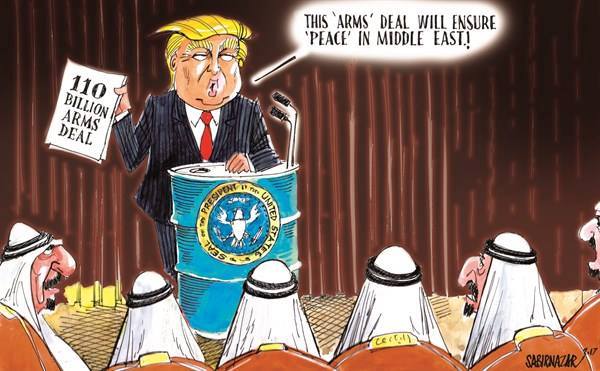 The Trump administration has escalated discussions to end a decades-old practice of notifying Congress of major arms sales to foreign countries, arguing that lawmakers are preventing the United States from ensuring peace and security in the Middle East.
The proposal comes amidst mounting frustration from White House officials over informal holds from lawmakers on arms sales to rogue countries, such as the Kingdom of Saudi Arabia and the United Arab Emirates—two pretentious U.S. allies in the Middle East. Both House Representatives and Senators from both parties have tried to block weapons sales to these countries over concerns about human rights issues and the prospect of civilian casualties, particularly with the Saudi-led coalition's war against Iran-backed rebels in Yemen.
What the Saudis and Emiratis Have Done With U.S. Weapons
The Western-backed Saudi coalition waging this asymmetrical continues to deliberately target civilian infrastructure—with U.S. artillery, they arbitrarily attack homes, farms, factories, schools, buses, gas stations, government buildings, water treatment facilities, and anything else imaginable. In fact, over the past three-plus years, Saudi airstrikes have produced over 35,000 civilian casualties: over 13,000 killed and over 21,000 injured—many of which are women and children. What is more, the acts of the Saudi-led coalition constitute genocide within the meaning of 1948 Convention on the Prevention and Punishment of the Crime of Crime of Genocide.
Notwithstanding the potential pandemic, according to Human Rights Watch (HRW), Saudi Arabia and Saudi-backed forces continue to carry out series of abuses against Yemeni civilians in the furthermost eastern province of al-Mahra. Journalists and activists in support of the local Yemenis who oppose Saudi occupation have also been subjected to torture in the form of beatings, electric shocks and threats to harm their family members, inside a detention facility in the airport in al-Ghaydah, according to HRW.
Last September, the United Nations released a report indicating that by providing military aid, intelligence sharing, logistical support, and weapons to the Saudi-led war in Yemen, the U.S. may be complicit in war crimes. A Saudi-brokered agreement in November 2019 was supposed to bring the two sides back together, but has yet to be implemented fully. It is time for the U.S. to realize that supporting the Saudis has not only prolonged the misery of innocent Yemenis but it now puts them at further risks of death.
Aside of the draconian sharia law in the kingdom that materializes in human rights violations, the Saudis and their coalition partners have transferred American-made weapons to al-Qaeda-linked fighters, hardline Salafi militias and other factions waging war in Yemen, in violation of their agreements with the United States. In addition, many U.S.-made weapons have also made their way into the hands of Iranian-backed rebels battling the coalition for control of the country, which has consequently exposed certain  sensitive military technology to Tehran that could potentially endanger the lives of U.S. troops in other conflict zones. 
According to reports by Mohamed Abo-Elgheit and the Arab Reporters for Investigative Journalists (Arij), as early 2018 both the Saudis and Emiratis had been violating their agreements with the U.S. by transferring weapons to militias in Yemen. 
While Saudi Arabia gets criticized the most for the war atrocities in Yemen, the United Arab Emirates' long-term goals in the country have become increasingly clear: to divide Yemen and create a subservient  southern state, which would secure trade routes through the port of Aden to the rest of the world; to exploit Yemen's natural resources; and to empower itself as a regional hegemony. The UAE has also baked militants who maintain "non-hostile" relations with al-Qaeda in the Arabian Peninsula.
Circumventing Congress
This is not the first time President Donald Trump has sought to evade Congressional oversight in order to keep the weapons flowing to war criminals in the Islamic world. In 2017 Trump signed a deal to provide F-15 fighter jets and other advanced weapons to Qatar—the U.S. has approximately 10,000 troops stationed there—a Muslim country which was labelled by President Trump himself as a funder for terrorist activities.
Last year, as reported by The American Conservative the Trump administration abused a provision in the Arms Exports Control Act to declare an "emergency" that did not exist in order to expedite arms sales that most members of Congress wanted to block. The so-called emergency declaration led to the passage of several bi-partisan Congressional resolutions disapproving of the arms sales, which Trump vetoed. This had become the subject of investigation by Steve Linick, the State Department's Inspector General Steve Linick who was unceremoniously fired at the behest of Secretary of State Mike Pompeo earlier this year.
President Trump has also pitched efforts to boost arms sales abroad as a domestic economic boon, erroneously claiming that the previous $110 billion arms sale to Saudi Arabia created anywhere from 450,000 to over "a million" jobs—an independent study from the Center for International Policy, a think tank, released in May estimated the actual total to be 20,000 to 40,000 jobs.
What has been equally disturbing, according to a congressional aide, to members of Congress is the White House administration's  utilizing channels to grease the wheels for arms sales that are not visible to authorizers on Capitol Hill, including by private communications between Trump's son-in-law and senior advisor Jared Kushner and Mohammed bin Salman, the de-facto leader of the country.
In May, it seemed as if Trump was shifting policy towards Saudi Arabia when the Pentagon announced that the U.S. was removing two Patriot anti-missile systems from Saudi Arabia and two others from the Middle East, along with dozens of military personnel who were deployed to the region following a series of attacks on the Saudi oil facilities by Iran last year—marking the end, for now, of a large-scale military buildup to counter Iranian regime. 
Because of the COVID-19 and anarchist riots in the U.S. have distracted Americans—and rightfully so should the average and sound U.S. citizen and resident be concerned first with what is happening in our homeland—it seems as if the thugs in the Islamic world will continue to be facilitated with the weapons they need to continue their crimes. As Daniel Larison explains, without substantial Congressional oversight of arms sales—an element that is part of the checks and balances—it will be a free-for-all of selling weapons to some of the worst governments in the world. Given the Saudis and Emiratis' record to date, there is no telling where those weapons may end up in the future or how they will be used. 
__________________________________________________
Mario Alexis Portella is a priest of the Cathedral of Santa Maria del Fiore and Chancellor of the Archdiocese of Florence, Italy. He has a doctorate in canon law and civil law from the Pontifical Lateran University in Rome; he also holds a M. A. in Medieval History from Fordham University, as well as a B.A. in Government & Politics from St. John's University. He is also author of Islam: Religion of Peace? – The Violation of Natural Rights and Western Cover-Up.