Finally, Someone Is Taking On Jihadism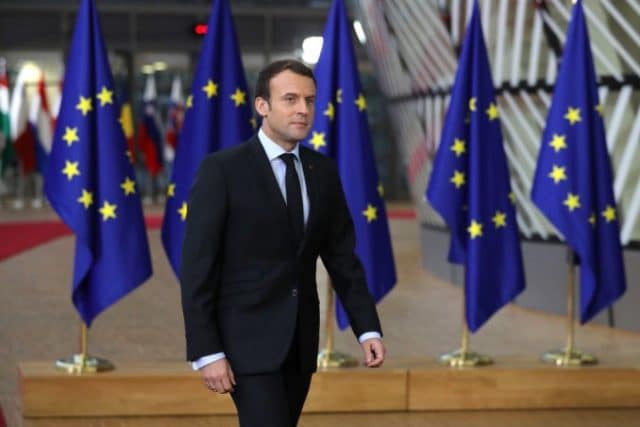 Finally, a Western leader who is taking on the Islamic threat in his homeland. And who would ever have guessed that it would be French President Emmanuel Macron?
Macron has said France's battle against Islamic terrorism is "existential" following the beheading of a history teacher in Paris on October 16.
The teacher had shown his students cartoons of the Islamic Prophet Muhammad and had spoken with them about freedom of speech was beheaded in Conflans-Sainte-Honorine, a small town in the suburbs of Paris. The murderer, who tried to attack the police attempting to arrest him, was shot and killed while shouting "Allahu Akbar [Allah is the greatest]."
Macron, who visited the site near a school in a Paris suburb, said the victim had been "assassinated" and that his killer sought to "attack the republic and its values". "This is our battle and it is existential. They [terrorists] will not succeed … They will not divide us."
In the space of five years since he became President of the French Republic, Macron who had been a sympathizer to Islamists, has done a 180-degree turnaround the threat that political Islam. In a 2015 speech before he became president, he declared that France's colonial past was partly responsible for the emergence of jihad in the homeland.
Ironically, he is dissenting from the political Islam that had been advocated by the European Union.
In an apparent attempt to downplay the incompatibility of a Western and Islamic approach to state affairs, Federica Mogherini, the High Representative of the European Union for Foreign Affairs and Security Policy, stated in June 2015, "I am not afraid to say that political Islam should be part of the picture. Religion plays a role in politics — not always for good, not always for bad. Religion can be part of the process. What makes the difference is whether the process is democratic or not …The fear of the other can only lead us to new conflicts."
The term political Islam" (or today's more simple "Islamism") was coined after the Iranian Revolution of 1979 to describe an apparent new phenomenon of political moments. It was anchored by educated Muslims who advocated a "re-Islamization" of Muslim-majority countries that had, in their view, ceased to uphold Islamic values.
The ultimate goal of the Islamic ideologists is to take full control of French society. As a consequence, Macron announced a draft law designed to combat Islamic separatism will be presented to the cabinet December 9 that will include the following measures:
Schooling will be compulsory for children from the age of three and exemptions will only be granted for medical reasons. Macron revealed that over 50,000 children are currently home schooled and that many of them are attending bunker-type institutions where they are taught by women in niqabs with the only thing they learn being how to pray.
Mayors who are pressured by Islamic organizations to introduce religious menus in school canteens or allow gender-segregated use of public swimming pools will see their decisons annulled by the local préfet, a state-appointed official tasked with ensuring compliance with the law and national interest.
Powers to dissolve NGOs will be extended to include those that violate personal dignity and exert psychological or physical pressure. This measure is intended to target the network of Muslim Brotherhood and Salafist organizations that have mushroomed throughout the country in the past three decades. All NGOs receiving public funds will be required to sign a secular charter and refund the money if the charter is not respected.
The ELCO program will be terminated. This program was introduced in the 1970s to enable children of Arabic, Turkish, Italian, Spanish, Portuguese and Croatian immigrants to learn the language and culture of their parents' home country. The teachers are hired, paid and supervized by the countries concerned. In reality the ELCO program was a pipeline for the indoctrination of Muslim children as the study of Arabic was restricted to reading religious texts. ELCO will be replaced by an alternative system controlled by the French Ministry of Education.
Religious neutrality, which is already legally required in the public sector workplace, will also apply to public services that are sub-contracted to private entities, such as transport companies.
Funding of mosques will be subject to stricter control and measures will be taken to prevent Salifists taking over mosques and using them to propagate extremism.
The French Council of the Muslim Faith (CFCM) will be required to certify imams and ensure they respect a charter of values compliant with those of the French Republic. Foreign imams (of which there are currently around 300 from Algeria, Morocco and Turkey) will not be allowed to preach in French mosques.
The state will donate $12 million to the Foundation for French Islam to set up a scientific institute for the study of Islam and additional research posts will be created in French universities.
Macron's crusade is to be commended, but in order to fight the Islamic threat we must get to the ones who breed jihadists. While Iran is a definite contributor, we have to ultimately have to look at Saudi Arabia.
As I previously wrote, for years the Iran has borne the unenviable title of "world's biggest state sponsor of terrorism." However, out of the 61 groups that are designated as terrorist organizations by the U.S. State Department, the overwhelming majority are Wahhabi-inspired and Saudi-funded groups, with a focus on the West and Iran as their primary enemy. Only two groups are Shi'ites — Hezbollah and Kataib Hezbollah, and only four have ever claimed to receive support from Iran. Nearly all of the Sunni militant groups listed receive significant support from either the Saudi government or Saudi citizens.
This is where countries, specifically United States must help it there is going to be any chance in stopping the Islamic takeover of the West. That means the U.S. has to stop financially and militarily supporting the Islamic version of Adolf Hitler, Saudi Prince Mohammad bin Salman, and his genocidal war in Yemen.
__________________________________________________
Mario Alexis Portella is a priest of the Cathedral of Santa Maria del Fiore and Chancellor of the Archdiocese of Florence, Italy. He has a doctorate in canon law and civil law from the Pontifical Lateran University in Rome; he also holds a M. A. in Medieval History from Fordham University, as well as a B.A. in Government & Politics from St. John's University. He is also author of Islam: Religion of Peace? – The Violation of Natural Rights and Western Cover-Up.
Book available on Amazon, Barnes & Noble or WestBow Press.