Time To Stop Supporting Saudi Arabia's Genocidal War In Yemen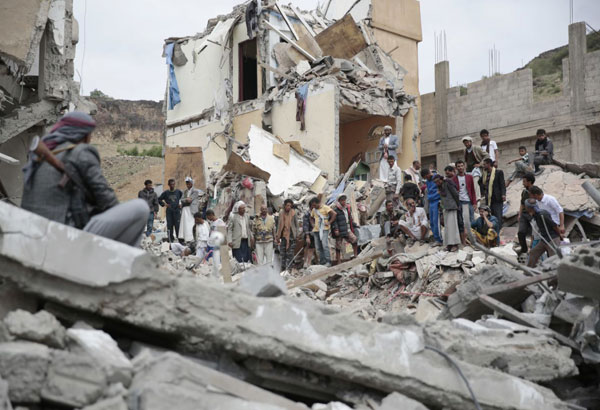 The European Parliament recently urged the European Union member states to impose an arms embargo on Saudi Arabia over the killing of journalist Jamal Khashoggi and its now five-year genocidal war in Yemen that has killed more than 100,000.
This comes as United Nations Human Rights Council (UNHRC) last week said countries fueling the conflict with arms were showing a "blatant disregard" for "documented patters of serious violence" are potentially "aiding and assisting" war crimes by the country's forces in Yemen.
The EU also pointed out that arms exported primarily by the United States and the United Kingdom — to a lesser degree Canada and France — to Saudi Arabia, the UAE, as well as other members of the Saudi-led coalition in the war, had been brutally used in the country, "where 22 million people find themselves in need of humanitarian aid and protection."
Along with the outbreak of the coronavirus pandemic, millions of Yemenis are closer to starvation, the World Food Programme ( WFP) chief has warned, urging wealthier nations and billionaires to help ensure their survival.
On Tuesday, UN under-secretary-general for humanitarian affairs, Mark Lowcock, warned the Security Council that the "spectre of famine has returned" in Yemen. "Several donors — including the Kingdom of Saudi Arabia, the United Arab Emirates and Kuwait, who have a particular responsibility, which they have discharged in recent years — have so far given nothing" to this year's aid plan, he said, in a rare direct rebuke of member states.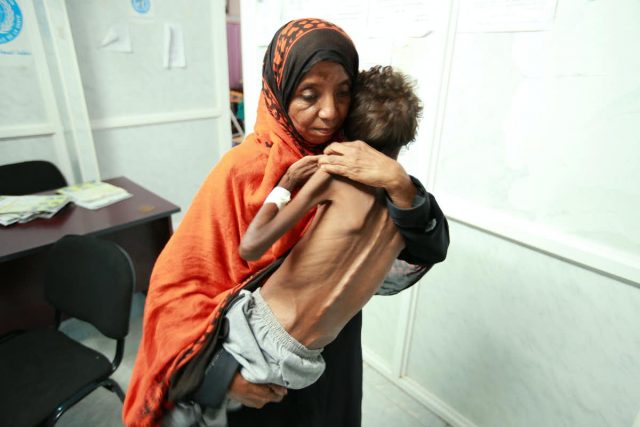 "It is particularly reprehensible to promise money, which gives people hope that help may be on the way, and then to dash those hopes by simply failing to fulfill the promise." In addition, past U.S.-Saudi enforced blockades have prevented sufficient food, medical supplies, fuel, clean water and other essentials from reaching desperate people in need. Human Rights Watch, as early as 2015 warned that what is ongoing "may amount to starvation of civilians as a weapon of warfare" — genocide by deprivation.
The Western-backed Saudi coalition waging this asymmetrical campaign continues to deliberately target civilian infrastructure — they arbitrarily attack homes, farms, factories, schools, buses, gas stations, government buildings, water treatment facilities and anything else imaginable. In fact, over the past three-plus years, Saudi airstrikes have produced over 35,000 civilian casualties: over 13,000 killed and over 21,000 injured — many of which are women and children. The acts of the Saudi-led coalition constitute genocide within the meaning of 1948 Convention on the Prevention and Punishment of the Crime of Genocide.
The Saudi brutality should not surprise us given the country's human rights violations in observance of its Wahhabi tenets — Wahhabism is described as the most draconian and sectarian observation of Islam — which also include forced marriages of prepubescent and teenage girls to adult men, having boys as sex slaves, slavery and human trafficking, including that of children, the exploitation of women as property and the death penalty for Muslims who leave Islam or convert to another religion.
Notwithstanding the potential pandemic, according to Human Rights Watch (HRW), Saudi Arabia and Saudi-backed forces continue to carry out series of abuses against Yemeni civilians in the furthermost eastern province of al-Mahra. Journalists and activists in support of the local Yemenis who oppose Saudi occupation have also been subjected to torture in the form of beatings, electric shocks and threats to harm their family members by the Saudis inside a detention facility in the airport in al-Ghaydah, according to HRW.
The Saudis have shown a total contempt for international law and the rights and lives of people in Yemen. The manner in which Saudi Arabia handled the Jamal Khashoggi case sends a frightening message to all Saudi reformers who are languishing — and in some cases dying — in the kingdom's jails.
Earlier this year, as reported by The Washington Post, the notable dissident and intellectual Abdullah al-Hamid, a man Jamal called the "Nelson Mandela of Saudi Arabia" for his commitment to democratic reforms and freedoms, died in a Saudi prison. Saleh al-Shehi, another Saudi columnist and friend of Jamal's, died this year of mysterious circumstances after his release from a Saudi prison. The women's rights activist Loujain al-Hathloul remains in a Saudi jail two years after her detention, and the influential Saudi cleric Salman al-Awda remains on the Saudi equivalent of death row for criticizing the monarchy. Jamal wrote in defense of all these figures, and it is imperative that their cases, and those of so many others, should not be forgotten.
Why do the Saudis continue to get away with bloody murder?
There are reasons why the kingdom is not being penalized by the international community. First, despite the UNHRC making its sharp criticism against every active state in the Yemeni war, the UNHCR's 47-member countries include some of the world's most brutal and dictatorial regimes with egregious records of apartheid or police brutality — Burkina Faso, Bangladesh, Cameroon, Democratic Republic of Congo, Pakistan, Somalia, Eritrea, Sudan and Qatar; Russia, Cuba, Saudi Arabia and China are expected to be elected to the Council in October. Given the list of repressive regimes in the UNHRC, the UN is not going to, at least for the time being, pursue any sanctions against the Saudis.
A second reason is because of the committed and constant support from Western countries, specifically both the United Kingdom and the United States.
UK Ministers have licensed at least £5.3 billion worth of arms to Saudi Arabia since the conflict began in 2015, including bombs and missiles. London also lifted a court-ordered ban on arms exports to the kingdom, claiming that while it was "possible" that war crimes were taking places, they appeared to be "isolated incidents." The UK is not about to publicly admit anytime soon it willingly participated with the slime of humanity in killing innocent people.
President Trump's support of Saudi Arabia tends to be beyond unconditional given that the conflict in Yemen, largely seen in the region as a proxy war between Saudi Arabia and Iran, also falls right within his broader alignment against Iran — it is fair to say that U.S. support for the Saudi war Yemen began under the Obama administration.

Trump, notwithstanding the bipartisan majorities in the House and Senate passing legislation in 2019 to block or limit U.S. weapons sales to Saudi Arabia, the UAE and Jordan — Jordan is also part of the Saudi-coalition in Yemen — used an emergency declaration to finalize a deal that would sell $8.1 billion in armaments to the three countries.
It should be noted that this does not mean the U.S. or the UK should cut off all political and economic ties with Saudi Arabia — quite the contrary. This also does not excuse the mullahs in Tehran for supporting the rebel Houthis; they are to blame, too.
If America stops backing the Saudi-led collation in Yemen, other countries will follow — the Saudis would then have not choice but to stop fighting. It is time for the U.S.-led West to end its blind coddling of a tyrannical and pretentious ally with an abysmal human rights record on par with the Iranian regime.
__________________________________________________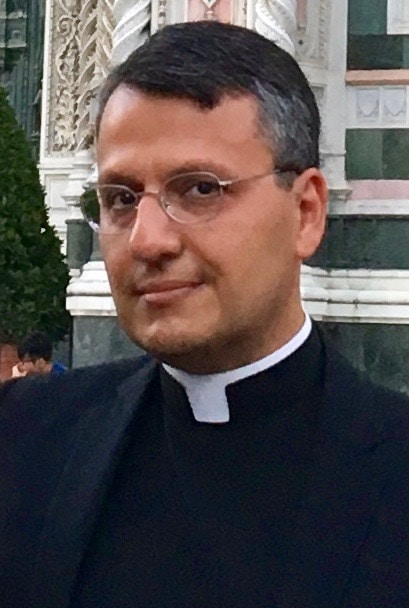 Mario Alexis Portella is a priest of the Cathedral of Santa Maria del Fiore and Chancellor of the Archdiocese of Florence, Italy. He has a doctorate in canon law and civil law from the Pontifical Lateran University in Rome; he also holds a M. A. in Medieval History from Fordham University, as well as a B.A. in Government & Politics from St. John's University. He is also the author of Islam: Religion of Peace? – The Violation of Natural Rights and Western Cover-Up.
Book available on Amazon, Barnes & Noble or WestBow Press.