Yes, The Problem Lies Within Islam Itself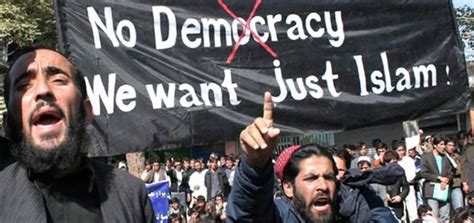 On October 2, French President Emmanuel Macron recently stated: "Islam is a religion that is in crisis all over the world today; we are not just seeing this in our country." These words were in reaction to the dilemma of what he called an "Islamic separatism" in France, i.e., a counter-state based on sharia law — an amorphous body of legal rulings, judgments and opinions, assembled over the course of many centuries after the Prophet Muhammad's death.
"The problem," Macron said "is an ideology which claims its own laws should be superior to those of the [French] republic."
Noting that some Muslim parents do not allow their children to attend music classes or participate in sporting, cultural and other community activities, Macron announced measures that will form a new bill in December. They include:
stricter monitoring of sports organizations and other associations so that they do not become a front for Islamist teaching;
an end to the system of imams being sent to France from abroad;
a religious neutrality, which is already legally required in the public sector workplace, will also apply to public services that are sub-contracted to private entities, such as transport companies.
On Friday, Macron, responding to the beheading of Samuel Paty, a history teacher in a suburb of Paris, denounced the murder as an "Islamist terrorist attack." Paty had apparently shown cartoons of the Prophet Muhammed to his students, as well as discussing freedom of expression — regarded by many Islamists as blasphemy, which as prescribe by the Quran, call for killing of anyone who questions or criticizes Allah, his Prophet or Islam:
And if you could but see when the wrongdoers are in the overwhelming pangs of death while the angels extend their hands, [saying], "Discharge your souls! Today you will be awarded the punishment of [extreme] humiliation [death] for what you used to say against Allah other than the truth and [that] you were, toward His verses, being arrogant." — Sura 6, 93
One of the first Muslims to come out against Macron's words about a crisis in Islam was Turkish President Recep Erdoğan.
Gathered at a mosque with religious workers in Ankara, Erdoğan said the French president's recent claims were a dangerous provocation: "Macron's statement on 'Islam is in crisis' in a city where Muslims are the majority go beyond disrespect and are a clear provocation."
The reaction of the want-to-be caliph, who considers himself as the new leader of the Muslim world, should be of no surprise since for nearly a decade has been a supporter of the terrorist organization the Muslim Brotherhood, as well as its Palestinian proxy, Hamas. There are Muslims, however, who take an opposing position.
As reported by journalist Khaled Abu Toameh, numerous Muslims came to Macron's defense who likewise concur on the growing influence of Islamists who want to establish a counter-state based on sharia law. One of them was Moroccan writer Mohammad Maghouti, who said it was unfortunate that some Muslims failed "to put Macron's remarks in context."
It would be discriminatory to classify every single Muslim as a jihadist. Nevertheless, many contemporary Muslims exercise a personal choice to construe their sacred book's appeal to the taking of arms and financing terrorism according to their own ideas. Islamic apologists have catered to these preferences with tenuous positions that camouflage historical fact, generally lacking any sort of profound scrutiny. This problem is not necessarily one of bad people but of bad ideology. In other words, the point of concern is not whether people are Persian, Egyptian, or Palestinian, but rather their indoctrination of the sharia, which justifies the use of violence and other human rights violations.
Part of this is because of the indoctrination they have received, for example in mosques — French authorities have closed down the mosque where Paty's murderer worshiped. They therefore find the Islamic faith as presented by the militants appealing. So much so that the General Secretary of the Nahdlatul Ulama Supreme Council, the world's largest Muslim organization, Imam Yahya Cholil Staquf, stated in 2018: "The problem lies within Islam itself…. Islam must reform itself in order to live in peace with the rest of the world."
(CLICK BELOW TO VIEW STATEMENT)
__________________________________________________
Mario Alexis Portella is a priest of the Cathedral of Santa Maria del Fiore and Chancellor of the Archdiocese of Florence, Italy. He has a doctorate in canon law and civil law from the Pontifical Lateran University in Rome; he also holds a M. A. in Medieval History from Fordham University, as well as a B.A. in Government & Politics from St. John's University. He is also author of Islam: Religion of Peace? – The Violation of Natural Rights and Western Cover-Up.
Book available on Amazon, Barnes & Noble or WestBow Press.