Why Is The Taliban Writing Its Own Ticket?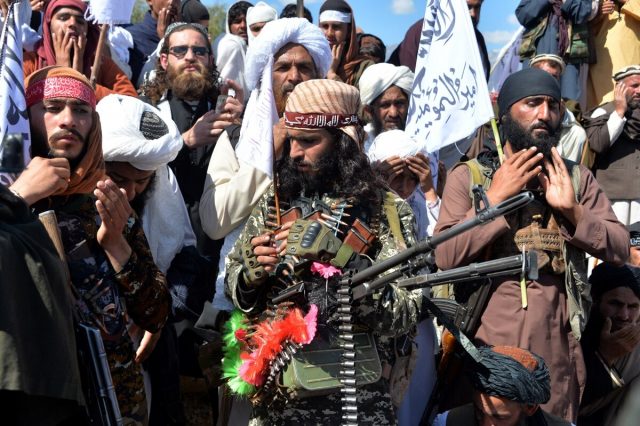 In mid-December, the top U.S. military official, Army General Mark A. Milley,chairman of the Joint Chiefs of Staff, held unannounced talks with Taliban peace negotiators in Qatar to urge a reduction in violence across Afghanistan, even as senior American officials in Kabul warned that stepped-up Taliban attacks endanger the militant group's nascent peace negotiations with the Afghan government. The next round of peace talks are to be held in January.
It is needless to say that the Taliban have outlasted a superpower through nearly two decades of grinding war and now stand on the brink of realizing their most fervent desire: the full withdrawal of U.S. troops from Afghanistan. And they have hardly given up their extremist ideology to do it.
The Taliban now controls more territory in Afghanistan than at any time since U.S. forces entered the country in October 2001. In fact, the Taliban has grown richer and more powerful since their fundamentalist Islamic regime was toppled by United States forces in 2001.
In the fiscal year that ended in March, the Taliban reportedly brought in $1.6 billion, according to Mullah Yaqoob, son of the late Taliban spiritual leader Mullah Mohammad Omar, who revealed the Taliban's income sources in a confidential report commissioned by the North Atlantic Treaty Organization (NATO) and later obtained by Radio Free Europe/Radio Liberty.
They have now effectively put themselves in the driver seat in any political negotiations for the foreseeable future.
The question to be asked is how did the Taliban manage all this?
According to Hanif Sufizada, Program Coordinator of Afghan Studies at the University of Nebraska, the Taliban has enormous sources of income harnessed from Afghanistan's natural resources, embezzlement and receiving funds from foreign governments and like-mined Muslims.
Annual Sources of Income
Alongside the supposed surprise discovery of Afghanistan's $1 trillion wealth of untapped minerals, the Taliban had successfully eradicated the opium crop in the Golden Crescent before the U.S. invasion. Afghanistan accounted for approximately 84% of global opium production over the past five years, according to the United Nation's World Drug Report 2020.
Much of those illicit drug profits go to the Taliban, which manage opium in areas under their control. The group imposes a 10% tax on every link in the drug production chain, according to a 2008 report from the Afghanistan Research and Evaluation Unit, an independent research organization in Kabul. That includes the Afghan farmers who cultivate poppy, the main ingredient in opium, the labs that convert it into a drug and the traders who move the final product out of the country.
As reported by The New York Times, as of 2018, Afghanistan was the world's largest producer of opium, and poppy is the country's most lucrative cash crop. The profits fuel the Taliban's financial networks and for years have undermined sustainable reconstruction and security efforts by the United States and its allies.
Mining: $400 million to $464 million
Mining iron ore, marble, copper, gold, zinc and other metals and rare-earth minerals in mountainous Afghanistan is an increasingly lucrative business for the Taliban. Both small-scale mineral-extraction operations and big Afghan mining companies pay Taliban militants to allow them to keep their businesses running. Those who do not pay have faced death threats.
According to the Taliban's Stones and Mines Commission, or Da Dabaro Comisyoon, the group earns $400 million a year from mining. NATO estimates that figure higher, at $464 million – up from just $35 million in 2016.
Extortion and taxes: $160 million
Like a government, the Taliban tax people and industries in the growing swath of Afghanistan under their control. They even issue official receipts of tax payment.
"Taxed" industries include mining operations, media, telecommunications and development projects funded by international aid. Drivers are also charged for using highways in Taliban-controlled regions, and shopkeepers pay the Taliban for the right to do business.
The group also imposes a traditional Islamic form of taxation called "ushr" – which is a 10% tax on a farmer's harvest—and "zakat," a 2.5% wealth tax.
Charitable donations: $240 million
The Taliban receive covert financial contributions from private donors and international institutions across the globe.
Many Taliban donations are from charities and private trusts located in Persian Gulf countries, a region historically sympathetic to the group's religious insurgency. Those donations add up to about $150 million to $200 million each year, according to the Afghanistan Center for Research and Policy Studies. These charities are on the U.S. Treasurey Department's list of groups that finance terrorism.
Today, the governments of Russia, Iran, Pakistan and Saudi Arabia are all believed to bankroll the Taliban, according to numerous U.S. and international sources. Experts say these funds could amount to as much as $500 million a year, but it is difficult to put an exact figure on this income stream.
Private citizens, also, from Saudi Arabia, Pakistan, Iran and some Persian Gulf nations have helped finance the Taliban, contributing another $60 million annually to the Taliban-affiliated Haqqani Network, according to American counterterrorism agencies.
In part to launder illicit money, the Taliban import and export various everyday consumer goods, according to the UN Security Council. Known business affiliates include the multinational Noorzai Brothers Limited, which imports auto parts and sells reassembled vehicles and spare automobile parts.
The Taliban's net income from exports is thought to be around $240 million a year. This figure includes the export of poppy and looted minerals, so there may be financial overlap with drug revenue and mining revenue.
Afghan officials seem powerless to stop the lucrative trade; many have grown wealthy through their complicity in facilitating the trafficking. What results is an enduring cycle of opium cultivation, processing and trafficking that often leaves Afghanistan's most vulnerable to bear the dire consequences of the illicit trade.
Lack of U.S. Strategy after 9/11 Victory
At the end of 2019, The Washington Post published a series titled "The Afghanistan Papers," a collection of U.S. government documents that included notes of interviews conducted by the special inspector general for Afghanistan reconstruction. In those interviews, numerous American officials conceded that they had long seen the war as unwinnable.
Michael Kugelman, deputy director of the Asia Program and senior associate for South Asia at the Woodrow Wilson International Center for Scholars, explains:
"Though the U.S.-led training mission has strengthened the capacities of Afghan police and soldiers in recent years, they continue to struggle to lead counterinsurgency efforts from the front—the position they have been in since the foreign combat war ended at the end of 2014…. The Taliban has exploited this dynamic and projected itself as a better security provider, thereby winning over local populations in rural spaces, and enabling the insurgents to gain a foothold."
Ultimately, there has been a clear lack of agenda by the U.S., in addition to failed military policies from both Presidents George W. Bush and Barak Hussein Obama, thereby resulting in its inability to craft a strategy capable of taming the Taliban.
In the early days of the war, as Kugelman says, the U.S. had two clearly articulated goals in Afghanistan which were achieved: destroy the sanctuaries used by al-Qaeda leaders to help plan the 9/11 attacks, and remove their Taliban hosts from power. Since then, however, Washington has struggled to articulate a plan for tackling the Taliban threat.
It must be realized that the U.S. has lost control of the narrative. Taliban militants continue to enjoy widespread support by like-minded Muslims throughout the world who see the insurgents as defenders Islam against imperialist occupiers. So long as this ideology persists, the Taliban will continue their brutality, recruit young men and receive contributions for their cause.
With the ongoing peace talks that, just like the war, continue to drag, the Taliban alone is to gain. The Islamic militants will continue to write their own ticket, to say nothing of how their jihadist associates, such as al-Qaeda and ISIS will get stronger unless if a clear-cut solution is found.
__________________________________________________
Mario Alexis Portella is a priest of the Cathedral of Santa Maria del Fiore and Chancellor of the Archdiocese of Florence, Italy. He has a doctorate in canon law and civil law from the Pontifical Lateran University in Rome; he also holds a M. A. in Medieval History from Fordham University, as well as a B.A. in Government & Politics from St. John's University. He is also author of Islam: Religion of Peace? – The Violation of Natural Rights and Western Cover-Up.
Book available on Amazon, Barnes & Noble or WestBow Press.
N.B. Hanif Sufizada's findings, which I relied upon, may be found in his article in the The Conversation published December 10, 2020, under a Creative Commons license.