What's Behind The Iranian-Saudi Conflict?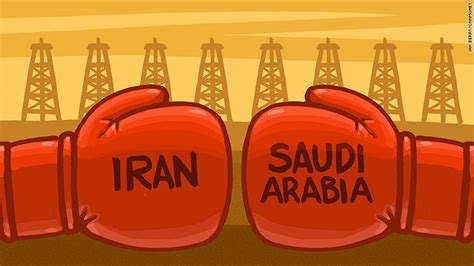 This past Wednesday Saudi Arabia's King Salman took aim at Iran during his debut at the annual United Nations meeting of world leaders, calling for a comprehensive solution to contain Riyadh's arch-rival and to stop it from getting weapons of mass destruction.
The king accused Iran of exploiting the Joint Comprehensive Plan of Action, commonly as the Iran deal Iran nuclear deal (2015) it signed with world powers "to intensify its expansionist activities, create its terrorist networks, and use terrorism," adding this had produced nothing but "chaos, extremism, and sectarianism."
Iran, as expected, responded calling the king's address as "delirious." Saeed Khatibzadeh, spokesman for the Iranian foreign ministry, went so far as to accuse the Saudis of distorting facts and shifting the blame for its own "crimes," branding it the "main financial and logistical supporter of terrorism in the region."
Sunni Muslim-majority Saudi Arabia and Shi'ite-dominated Iran have for years been locked in several proxy wars in the region, including in Yemen where a Saudi-led coalition has been battling the Tehran-aligned Houthis. The now six-year genocidal war in Yemen would not have lasted this long had it not been for President Donald Trump's underwriting Mohammad bin Salman's (MBS) murderous campaign — the Trump administration's selling to the licentious and corrupt Saudis planes and munitions have kill thousands of Yemeni civilians; American personnel also continue to service and refuel the same planes, as well as providing intelligence to assist in targeting Saudi strikes.
All things being equal, the bitter fighting between both Saudi Arabia and Iran is historically rooted in their respective political observance of Islam, which dates back to the inception of the religion.
The Sunni-Shi'ite Division
The Saudi (Sunni)-Iran (Shi'ite) religious division is based on the political succession of the Prophet Muhammad. Since Muhammad died without leaving a male heir or naming a successor, the Shi'ites dispute the first three (Sunni) caliphs who succeed the prophet as usurpers. They hold that Muhammad Ali, son-in-law and cousin of the Prophet (and according to the Sunnis, his fourth legitimate successor), is the first legitimate heir to the political throne established by Muhammad — Ali was eventually killed, thereby cementing the Sunni-Shi'ite division.
Shi'ism became predominant in Iran when the founder of the Safavid dynasty (1501–1722), Shah Ismail I, launched a thorough and cruel campaign to convert the predominantly Sunni population. The Iranian Revolution of 1979 allowed the ayatollahs of Iran to fortify the Shi'ite observance of Islam when for the first time in the history of Islam a state was both governed and ruled by a cleric under sharia law.
There is, however, a more prevalent reason for the Iranian-Saudi enmity that surpasses any Islamic religious principle. Their rivalry is primarily an economic one based on oil.
Since President Trump withdrew from the Iran nuclear deal in 2018, Saudi Arabia has exploited its favorable position with the U.S. by manipulating the production and pricing of oil as a political tool to increase its hegemony in the Middle East region. In layman terms, the less Iran can sale its crude oil, the more consumers will buy from Saudi Arabia.
Sixty years after the formation of the Organization of the Petroleum Exporting Countries (OPEC), Iran, as one of the founding members — this was in 1960 when the Islamic Republic of Iran was called the Kingdom of Iran before Shah Mohammed Pahlavi was deposed — has lost considerable influence as a result of the U.S. sanctions. Meanwhile, Saudi Arabia, which possesses around 17 per cent of the world's proven petroleum reserves, has gotten stronger.
As OPEC members, both Saudi Arabia and Iran are expected to "coordinate and unify the petroleum policies of its Member Countries and ensure the stabilization of oil markets in order to secure an efficient, economic and regular supply of petroleum to consumers." Yet according to current and former OPEC officials, U.S. kingpin MBS would rather appease Washington by crippling Iran and its people in order to maintain American support — Iran's share of OPEC output has nearly halved to 7.5%, while Saudi Arabia's share, has risen 7 percentage points to 35%.
As indicated, regardless of the American support for the Saudi-led coalition in Yemen, both Iran and Saudi Arabia would most definitely have found a different battle ground to fight. While it is crucial that the U.S.-led West cease its support for the international thug, MBS — Iran is also to blame for prolonging the war — both the Saudi and Iranian regimes have to learn to at least tolerate each other.
This means they have to end their violations of human rights against their own peoples — while both sides are equally bad, at least in Iran there are churches and synagogues, while in Saudi Arabia there are none. A difficult task, yet not impossible if both are willing to overcome archaic religious prejudices and economic contention.
__________________________________________________
Mario Alexis Portella is a priest of the Cathedral of Santa Maria del Fiore and Chancellor of the Archdiocese of Florence, Italy. He has a doctorate in canon law and civil law from the Pontifical Lateran University in Rome; he also holds a M. A. in Medieval History from Fordham University, as well as a B.A. in Government & Politics from St. John's University. He is also the author of Islam: Religion of Peace? – The Violation of Natural Rights and Western Cover-Up.
Book available on Amazon, Barnes & Noble or WestBow Press.