To the leaders of the Western Countries: Stop the Muslim Invasion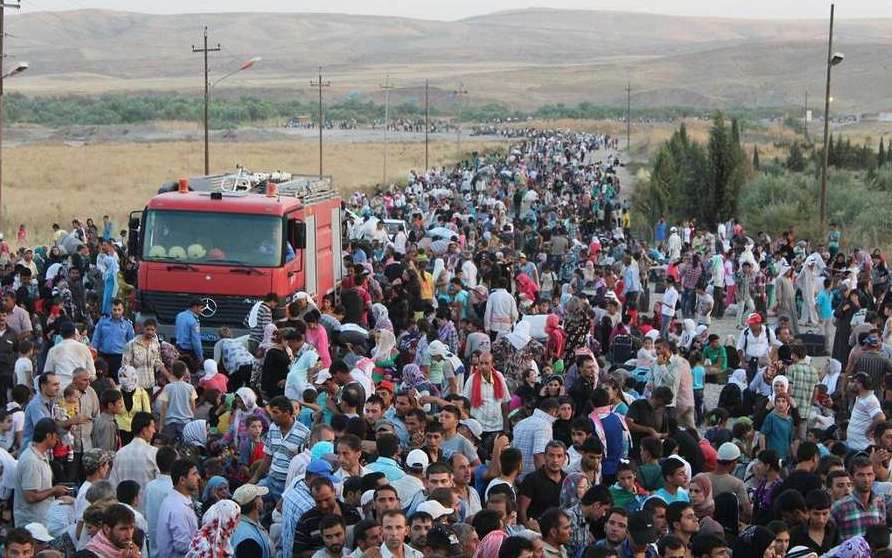 The scenes of the sea of refugees escaping from the devastation brought on them by the religious zealots of the Islamic State are heart wrenching. It is only human to be moved and want to do something to save these people. Someone started a petition on Change.org urging Stephen Harper the prime minister of Canada to "open the gates" of the country and accept them by hundreds of thousands.
While the intent of the person starting that petition and those who signed it is laudable, sadly the result of such an action would be disastrous.
These refugees are victims of a war. War is the result of injustice. But we can't have justice without truth and we can't have truth without freedom of speech. Freedom of speech means freedom to offend. The speech that does not offend does not need protection. When we talk about freedom of speech we are talking exclusively of the speech that is politically incorrect.
This petition that I am urging you to sign and pass on is politically incorrect. Yet is it the truth and only truth can save us. Political correctness means lying when telling the truth is inconvenient. Truth can only hurt feelings but lies can be deadly.
We have to look into the cause of the war in Iraq and Syria and virtually all Muslim countries. There is only one answer: Islam. Yes we can also blame dictatorship, lack of democracy, absence of equality and a myriad other things. But these are byproducts of Islam. In democracy laws are made by humans. In Islam the laws are given by Allah. In democracy all citizens have equal rights. In Islam there is a hierarchy. Muslim men have twice as much right as Muslim women. Muslim women have twice as much right as non-Muslim men. Non-Muslim men have twice as much right as non-Muslim women and at the bottom of the hierarchy are the atheists and polytheists whose writes are barely more than the rights of animals. This hierarchy of rights is based on the teachings of the Quran and is inviolable.
Therefore, the root cause of the problem in all Muslim countries is Islam. From Morocco to Philippines Muslim societies suffer from the same ailments caused by Islam.
When we allow Muslims into our countries they bring with them the very problems that have ravaged theirs. They bring polygamy, honor killing, wife beating, female genital mutilation, religious intolerance, terrorism, abuse of non-Muslims, anti-Semitism and Jew hatred, intolerance for free speech, intolerance of your way of life and clothing, communal segregation, animal torture, A.K.A. halal meat, overwhelming the welfare system, child grooming, seduction of naïve young women and their rape, uncontrollable crime, and the list goes on. All these will cost you not just money but incalculable emotional sufferings. These refugees will not just bring poverty into your country but also anguish.
Muslims do not integrate. It is prohibited for them to take non-believers as friends unless the intent is to deceive them. As per the Quran 9:23 Muslims should not accept the rule of the unbelievers because Allah has made them an "exalted nation, that they should rule over people." (2:143) Non-Muslims, according to the Quran, the book believed by Muslims to be the verbatim word of God, are filthy (9:28) and Muslims are ordained to "cast terror in their hearts" (8:12; 3:151)
Islam is incompatible with western values. The following are some of teachings of the Quran.
The unbelievers are the vilest of animals. (8:55)
Slay the unbelievers wherever you find them. (2:191)
Fight them and show them harshness. (9:123)
Do not take them as friends and helpers. Smite their necks. (47:4)
There are hundreds of verses such as these that define Muslims' mindset and behavior. The problem with the Muslim world is Islam. Wherever they live, Muslims indoctrinate their children with these supremacists teaching. These teachings define their outlook at life, and the way they interact with others. The belief that all religions teach something good is an unfounded fallacy.
In interpreting the meaning of the verse 3:28 that says don't take non-Muslims as friends unless by the way of taqiyah Ibn Kathir the most authoritative interpreter of the Quran said Muslims are not allowed to take unbelievers as friends "except those believers who in some areas or times fear for their safety from the disbelievers. In this case, such believers are allowed to show friendship to the disbelievers outwardly, but never inwardly. For instance, Al-Bukhari recorded that Abu Ad-Darda' (a close companion of Muhammad) said, "We smile in the face of some people although our hearts curse them." Al-Bukhari said that Al-Hasan said, "The taqiyah (lying for the sake of Islam) is allowed until the Day of Resurrection."
The fruits of Islam speak for themselves. This has been the case for 1400 years. As long as Muslims could raid and loot other nations they led a prosperous life. That is what is known as the golden age of Islam. Once that was no longer possible they reverted to poverty.
Muhammad raided villages and town at dawn when people had come out with their spades and baskets to attend to their farms. He massacred the men, tortured them to death so they reveal where they had hidden their treasures and on the same night he slept with their wives. This is the inconvenient truth, recorded in authentic Islamic sources that no one is allowed to mention because truth is the new hate speech.
When Muslims are allowed to enter the western countries, in such a large numbers, they will bring with themselves their ethos and their supremacist mindset. As the history shows the result has always been disastrous and the host countries have always been the losers. As their numbers grow they will demand others to change their way in order to accommodate them. For example, to impose blasphemy law on their citizens and to prosecute and jail those who speak against Islam. They also take their own law into their hands and kill those who criticize their faith.
To expect Muslims to be grateful for granting them refugee status denotes one's total lack of understanding of Islam and the Muslim mind. As far as Muslims are concerned all the wealth in this world belongs to them. It is your obligation to toil and support them. Your wealth is rightfully theirs. The Quran 8:69 tells Muslims to enjoy what they rob from unbelievers for it is "lawful and good."
An authentic hadith reports Umar, the second rightly guided caliph of Islam saying [The Prophet] fixed stipends for Muslims, and provided protection for the people of other religions by levying jizyah (poll tax) on them. [Dawud: 19: 2955]
This was the inspiration behind the creation of the Mafia in Sicily. When Muslims were expelled, the local thugs who worked for them filled the vacuum created by their masters and demanded payment from businesses in exchange for their safety.
Muslims interpret the help you give them as their rightfully earned Jizyah and will not be satisfied until you pay them most of your wealth and they become your masters. Failure to comply means assassination and terror.
The Muslims' belief in their entitlement is so entrenched in their psyche that it is impossible for them to think in any other way. Not only they believe that your wealth is theirs they also believe that non-Muslim women are whores and fair game to rape. It is not possible for Muslims to think in any other way because that would be to doubt their prophet, a thought that they cannot entertain.
This new wave of Muslim invasion, will only spell the destruction of the western civilization and the end of the liberty and democracy in these countries. Muslims will demand more privileges, free housing, free and halal food which entails more cruelty to animals, free medical care, and funding to build mosques. As the result you will be taxed more and will have to take the food off the plates of your children to give it to Muslim men who have no respect for you, your wife and daughter and would not hesitate to rape them if they can get away with it. If this is not insanity please define this word.
So how shall we deal with this humanitarian crisis? We have to keep Muslims from entering the western countries. This is the best for them too. This will allow Muslims to come to their senses and realize what is happening to them is the result of their belief in a false god and a false prophet. Once this realization takes place and Muslims begin leaving Islam there would be nothing to stop them from rebuilding their countries and becoming prosperous nations, like Israelis, who share everything with Muslims except religion.
Allowing Muslims to enter the western countries is nothing short of madness. Imagine a country ravaged by a deadly virus, like bubonic disease. Will it be a good idea to bring the infected people into our countries? That would be insane. The right thing to do is to help them defeat their disease. Likewise, the best way to help Muslims is to help them leave Islam. Islam is the source of their misery. Bringing them into our countries will only spread their disease and infect us too.
More Muslims means more western women will be raped; more no-go zones will be created; more picturesque European cities will be transformed into kasbahs; your children will be bullied, and beaten up in schools; there will be more crimes and the westerners will become hostages in their own countries and soon second class citizens. Remember what happened in Lebanon in our own time and expect that to happen all across the Europe, Australia, Canada and America.
There is something else that we must not discard and that is the rise of the right wing radicalism. It is not rational to assume all the westerners will take this much abuse lying down. Some will rise to defend their countries and the result will be a bloody war in western cities.
Sadly that would be too little and too late because when it comes to violence and terror no one can match Muslims. Less than 300 Muslims in Yathrib, under the leadership of Muhammad, through terror and assassination, cast so much terror in the hearts of the unbelievers that a town of about 10,000 inhabitants capitulated in just three years. In less than five years Muhammad expelled some and massacred the rest of all the Jews, the original inhabitants of Yathrib and changed the name of that town to Medinat al Nabi (Prophet's Town) and bragged, "I have been made victorious with terror." [Bukhari 4.52.220)
Curiously, more than 90% of the so called refugees are healthy Muslim men between the ages of 17 and 45. Coincidentally this is the group that is responsible for 99% of terrorism. And even this does not seem to raise the red flag. Why not give them a gun so they liberate their country?
All Muslims are victims and given a chance want to come the kafir lands that they despise so much. But there are 1.5 billion of them. How many of them can we accommodate? Why not help them get rid of Islam and solve their problems instead? Isn't that a better solution?
The only way to help Muslims is to remove the source of their backwardness and misery and that is to help them leave Islam. They must taste the bitter fruit of Islam to come to their senses and that is why the western countries should stay away from Muslims 'conflicts. Save the religious minorities such as the Christians and the Yezidis that have been the primary victims of Muslim and leave Muslims to their own devices. Let them pray to Allah to save them. It is simply not wise to save those whose primary intent is to subdue us and dominate us.
The following are a few of hundreds of examples of what Muslims are bringing with themselves to the west. Please watch the first one at least as it confirms everything I said in this article. And please spread this petition. Nothing is more deadly than ignorance about Islam and this ignorance is overwhelming.
Ali Sina is an ex Muslim founder of Faithfreedom.org and author of Understanding Muhammad and Muslims.
To send this petition to the leaders I need their email. I only found the email of the prime minister of Canada.  If anyone can help with the emails of others please post them in the comments. Thank you.
https://youtu.be/8U36fCE_vCE
https://www.youtube.com/watch?v=Kn-RBMGDozk
https://www.youtube.com/watch?v=2fEhy0H3fsM
https://www.youtube.com/watch?v=-uNBoUqGvVs
https://www.youtube.com/watch?v=QDJyhf1VQL4
https://www.youtube.com/watch?v=_Jg8EeL7zD8