The Oppressive Treatment of Women in Iran as Dictated by the Sharia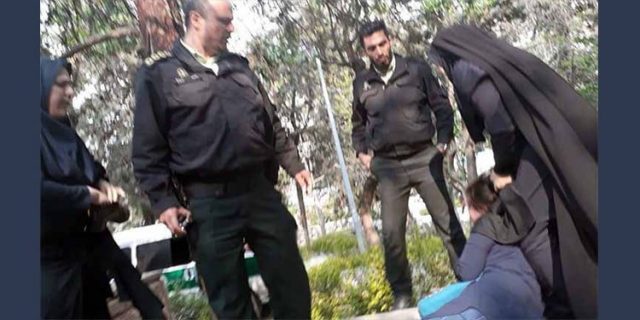 As Joe Biden comes even closer to being inaugurated at the 46th U.S. President of the United States, many are wondering if ( and how) he would rejoin the Iran nuclear deal, as he indicated he would, President Donald Trump unilaterally pulled out of in 2018 — China, France, Germany, Russia, the United Kingdom (and the European Union) were also co-signers. The president-elect did set a condition that Iran must strictly avow by terms of the deal. Well, Mr. Biden, as we say in Italy, "Auguri" (Good luck)!
Aside that Iran is due to hold elections in June, meaning that diplomats on both sides would have to act swiftly during Biden's first few months in office, Tehran had begun running a significant number of newly advanced uranium centrifuges, accelerating its ability to produce enough nuclear material to make a bomb and throwing its 2015 nuclear deal further disarray.
There is also one other substantial factor — something leftwing Muslim feminists like Linda Sarsour refuse to acknowledge — proving the Islamic regime is in no mood to change its holistic mentality: the oppression of women as dictated by sharia law, which even includes the execution of women for simply defending themselves against violent husbands and rapists.
Mass Executions of Women
Iran, in fact, is the world's top record holder of the executions of women according to the Women's Committee of the National Council of Resistance of Iran (NCRI). As per the NCRI, many of the women executed by the mullahs' regime are themselves victims of domestic violence against women and have acted in self-defense.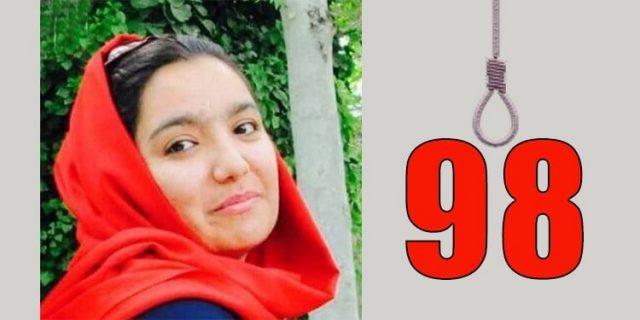 In 2019, the ayatollahs hanged 16 women in tandem with increasing suppression and executions in Iran. In December 2019, alone, six women were executed by the regime in various Iranian prisons — the mullahs have executed over 100 women since the so-called moderate President Hassan Rouhani took office in 2013. And many more women are currently awaiting execution in prison — some of these women, mostly mothers who have children.
Female political rights activist and prisoner Golrokh Ebrahimi Iraee, in a letter on July 27, 2019, said: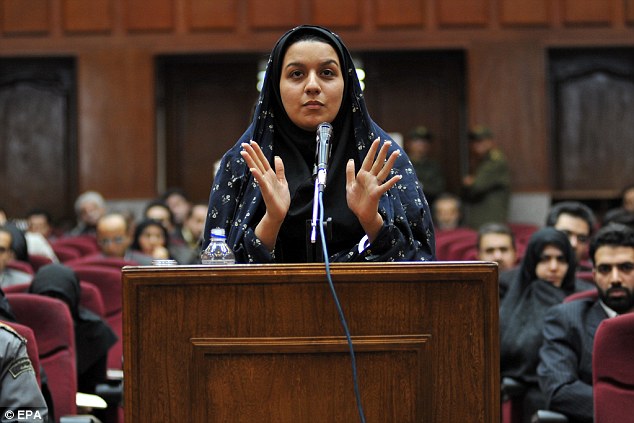 "In meeting women convicted of murder, I learned that a large percentage of them had murdered their husbands — instantly or based on a pre-meditated plan — after years of being humiliated, insulted, battered and even tortured by them and because of being deprived of their right to divorce. Although, they consider themselves criminals but are convinced that if any of their repeated appeals for divorce had been granted, they would not have committed such a crime."
Marriage as "Institutionalized" Rape
Many women, especially in countries where sharia is the law of the land, are forced into marriages against their own will; a woman has no say as to who her husband will be since he is preselected by a male within her family.
Such marriages, according to human rights activist and former Muslim Sandra Solomon — she lives under a death fatwa from Canadian imams, who have called for her to be killed for her conversion to Christianity — are nothing else than "institutionalized rape" or legitimized abuse of children, as with the (North) Sudanese Noura Hussein who in 2015 was forced to marry at the age of fifteen.
After fleeing and hiding from her spouse for three years, she was returned to him by her own family. The husband, with the help of his brother and two other men, then raped her. When Hussein's husband tried to rape her a second time, she fatally stabbed him in self-defense, for which she was sentenced to death. The decision was eventually overturned in favor of five years' imprisonment and financial compensation, customarily known as Diya or "blood money," to the tune of about $8,400.
Click below to view Noura Hussein's story
As I explain in my book, Islam: Religion of Peace? – The Violation of Natural Rights and Western Cover-Up, while the raping of a woman is a crime in all countries, sharia courts in Islamic states, such as Iran and Saudi Arabia allow a rapist to escape punishment by marrying his victim. In other instances, the victim who asks for justice is often prosecuted with the crime of zina (illicit sexual relations). This is because since the sharia does not allow forensic evidence to be used, such as DNA; rape can only be proven if the rapist admits to the crime or if there are four male witnesses who corroborate the woman's testimony. If the rape is not proven, as it often appears to be the case, the woman's complaint then becomes a confession of adultery, for which she can be flogged or stoned. The male aggressor remains unpunished, since he never admitted to a sexual act.
Oppression of Rural Women and Forced Child Marriages
Women in Iran are treated as second-class citizens and lack many of the rights that their male counterparts can enjoy. Furthermore, they are statistically more likely to end up in low-paid jobs, and even have less chance of getting access to education compared to males.
For the rural women of Iran life means suffering and working as a slave. The culture of male-domination promoted by the Islamic regime is reinforced in villages by a patriarchal management culture. Both of which forbid women's social participation.
Many of the challenges rural females in Iran, as with their Sunni counterparts in Saudi Arabia — Saudi law prohibits females from leaving the house without a male guardian, nor can they travel or even conduct any official permission without this guardian's permission — face are exclusion from school, domestic violence, lack of knowledge of their legal and social rights, lack of access to sanitation, hygiene and water. These problems prevent the progress of rural women in Iran and subdue their creativity.
The rural women of Iran bear the brunt of responsibilities of the agricultural business and economy of the village, which include caring for the livestock, bringing wood, bringing water, mending the tent and weaving carpet without being paid. At the same time, they must do all the housework and serve the family.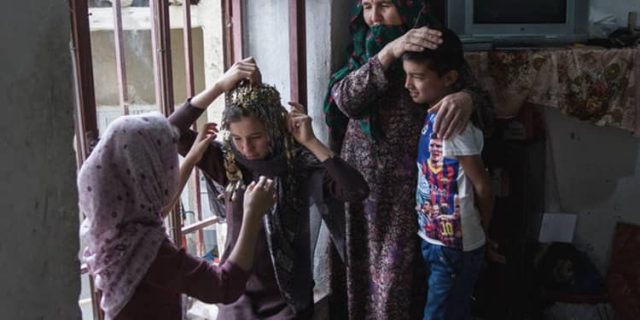 Forced-early marriages for girls, as in the rest of the Islamic world where the sharia prevails, is another common factor in Iranian villages. In some cases, poor families force their daughters to quit school to get married.
This misogynistic tradition coupled with lack of health education lead to motherhood of girls in very young age. Most of them become pregnant get pregnant at age 13 or 14 and give birth to their children one after the other. They sometimes give birth to as many as 12 children and become physically worn-out in young age. This coupled with poverty and difficult living conditions in the village, turns life into an inferno for young rural women of Iran.
The legal age of marriage for girls in Iran is 13 and the father is allowed to wed his daughter even below this age with the approval a court judge. Last year, the mullahs' parliament turned down the proposed bill to increase the age of marriage for girls to 16, saying it contradicted religious teachings.
The Iranian regime conceals the truth regarding early marriage of young rural girls to follow up its own misanthropist agenda. Not to mention, the Iranian Act to Protect Children and Adolescents (2002) does not criminalize physical abuse and does not mention sexual abuse.
The Constitution recognizes the father as the person who owns the blood of his child, thereby condoning honor killings by fathers.
Inequality of Women as Dictated by the Sharia
Sharia tenets in the Islamic world consider a woman unequal to a man, and thereby are to be treated as property:
And if you fear that you will not deal justly with the orphan girls, then marry those that please you of [other] women, two or three or four. But if you fear that you will not be just, then [marry only] one or those [which] your right hand possesses [slaves]. That is more suitable that you may not incline [to injustice]. — Sura 4, 3
"The male shall have the equal of the portion of two females." —Sura 4, 11
"Men are the maintainers of women because Allah has made some of them to excel others and because they spend out of their property; the good women are therefore obedient, guarding the unseen as Allah has guarded; and (as to) those on whose part you fear desertion, admonish them, and leave them alone in the sleeping-places and beat them; then if they obey you, do not seek a way against them; surely Allah is High, Great." —Sura 4, 34
[Muhammad] said: 'Is not the evidence of two women equal to the witness of one man?' They replied in the affirmative. He said: 'This is the deficiency in her intelligence.'" —Sahih al-Bukhari 6: 301
The Prophet wrote the (marriage contract) with Aisha while she was six years old and consummated his marriage with her while she was nine years old and she remained with him for nine years (i.e., till his death). —Sahih al-Bukhari 7: 62, 88
It is of no wonder why the Islamic Republic of Iran is building its centrifuges in defiance of the deal it agreed to in 2015. With such abuses against women of all ages that continue to go unchecked by the aforementioned singers of the nuclear deal — they too have shown not to care for human rights violations as per their non-intervention — what hope is there that the incoming Biden administration can achieve a peaceful resolution with a regime, or for that matter with any pro-sharia country, that seeks anything but peace as proven by their criminal treatment of women?
__________________________________________________
Mario Alexis Portella is a priest of the Cathedral of Santa Maria del Fiore and Chancellor of the Archdiocese of Florence, Italy. He has a doctorate in canon law and civil law from the Pontifical Lateran University in Rome; he also holds a M. A. in Medieval History from Fordham University, as well as a B.A. in Government & Politics from St. John's University. He is also author of Islam: Religion of Peace? – The Violation of Natural Rights and Western Cover-Up.