The New York Truck Massacre: It's all About Islam You Stupid, Brain Dead kafir. Islam In Action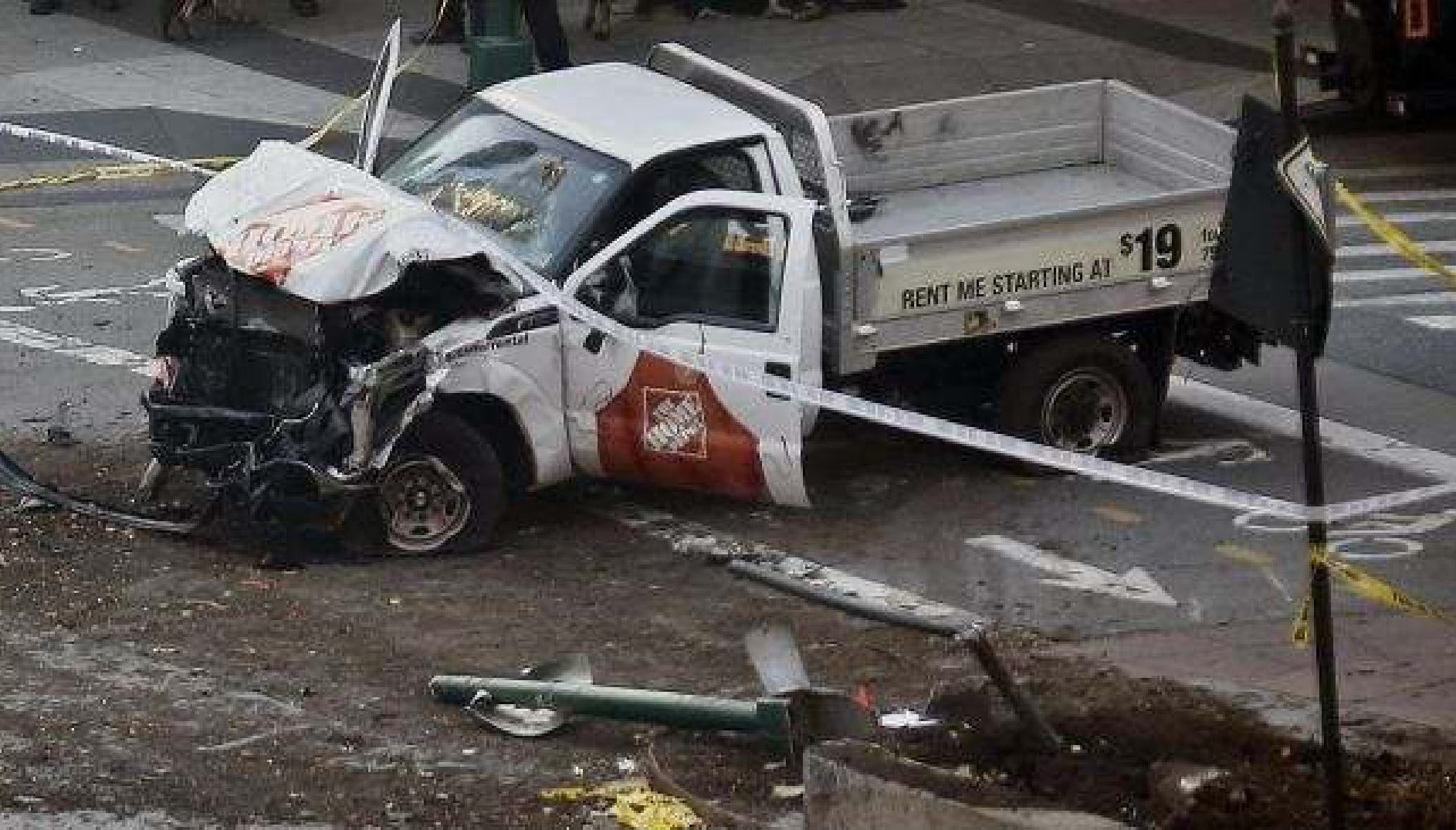 Yesterday, October 31 Sayfullo Saipov, 29 – a Muslim from Uzbekistan drove a rental truck at full speed down a bicycle path in New York murdering 8 and injuring 12 before deliberately smashing his bloody coated truck into a school bus filled with children injuring 4 – one critically. This Muslim monster then ran from the truck yelling Allahu Akbar! before being shot in the leg. There were 2 notes proclaiming his allegiance to ISIS.
   Immediately, the entire media went into a frenzy of disinformation and untruths to cover up for this Muslim massacre. Even Fox while declaring it would not be Politically Correct immediately espoused the greatest Political Correct statements declaring that this was Radical Islam, lone wolf and the vast majority of Muslims are good people.
WE DECLARE THESE SELF EVIDENT TRUTHS TO BE SELF EVIDENT.
ISLAM IS ISLAM
THERE IS NO ISLAMISM
THERE ARE NO ISLAMISTS
THERE IS NO RADICAL ISLAM
THERE IS NO ISLAMIC FUNDAMENTALISM
THERE IS NO SELF RADICALIZATION
IT IS ALL ABOUT ISLAM STUPID – HEAR NO EVIL, SEE NO EVIL, DO NOTHING ABOUT EVIL KAFIR
   We must destroy another series of great lies emanating from our media and political elites namely: Islam is not a wonderful religion of peace and love that has been hi -jacked and perverted by a few bad apples of evil Islamo – Fascists, Islamic militants, Islamic Fundamentalists, jihadists, Wahhabists, radical Islamists, political Islamists etc. There has been no hijacking. There has been no perversion. There is no moderate Islam. There is no radical Islam. There is no political Islam. There is no Islamism. There is no Self Radicalization. Islam is Islam. These demented souls are following EXACTLY the teachings of the Quran and in the divine footsteps of Muhammad as described in the Hadith. Again – IT IS ALL ABOUT ISLAM STUPID KAFIR.
   The Islam of 2017 is EXACTLY the Islam of 622 AD.
   We declare this self evident truth to be self evident.
   Islam is an evil political, military ideology of a psychotic manic, mass murderer, child molester, rapist, slaver, sex slaver, terrorist, torturer. For the crimes of this manic go to Page 97 of book: Killing Prophet Muhammad free download at www.godofmoralperfection.com
   We declare this self evident truth to be self evident.
   God is not a criminal. God is not a male chauvinist pig. If God killed or ordered the killing of just one human being or any other creature throughout the entire universe or committed any criminal act then God would no longer be Moral Perfection and therefore no longer God. GOD WOULD NOT EXIST. God cannot have as His prophet a criminal otherwise God is an accomplice in ALL crimes committed by His prophet and no longer Moral Perfection but a monster.
   Quran is not a holy book but a book of pure evil
   It is absolutely fundamental to Islam that the Quran is the word of God. Every word of the Quran is from the brain and mouth of God transmitted directly to Angel Gabriel to be re transmitted to Muhammad. We declare this self evident truth that not one word of the Quran is from God. Every word of this most evilest book in history is from the brain of the psychotic – Muhammad.
   We declare this self evident truth to be self evident that in order to be from God every word of the Quran must be moral perfection, Just one word that is immoral, or evil, just one word of killing, murder, inequality of women with men, inequality of Christians/Jews/other kafirs with Muslims, raping, pillaging, booty, war etc then all Islam is fraudulent. For the Quran to be from God there can be no words of extermination, war, murder, mass murder, killing, death and destruction, violence, terror, rape, unlimited sex with sex slaves, hate, violent jihad, terrorism, torture, brutality, savagery, maiming, beheading, wife beating, inferiority of women, honor killings, stoning, cutting off limbs, child sex, women as instruments of sexual pleasure in paradise, Sharia law, bigotry, intolerance, extortion, slavery, mutilations, looting, pillaging, sexual depravity, child molestation, oppression and subordination of women, inequality of kafirs, inequality of any human being, that kafirs can be murdered and their property stolen as a holy duty, that Muslims who renounce Islam can be killed, that Muslims (or anyone) who challenge the teachings of Islam can be murdered, that believers who slay and are slain in the service of God will ascend to a sexual Paradise of lustrous eyed, voluptuous breasted virgins who they can sexually molest for all eternity."
   The Quran is filled with thousands of immoral evil words and repeating this fundamental truth; not one word is from God.
   For a detailed listing of these evil teachings go to: The Destruction of lslam With Just one word: Six Requirements for Islam to be from God. http://godofmoralperfection.com/new-page-57.htm
   In answer to all media, political, intellectual, religious elites who declare that these acts of mass murder committed in the name of Islam are not the true Islam but an evil misinterpretation of the Quranic verses, we state that as we have already proven there has been no misinterpretation by Sayfullo Saipov and his ilk. Sayfullo Saipov understands every word of the Quran. What he did in New York was holy and divine repeating – Following EXACTLY the Quranic teachings and the Sunna of Muhammad to the LETTER. He was not self radicalized what so ever.
   We declare this self evident truth to be self evident.
   WHEN YOU BELONG TO AN EVIL IDEOLOGY – ISLAM – YOU ARE AS EVIL AS THAT IDEALOGY WHETHER YOU PERSONALLY COMMIT ACTS OF EVIL IN THE NAME OF THE IDEOLOGY OR NOT. INDEED YOU ARE AS EVIL IF NOT MORE EVILER THAN THE PEOPLE COMMITTING THESE HORRENDOUS ACTS OF EVIL. THEY ALSO SERVE WHO ONLY STAND AND WATCH.
   All humans were given a brain to discern the difference between good and evil. All good human beings know that there is no God that would ever order murder, rape, mulitation etc. This is so self evident that we declare these self evident truths:
   We can state without Equivocation that:
THERE ARE NO GOOD WHITE SUPREMACISTS/ SKIN HEADS/KKK/ARYAN BROTHERHOOD (AB)/ ALL ARE EVIL.
THERE WERE NO GOOD NAZIS/SS/GESTAPO.ALL ARE EVIL.
THERE ARE NO GOOD NEO – NAZIS. ALL ARE EVIL.
THERE ARE NO GOOD FASCISTS. ALL ARE EVIL.
THERE ARE NO GOOD COMMUNISTS. ALL ARE EVIL.
THERE ARE NO GOOD MUSLIM MEN. ALL ARE EVIL.
THERE IS NO ISLAM WITH A HUMAN FACE
   There were many Muslims so called reformers on TV last night declaring that Islam must be reformed. But all these so called reformers are all engaged in deceitful evil. Islam was reformed by Muhammad in 622AD. Only Muhammad can change Islam but he is dead and roasting in the fires of hell. Not one word of the Quran can ever be changed. Read:
   THE NEW REFORMED ISLAM: 622 THE GREATEST HISTORICAL YEAR IN THE HISTORY OF MANKIND. In 622 AD Muhammad Self Radicalized becoming the first Muslim to Self Radicalize and launched the greatest religious reformation in history – the Reformation of Islam. All Muslims today follow Reformed Islam. (page 102)
   911 was the greatest victory for Muslims and the greatest defeat ever for the USA, Western World and mankind. Our political/media elites have surrendered and are bringing this evil into their countries to conquer their own people, impose Sharia, destroy their constitutions and by doing so destroying the very essence of humanity – humanity.
   We will be ALL The Greatest Losers In Life.
   Muslims will be the evil greatest winners but in the process sacrificing their souls for all eternity. If there is a hell All Muslim men will be burning for all eternity for choosing the evil of Islam.
   Our children will reap the bitter Islam whirlwind we have sown. They will either submit to Allah or be killed.
   What good is it for someone to conquer the whole world, yet forfeit their immortal soul?
   Allahu Akbar!
   Jake Neuman: An Unknown Kafir but not yet a dhimmi of Islam.
For free Jake Neuman book Killing Prophet Muhammad go to: http://www.godofmoralperfection.com