Israel Sides with Azerbaijan and Erdoğan Against Christian Armenians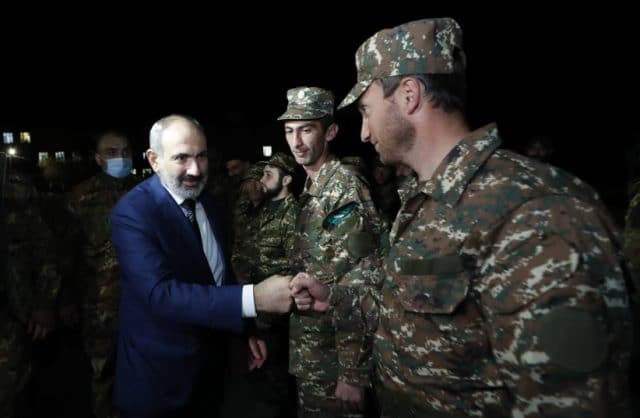 On Sunday Azeri President Ilham Aliyev said on Sunday his country's forces had taken Shusha, the second-largest city in the Nagorno-Karabakh enclave. Armenian officials immediately denied the claim.
Aliyev said November 8 would "go down in the history of the Azerbaijani people" as the day "we returned to Shusha" — the city, called Shusha by Armenians, is of cultural and strategic importance to both sides and is located 9 miles south of the enclave's largest city, Stepanakert.
Tensions between Christian Armenians and mostly Muslim Azeris, fueled by the trauma of 1.5 million Armenians slaughtered by the Ottoman Turks during World War I, carried over into open clashes. Those hostilities escalated into a full-blown war as the Soviet Union collapsed in 1991, killing an estimated 30,000 people.
The war ended in 1994 with a ceasefire and Armenian forces in control of Nagorno-Karabakh. The province has been predominately populated and controlled by ethnic Armenians backed by the Armenian government for more than twenty-five years. The Azeri government is seeking to remove the Armenian population from valuable land, which is coveted by the oil companies.
As previously written, aside the complex and complicated situation of the two former Soviet-republics in Nagorno-Karabakh, the Turkish-backed Azeris are nothing but an instrument of Turkish President Recep Erdoğan's jihad to exterminate the Armenians because of their ethnic and Christian affiliation. The caliph Erdoğan in September called for a universal jihad against Armenia:
"While I call on the Armenian people to take hold of their future against their leadership that is dragging them to catastrophe and those using it like puppets, we also call on the entire world to stand with Azerbaijan in their battle against invasion and cruelty."
What makes this jihad against the Armenians even more shameful is Israel's siding with the Azeris.
Armenian Prime Minister Nikol Pashinyan, in an interview with The Jeruslaem Post last week, accused Israel of lining up with Turkey, terrorists and Syrian mercenaries in backing Azerbaijan in the current conflict with Armenia.
Israel has emerged over the last decade as Azerbaijan's largest arms supplier, followed by Russia and Belarus. Israel is siding with Azerbaijan because of its strategic location on Iran's border and the fact that it provides Israel with a large percentage of its oil needs, as one of its most important strategic allies — Israel is believed to supply up to 60% of Azerbaijan's weapon systems.
President Aliyev — who has been widely criticized for his corruption, abuse of power, and human rights violations — revealed that in December 2016, while hosting Israeli Prime Minister Benjamin Netanyahu, he said in a press conference that his country was purchasing $5 billion worth of Israeli weapons.
As reported by the online journal Foreign Policy, the arms deals have included drones, missiles, radars, artillery, boats and intelligence equipment, which is also used to spy on Aliyev's rivals and Azerbaijani dissidents. An Israeli company upgraded a private jet for Aliyev and had another one built for him. It also helped build an underground command and control center in the capital, Baku. Some of the Israeli military technology, especially drones and artillery shells, were used against Armenian troops in skirmishes between the two enemies. "For Israel, it's just a trade, but for us, its death," Armenian Foreign Minister Zohrab Mnatsakanyan told Foreign Policy.
In return, Azerbaijan sells oil to Israel and allows Israeli intelligence agencies to use its soil as a launching pad for operations against Iran. Now, Netanyahu, who was re-elected this month for his fifth term as prime minister, fears that acknowledging the Armenian genocide would cause Israel to lose the revenues from the Azerbaijani market and that Aliyev, who is also a good friend of Erdogan's, might put an end to the Israeli intelligence presence in his country.
Pashinyan, speaking from Yerevan through an interpreter, blasted Jerusalem for arming Azerbaijan, which he said is intent on "carrying out genocide against Armenians in Nagorno-Karabakh."
Yossi Melman, an Israeli journalist and co-author of Spies Against Armageddon: Inside Israel's Secret Wars, wrote:
"Too often, the memory of the Holocaust has been used as an instrument of policy, not a moral compass. After the collapse of the Soviet Union and communism, the Baltic states and several Central European countries embarked on the path of historical revisionism and celebration of local anti-communists, who had collaborated with the Nazis in killing Jews during World War II. Yet Israeli governments largely turned a blind eye and chose trade deals and military cooperation over morality."
One would think that after having had 6 million of its own population wiped out by the National Socialists Israel would sympathize with a small Christian population that could face extinction if the international community does not intervene on their behalf. But the fact that Israel still refuses to acknowledge the Armenian genocide ever happened, as per Mossi's insinuation, making a quick buck tends to be more meritorious than caring for the victims of jihad.
It is time that the international community denounces the Turkish-backed Azeris and Israel for its crimes. Calling Israel out is not anti-Semitic anymore than calling the "holy war" to exterminate the Armenians an Islamic jihad is Islamophobic, as many would hold. While President-elect Joe Biden has critricized Turkey's role in the conflict, it does not seem as if U.S. policy will change much under his administration so long both as criticisms are not materialized into action and Israel continues to get the green light to assist Azerbaijan.
__________________________________________________
Mario Alexis Portella is a priest of the Cathedral of Santa Maria del Fiore and Chancellor of the Archdiocese of Florence, Italy. He has a doctorate in canon law and civil law from the Pontifical Lateran University in Rome; he also holds a M. A. in Medieval History from Fordham University, as well as a B.A. in Government & Politics from St. John's University. He is also author of Islam: Religion of Peace? – The Violation of Natural Rights and Western Cover-Up.
Book available on Amazon, Barnes & Noble or WestBow Press.