Islam's "Separate But Equal"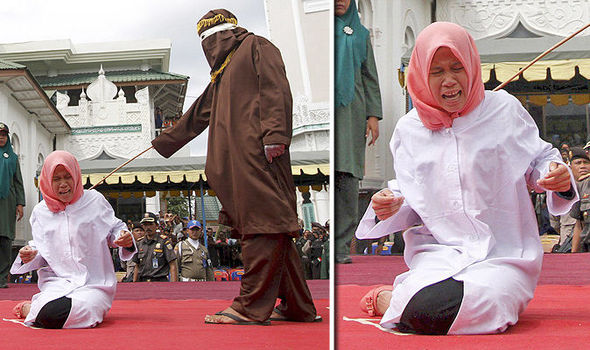 There are many misconceptions about equality in the Islamic religion, especially on the status between a man and a woman. It is, in fact, worse than the then-"separate but equal" doctrine in the former Confederate States, which unlike for white people, denied equal access to public accommodations, employment, facilities and the like to black Americans.
It is true that the Quran has verses where women are considered "equal" to men, which apologists for Islam often cite:
"Their Lord responded to the: "I never fail to reward any worker among you for any work you do, be you male or female, you are equal to one another." — Sura 3, 195
"As for those who lead a righteous life, male or female. While believing, they enter paradise; without the slightest injustice." — Sura 4, 124
"Anyone who works righteousness, male or female, while believing, we will surely grant them a happy life in this world, and we will surely pay them their full recompense for their righteous works." — Sura 16, 97
"Whoever commits a sin is required for just that, and whoever works righteousness—male or female—while believing, these will enter paradise wherein they receive provision without any limits." — Sura 40, 40
The truth of the matter that the Quranic teachings and the attributed traditions of the Prophet Muhammad (the hadiths), subjugate women to a second-class status. In her New York Times bestselling book Heretic: Why Islam Needs a Reformation, Ayaan Hirsi Ali states: "No group is more harmed by sharia than Muslim women, … a reflection in part of the patriarchal tribal culture out of which Islamic law emerged."
As she points out, this is due to the fact that females are naturally considered to be one-half of a man, at best. Many women, especially in countries where sharia is the law of the land, are forced into marriages; a woman has no say as to who her husband will be since he is preselected by a male within her family. This is something that pro-sharia feminists like Linda Sarsour and mainstream media networks, such as CNN or the BBC ignore.
In opposition to above four "favorable" verses towards women, there are numerous Quranic verses and hadiths that deliberately defame and dehumanize them:
"Your women are a tilt for you (to cultivate) so go to your tilt as ye will, and send (good deeds) before you for your souls, and fear Allah, and know that ye will (one day) meet Him. Give glad tidings to believers, (Muhammad)." — Sura 2, 223
Men are in charge of women by what Allah has given one over the other and what they spend from their wealth. So righteous women are devoutly obedient, guarding in absence what Allah would have them guard. But those from whom you fear arrogance—advise them; forsake them in bed; and, strike them. But if they obey you [once more], seek no means against them. Indeed, Allah is ever Exalted and Grand. —Sura 4, 34
Iyas bin 'Abd Allah bin Abi Dhubab reported the Apostle of Allah as saying: "Do not beat Allah's handmaidens, but when Umar came to the Apostle of Allah and said: 'Women have become emboldened towards their husbands, he (the Prophet) gave permission to beat them.'" — Abu Dawud, 2141
In Islamic tradition, although women have a deliberative faculty, it is 'without authority' (akuron), so that females require male supervision. Perhaps this is why the Prophet Muhammad is quoted saying: "'Is not the evidence of two women equal to the witness of one man?' They replied in the affirmative. He said, 'This is the deficiency in her intelligence.'" —Sahih Bukhari, Book 6, hadith 301
As dictated by the sharia, which is supposed to regulate every aspect of a Muslim's life, a man, for example be allowed to marry up to four women:
And if you fear that you will not deal justly with the orphan girls, then marry those that please you of [other] women, two or three or four. But if you fear that you will not be just, then [marry only] one or those [which] your right hand possesses [slaves]. That is more suitable that you may not incline [to injustice]. — Sura 4, 3
And if he wishes a fifth one, he simply repudiates one of the four he likes the least and marries the new one. We see this in Muhammad's multiple marriages, including 'Aisha, who was nine years of age when her marriage was consummated:
Aisha reported that Allah's Apostle married her when she was seven years old, and she was taken to his house as a bride when she was nine, and her dolls were with her; and when he [the Holy Prophet] died she was eighteen years old. — Sahih Muslim, Book 8, hadith 3311
If this is equality for women, it makes the former "separate but equal" atrocity of the southern states in America look like heaven on earth.
__________________________________________________
Mario Alexis Portella is a priest of the Cathedral of Santa Maria del Fiore and Chancellor of the Archdiocese of Florence, Italy. He has a doctorate in canon law and civil law from the Pontifical Lateran University in Rome; he also holds a M. A. in Medieval History from Fordham University, as well as a B.A. in Government & Politics from St. John's University. He is also author of Islam: Religion of Peace? – The Violation of Natural Rights and Western Cover-Up.
Book available on Amazon, Barnes & Noble or WestBow Press.