Islamic Bullying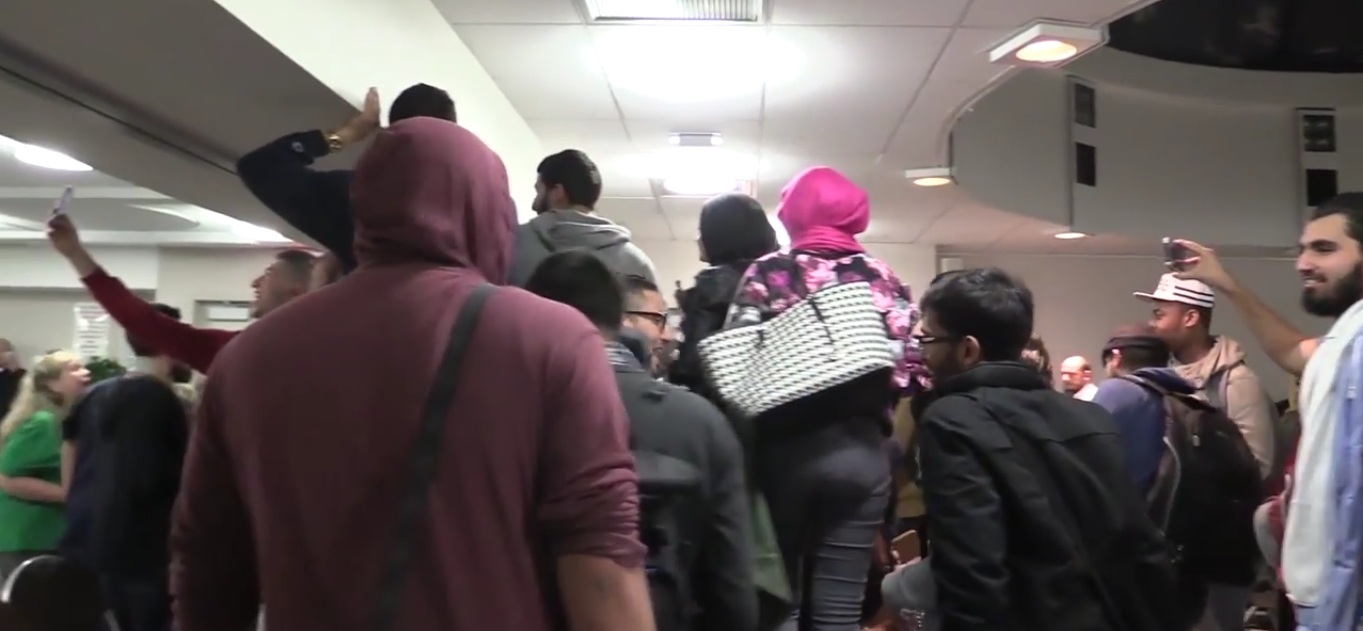 Dear Mr. Sina, I am a non-muslim woman born and raised in India but living in Canada now. Recently something happened to me which disturbed me a lot and led to me discovering your website and ultimately writing to you now.
I am attending a university in Canada. Recently some students had gone on a ski trip where they drank too much and behaved in a stupid manner. This led to whispers in the hallways about who got drunk, how much they drank and what they did. In our department, the students publish a monthly newsletter. The issue of the newsletter published at this time contained an article by a classmate of mine, a young and intelligent muslim man. He wrote about the dangers of drinking, including its ill effects on health and advocated a complete ban on all alcohol in the department.
What irritated me to the point of distress was the tone of the article: the author asserted in the first paragraph that he was forbidden by his religion to drink. He then went on to pontificate from his high horse. His smug, arrogant tone touched off a raw nerve in me and I emailed him. I told him that I am a non-drinker too, and that I was appalled as everyone else by the boorish behaviour of the students on the ski trip. I then suggested he should try drinking alcohol first before preaching others to give it up cold turkey. A lot of people are unable to stop with one drink. The problem is not alcohol itself but consuming too much alcohol. In other words, I made the point that the goal should be to enable the students to know their limits and stay within it while drinking. I told the author that it is easy to criticize a drowning man's swimming skills while you are watching safely from the shore.
I also mentioned in my email a previous article he had written for the same newsletter, in which he denounced the then Quebec government's proposed Charter of Values. That Charter, if it became law, would prevent anyone wearing overt religious symbols from working in government institutions. It never did become law, yet at that time, I fully supported it. The author had written at that time that such a law was uncanadian and people like his wife, who wore a headscarf, would not be able to work in government. A former Supreme Court judge had supported the proposed law, and the author called her xenophobic. I wrote in my email to the author asking what problems he could have with a law that would strengthen Canada's secular identity and support the separation of church and state. I pointed out to him that the law would affect people of all religions, not just muslims and that, as a Hindu woman, I would also have to remove my bindi from my forehead, yet I did not mind that. I also asked him to try wearing his wife's headscarf the way she wears it for a month and then give his opinion on whether it was comfortable to wear it. I also told him that the headscarf makes me sad because it is a sorry sight to see a woman so ashamed of her own face and hair that she has to cover it up fully.
Overall, the approach I took in my email was asking him to empathize with people before telling them what they must do.
He replied angrily calling me islamophobic. He said it was ridiculous that his wife was ashamed of her hair and told me rudely not to contact him ever again. He signed off saying he felt deeply hurt and upset. I replied simply saying I was sorry he had chosen to get defensive. I also clarified that I was not islamophobic but merely male-chauvinist phobic. He replied saying that I was getting close to bullying him and how dare I call him a male chauvinist. He threatened to take action against me for bullying him if I contacted him again.
So the matter stands.
I got so disturbed about these events that I discussed it with my family members. They agreed that they would have felt as annoyed and angry as I did, but advised me to ignore such people and just get on with my life.
But I could not get the events out of my mind. I was especially intrigued by being called islamophobic. Honestly, I had not given much thought to islam back then and was probably in a neutral position of ignorance about it. But his words somehow spurred me to find out more about islam on the internet. During my hours of online searching, I came across your website and others like Ayaan Hirsi Ali. Now I can well and truly say I am islamophobic! Ironically, that fellow's attitude has succeeded in making an islamophobe out of a person who was previously not one.
But I am still very curious about what was going on in that fellow's mind and why he behaved the way he did. I know for a fact he got admitted into Canada's number 1 law school, so he is undoubtedly intelligent, so where does all that arrogance come from?
In my email to him, I did not mention or criticize islam at all. I criticized only the practice of women wearing headscarves and his preaching of Prohibition. Somehow, in his mind, headscarves = islam, so that criticizing one = criticizing the other. Would there be no islam without headscarves? I have met lots of muslims in India and here. In India, muslim women very rarely hide their hair, or faces. They dress the same as everyone else. So I can't believe that headscarf = islam.
All I asked him was to empathize with the plight of women who have to cover their hair all day long. Why was he so offended by my asking him to show some empathy for his own wife?
He says it is ridiculous that his wife is ashamed of her body. Then why is she hiding her hair? Why would any sane woman hide her hair, if not for shame? In fact, the whole idea of women being modest by hiding their hair, face and body is premised on the concept of shame. It is all about shaming women who don't cover their hair and guilting them into covering up. It is the threat of being thought immodest and the associated shame + guilt that leads a woman to cover up parts of her body that are not remotely sexual i.e. hair.
Why is the author so liberal in accusing others of phobias left and right? Incidentally, he declared that I was islamophobic in a tone that suggested I was a murderer or something worse. What is so unbearable about being islamophobic? After all, it is perfectly alright for anyone to be Christianity-phobic, Judaism-phobic, Hinduism-phobic or Buddhism-phobic. So why is being islamophobic a special offence? After all, every human being has the right to like and dislike whatever they want, don't they? So I am free to have phobias to anything I want, the same way he is free to do so. In fact, he seems to be the one with disagreement-phobia.
This man actively advocated woman hiding their hair on a daily basis. But he gets shocked when I point out that he is a male chauvinist?! What kind of logic is going on inside his mind?
When people of other religions are not making a fuss about the proposed Quebec Charter, why are muslims so upset by it? Why do muslims in general think they are entitled to special treatment? I feel the newsletter author's arrogance stemmed from his religious position that it was wrong to drink. He was so convinced that what his religion tells him is right that he set out to preach to others to think the same way too.
Most important of all, and still a mystery to me is, if the guy cannot deal with any kind of disagreement or difference of opinion, why did he go to the trouble of publishing his views and make them available for the public to comment on? I mean that I have a lot of personal beliefs too as to what is right and wrong, but I don't go around preaching to anybody else that what they are doing is wrong and they should come around to my point of view. It is only to refute someone else's viewpoint that I put forward my views, as I did on this occasion. So this guy publishes a front-page article in the newsletter for all the students to read, yet he feels extremely hurt and is in a state of shock and disbelief when someone tells him they don't agree with his views – how is this possible in a guy who is otherwise very intelligent? Why is he so ready to play the victim card and accuse me of islamophobia and bullying when all I was doing was expressing disagreement? He is willing to publicly air his views, but retreats behind the safety of the university's anti-bullying rules when challenged.
As a Hindu, I believe that there are many pathways to reach the divine and that everyone is free to follow their own path. So it is a huge culture-shock for me that this guy thinks he is the only one who is right and everybody else is wrong. In fact, his attitude seems like that of a toddler's. Small children can be stubborn and insist that their playmates are wrong and things should be done the way they want. But it is very childish when adults behave the same way.
So, Mr. Sina, I hope you can explain how to reconcile this guy's disturbing behaviour with his intelligence and upbringing in Canadian society. Do you think there is any chance of this young man ever realizing what he did was wrong and why it was wrong? Above all, how does his wife manage to live with someone like him?!!
If you want to put my letter on your website, please do so, but only AFTER removing all identifying information.
Thanks
Hi
Islam is a cult and Muslims are cultists. Once you see them under this light their behavior will no longer surprise you. Cultists are not necessarily ignorant or unintelligent. However they see everything through their colored lenses. They bully and threaten others and are intolerant of opposing views. I suggest you stop contacting this man, but please try to publish your article it in the same newsletter.
Islamophobia is a charade. Phobia is an irrational fear. There is nothing irrational in fearing a religion whose followers consider terror to be an act of worship. Muhammad wanted everyone to fear him. He said, we will cast terror in the hearts of disbelievers. (Q.8:12) and bragged that he had become victorious through terror.
It is this man that has bullied and threatened you that if you speak your mind you will pay the consequences. I strongly suggest you don't take this threat lightly and write about it in the same newsletter.
Muslims think of themselves morally superior to others. They forget the Islamic child marriage, stoning of women, beheadings, the utter cruelty of halal food, the lack of human rights in Islamic countries, the misogyny, the wife beating sanctioned in the Quran, polygamy, and countess other immoral and inhumane Islamic practices. None of that is worthy a mention but the fact that alcohol is prohibited in Islam has to be trumpeted as in their mind it establishes their superiority over others.
Ali Sina