Is Ed Miliband Pimping The Entire Nation's Freedom For Muslim Votes?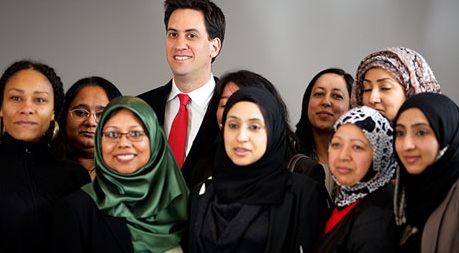 This article is originally published at Examine-Islam.org by Martha van der Pol
Ed Miliband is in fact Jewish himself. He has in the past admitted the Labour party and the Left wing of politics has a nasty antisemitic streak – is he playing into it with his new promise to ban Islamophobia?

Ali Sina, Iranian ex-Muslim apostate, is a strong critic of Islam and founder of faithfreedom.org. Ali writes exclusively today for examine-islam.org on Ed Miliband's vow to ban 'Islamophobia'. As an ex-Muslim who has spent his life examining Islam, it would be good for Mr. Miliband to discuss this with him – or at least listen to his warnings about this:
Ali Sina says: "The Labour Party is taking electioneering to a new level, the lowest imaginable. They are promising to sell their country and the freedom of the people just to get elected.
Ed Miliband the Leader of Labour Party is vowing to criminalize criticism of Islam and "outlaw the scourge of Islamophobia."
"We are going to make it an aggravated crime. We are going to make sure it is marked on people's records with the police to make sure they root out Islamophobia as a hate crime," Miliband told the Editor of The Muslim News, Ahmed J Versi in a wide ranging exclusive interview.
"We are going to change the law on this so we make our abhorrence of hate crime and Islamophobia absolutely clear. It will be the first time that the police will record Islamophobic attacks right across the country," he said.

"In other words," says Ali Sina, "Miliband is promising Muslims that he would introduce the Islamic blasphemy law, and prosecute the British people if they express their fear of Islam, using their tax money to silence them and crush their freedom of speech."

Phobia is an irrational fear. "There is nothing irrational in fearing Islam," Says Ali Sina. "The prophet of Islam vowed, 'Soon shall We cast terror into the hearts of the Unbelievers, for that they joined companions with Allah.'" (3:151)

Elsewhere the Quran says, "Give firmness to the Believers: I will instil terror into the hearts of the Unbelievers: smite ye above their necks and smite all their finger-tips off them." (8"12)
Who are these Unbelievers that Muslims should cast terror in their hearts? They are atheists, agnostics, animists, Hindus, Buddhists, Bahais, Sikhs, Yezidis, Jews, Christians and everyone who is not a Muslim.
The Quran 5:17 says, "in disbelief are they who say that Allah is the Messiah, son of Mary"
The verse 73 of the same sura says, the unbelievers are those who believe in trinity.
The verse 9:31 includes also Jews in the rank of unbelievers and invokes the curse of Allah on both the Christians and the Jews.

Obviously Muhammad wanted the non-Muslims to fear him. He even bragged:
"I have been made victorious with terror." Bukhari (4.52.220)
The following hadith also recorded by Bukhari exemplifies one such case where victory was attained through terror.
"Allah's Apostle offered the dawn prayer when it was still dark, then he rode and said, 'Allah Akbar! Khaibar is ruined. When we approach near to a nation, the most unfortunate is the morning of those who have been warned." The people came out into the streets (fearfully) saying, "Muhammad and his army." Allah's Apostle vanquished them by force and their warriors were killed; the children and women were taken as captives. Safiya (a 17 year old woman whose father and uncle Muhammad had beheaded and whose husband he tortured to death) was taken by Dihya Al-Kalbi and later she belonged to Allah's Apostle who married her and her dowry was her manumission." [Bukhari 2.14.068]
The historian Abul Husain Muslim Nisapuri writes:
"Ibn 'Aun reported: I wrote to Nafi' inquiring from him whether it was necessary to extend (to the disbelievers) an invitation to accept (Islam) before meeting them in fight. He wrote (in reply) to me that it was necessary in the early days of Islam. The Messenger of Allah made a raid upon Banu Mustaliq while they were unaware and their cattle were having a drink at the water. He killed those who fought and imprisoned others. On that very day, he captured Juwairiyabint al-Harith (another young woman whose husband, father and all male relatives he had butchered)."  [Muslim 19: 4292]
There are plenty of examples from the Quran and the most respected hadith that show Muhammad wanted the non-Muslims to fear Islam.
In the same offer Ed Miliband made to Muslims he also said, "The Labour Party Manifesto pledged to take a zero-tolerance approach to hate crime regarding the growth of Islamophobia as well as anti-Semitism."
Ali Sina comments:
"Now these two goals are mutually exclusive. Muhammad was anti-Semitic and as the result of this, his followers are anti-Semitic. There are no less than 90 disparaging and hateful remarks in the Quran alone in regard to the Jews. Here are a few:
[2.88] Allah has cursed them on account of their unbelief.
[2.98] Allah is their enemy.
[2.121They are the losers.
[4.46] Allah has cursed them.
[5.60] Allah made them apes and swine.
[5.78] Those who disbelieved from among the children of Israel were cursed.
[4.50] They forge a lie against Allah, and this is sufficient as a manifest sin.
[4.160] Wherefore for the iniquity of those who are Jews did We disallow to them the good things and for their hindering many (people) from Allah's way.
[4.161] And their taking usury and their devouring the property of people falsely, and We have prepared for them a painful chastisement.
[5.13] But on account of their breaking their covenant We cursed them and made their hearts hard; they altered the words from their places and they neglected a portion of what they were reminded of; and you shall always discover treachery in them.
And what should be their punishment of those who disbelieve in Muhammad and criticize him, i.e. oppose his religion?
[5.33] The punishment of those who wage war against Allah and His apostle and strive to make mischief in the land is only this, that they should be murdered or crucified or their hands and their feet should be cut off on opposite sides or they should be imprisoned; this shall be as a disgrace for them in this world, and in the hereafter they shall have a grievous chastisement.

Ali Sina has this advice: 
"If Ed Miliband is serious about uprooting anti-Semitism he has to ban the Quran. Jew hatred is prescribed in the Quran."

"The Quran [5.64] first curses the Jews accusing them of striving to make mischief in the land and says, Allah put enmity and hatred among Muslims and Jews till the Day of Resurrection."
The verse [5.51] instructs Muslims not to "take the Jews and the Christians for friends; they are friends of each other; and whoever takes them for a friend, he is one of them — an unbeliever,"
Ali Sina comments:
"Ed Miliband has a problem on his hands. If he opposes anti-Semitism then he has to oppose Islam, and if he defends Islam he would be promoting anti-Semitism. He can't have it both ways."
This video is a compilation of hatred that Muslims have for the Jews, as the result of the teachings in the Quran and countless hadith.

"There are also many hateful verses about Christians and Christianity. However, Ed Miliband did not offer to protect the Christians against hate. So as far as his narrative goes, there is no point in discussing the matter."
"There is nothing irrational in fearing a religion that vows to cast terror in the hearts of people who disagree with it and teaches its followers that the surest way to heaven is through killing the unbelievers. Islamophobia, as someone pointed out, is a word created by fascists, used by cowards, to manipulate morons. It makes as much sense as Naziphobia.
"Beliefs must be open to criticism, without which there is no freedom at all. Imagine granting the same concessions Ed Miliband is willing to give to Islam to Christianity. We should start burning the books of Bertrand Russell, Voltaire, and Thomas Paine, and prosecute Richard Dawkins. That is what Muslims did to the critics of Islam. There were many rationalists in the early centuries of Islam, like Zakaria Razi, Umar Khayyam, Al Farabi adn Abu Ali Sina. These men advocated for reason, skepticism and analysis rather than religious authority. They could have started the Age of Enlightenment 700 years before it eventually happened in Europe. But their voice of reason was silenced by rulers who like Ed Miliband thought it is politically more expedient to appease the religious fanatic than to defend freedom of speech.
"Truth does not need the protection of the law and lies should not be protected by force. If a law is made to ban criticism of beliefs Islam is the first creed that has to be banned because it is it vile and disrespectful towards all faiths and beliefs. Not only Islam is intolerant of other faiths calling them ungodly or corrupted, it also advocates violence against their followers and encourages its believers to slay the unbelievers wherever they find them."
Politicians that offer to barter the liberties of the people in exchange for vote do not have the interest of the nation in their heart."
"It is despicable for a man to offer his wife to sleep with his boss to get promoted. Yet it is far worse for a politician to offer the freedom of an entire country so he can buy votes. The latter affects millions of people including the unborn generations."
________________________end_________________
Ali Sina's article may be reproduced in its entirety or quotes taken from it as required.
For further information please contact:
Martha van der Pol – [email protected] 
Examine-Islam.org is a new campaign launching soon. Our aim is to demand our politicians examine Islam's core texts, history of violent conquest and current terrorist events in the name of Islam before claiming Islam is peace. We offer information, commentary on current events and will soon launch a petition demanding honesty on Islam.