India: Muslims shoot Hindu youth dead after he posted images of Muhammad, Love Jihad on the rise
While the liberal-secular coterie accuses radical Hindu "goons" of attacks on Muslims, the reality is quite different. Despite being the dominant demography [at 79.8% as per the 2011 census] in India, where Muslims form the second-largest religious group [at 14.23% as per the 2011 census], Hindus often become victims of Islamic terror and violence.
On Tuesday, 25 January 2022, a Hindu youth named Kishan Boliya was brutally murdered by assailants on bikes in Ahmedabad district of Gujarat state in India. Kishan Boliya, 27, was a resident of Dhandhuka town, about 100 kilometres from Ahmedabad city, which is the biggest city and commercial centre of Gujarat state, and the twin city of its capital Gandhinagar.
Allegedly, the youth had shared an image of Islam's Prophet Mohammed on social media – a seemingly harmless act that is known to trigger many Muslims worldwide, and often results in the beheading or killing of the person responsible for the act, or others who had nothing to do with it. Some Muslims justify the killing because the act was "blasphemous."
The reason for that is that it is not easy for a Muslim (i.e. a Muhammadan) to bear much criticism of Muhammad (let alone see Muhammad for who he was). It is like telling a child that his father is a rapist, murderer and a thief. A child who adulates his father will not be able to accept it even if all the proofs in the world are shown to him. He will instead call you a liar, hate you for hurting him, curse you and may explode in anger and hit you physically. Killing others for the honour of Muhammad is considered holy in Islam.
Kishan's post whipped up a huge controversy, after which he did not step out of his house for several days. According to witnesses, two bikers were following Kishan as he was returning home on his bike on the day of his murder. They fired at him twice. Though they missed the first shot, they took him down with the second. Kishan died on the spot. Police have initiated an investigation.
Kishan's family initially refused his mortal remains; later, prominent members of various Hindu organizations intervened, spoke to the police, and assured proper investigation on the case. The family then accepted the mortal remains and performed Kishan's last rites on Wednesday, January 26.
After three days of investigation, the Gujarat police have arrested a Maulvi along with two Muslim youths for the murder. The police have identified the two assailants as Mohammad Shabbir, 25, and Mohammad Imitiaz Pathan, 27. As per police, it was Shabbir who fired the shots. Both are residents of Dhandhuka, police say.
The Maulavi who is the third person arrested in the murder is named Mohammad Ayyub Javrawala, 51, a resident of Jamalpur area of Ahmedabad. The police say he radicalised Muslim youths to kill in the name of Islam and provided ammunition for Kishan's murder.
According to the Zee News Gujarati, the murder was carried out on instructions of two Maulvis, one from Ahmedabad and another one from Mumbai. The Maulvi from Mumbai had given the instructions.
Gujarat's Minister of State for Home Harsh Sanghavi on Friday, January 28 confirmed the arrest of the Muslim cleric (Maulvi) from the Jamalpur area of Ahmedabad.
Earlier, there were mobs of Muslims who raised slogans of beheading for blasphemy against a Hindu priest, Yati Narsinhananda Saraswati in April 2021, and other Muslim leaders too had openly called for that. The Leftist media reported the rallies as 'protest against Dasna priest, memorandum given to police' instead of condemning the call for murder and telling it as it is.
The leading-most English daily from South India, and an extremely anti-Hindu and pro-Muslim newspaper with Communist leanings, The Hindu reported this incident as 'VHP calls bandh [strike], gives the murder a communal spin'. Thus, it claimed that it was the Vishwa Hindu Parishad's [World Council of Hindus] call for bandh that gave the murder a "communal colour", not the murder in itself!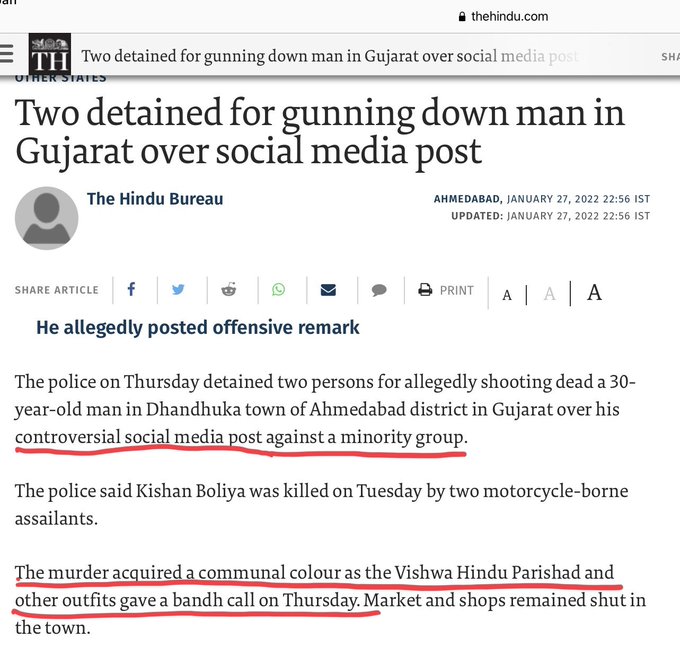 One did not find the news of arrests made and involvement of Maulvis in the Kishan murder over blasphemy in any of the Delhi editions of national English dailies of India, like The Times of India, The Hindustan Times etc which are pro-Muslim, Leftist newspapers. It should have been front page news.
This cold-blooded killing in broad daylight brings back memories of the 2019 Kamlesh Tiwari murder case, in which a Hindu leader was slaughtered by Muslims in Lucknow, the capital city of India's biggest state of Uttar Pradesh, for making "objectionable" remarks about their prophet. Kamlesh Tiwari's own remarks were simply a response to very objectionable remarks by a Muslim political leader of Uttar Pradesh, Azam Khan, who alleged that members of India's largest volunatry organization, the Hindu nationalist Rashtriya Swayamsewak Sangh (RSS) were 'homosexuals'.
But while Azam Khan did not even get threats for his assassination for his remarks on RSS men [he claimed on other occasions to have got death threats in private phone calls for other reasons, but he did not make any such a claim for this comment, nor were any such threats seen in public], Tiwari was actually killed, despite being provided security guards.
Some Islamists tried to whitewash his murder too, by trying to claim that his killing was a result of 'personal enmity' e.g. Zainab Sikander, a Muslim writer and columnist in India, who often writes on websites with sizable viewerships like The Print. [Zainab Sikander has also denied that the Quran calls for conversion or killings of non-Muslims, despite the difference being clear in early Meccan verses and later Medinan verses, and the early Meccan verses which are tolerant being abrogated by later Medinan verses. Chapter 9, Verse 5 of the Quran is the infamous Sword Verse which freezes the status of al idolators and polytheists in Islam- as convert or die, as proven by this debate.]
She did not delete her tweet even after the killers confessed the truth, that they had killed him for his remarks on Muhammad. They disguised themselves as Hindus, used fake ID cards to pretend to be members of Kamlesh Tiwari's party, hid a pistol and knife in a box of sweets and killed him after visiting his residence.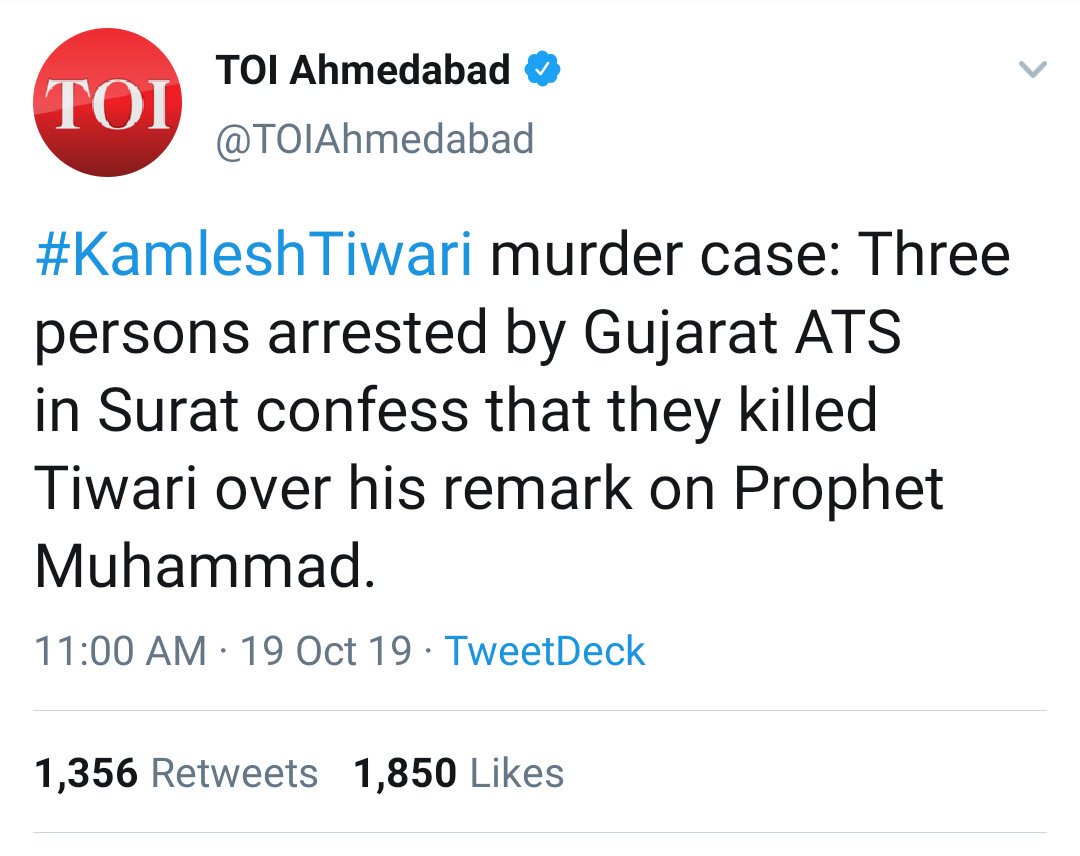 Apart from murders for alleged blasphemy, the second most rapidly rising social evil witnessed in this geography is Grooming Jihad or LoveJihad. A 31-year-old private bus conductor, Afzal, was arrested by the police last week on charges of grooming and raping a 13-year-old girl on the afternoon of January 15. Afzal had reportedly lured the 8th-grader inside the bus and sexually assaulted her with the help of two of his accomplices.
Afzal, who is a married man with a child, groomed the minor, a daily commuter in the bus, by pretending to be in love with her. On the day of the crime, he asked her to meet him at the bus stand.
Afzal and his accomplices cancelled the trip, telling the bus owner that there weren't enough commuters. Now that they had the bus to themselves, they brought down the window shutters and exited; the victim was left in the bus with Afzal, who molested her.
Deputy Superintendent of Police Shaju Jose, who received a tipoff about the crime, sent a team of officials to the site and caught the accused and his victim inside the bus. By the time the police reached the spot, Afzal had already raped the girl twice and was forcing unnatural sex on her. This, apparently, isn't the first time; Afzal has raped a minor earlier as well.
In another incident of grooming jihad, Mohammad Isaaq, a Muslim man from Nepal, initiated a relationship with a Hindu Nepalese woman named Shiva Vishwakarma. Shiva was working with him as a typist in Nepal. He convinced her to marry him, concealing the fact that he was still married to his first wife. Shiva converted to Islam after the Islamic wedding ceremony and was given a new name, Sofia. Mohammad Isaaq then migrated to India with Shiva and procured counterfeit identification cards for both. They were living in Uttar Pradesh as Mohammad Yasin and Zara Khan; Mohammad took up a job as a supplier of Ayurvedic medicines.
A few days ago, Mohammad was joined by his first wife, Shahar Bano, in India. On Thursday, January 20, Shiva's brother from Nepal approached local police, suspecting that something untoward had happened to his sister, as she was not answering his calls. The police reached the house Shiva had been sharing with her husband and his first wife, and recovered her body wrapped in a mattress; medical reports reveal that she had been strangled to death.
Mohammad Issac, aka Mohammad Yasin, had fled; he was about to cross the border and enter Nepal when Uttar Pradesh police apprehended him. Mohammad and Shahar Bano have been arrested and accused of Shiva's murder; several other charges under the Indian Penal Code have also been levied on the couple. The deceased is survived by a three-year-old daughter, who is in state custody.
Such cases have become so common on the Indian subcontinent that people have grown immune to such news. Unfortunately, the Central government of India is still struggling to recognize Grooming Jihad or Love Jihad as an established criminal practice and formulate laws against it, though a few state governments of the BJP have passed laws about it.
There is a compilation of around 130 cases of rape, murder, attempted murder, conversion or attempted conversion of Hindu women by Muslims in India, mostly post-2014 when the supposed right-wing Hindu nationalist BJP came to power at the Centre in India. This can be read here https://www.mediafire.com/file/nlwil11i02mctwn/Murder_or_r%2Ap%2A_or_conversion_or_attempted_conversion_of_Hindu_women_by_Muslims_in_India.pdf/file or here
[Major source: https://www.jihadwatch.org/2022/01/india-muslims-shoot-hindu-youth-dead-after-he-posted-images-of-muhammad-love-jihad-on-the-rise Some additions have been made to this article which are not in the original article which was posted on JihadWatch.org]