How U.S. Policy Helped Create a Hornet's Nest in Iraq
It has been two years since ISIS leader and self-proclaimed (universal) calif Abu Bakr al-Baghdadi committed suicide in order to avoid being captured or killed by U.S. Special Operations forces during a raid on his hideout compound in northern Syria.
It cannot be denied that the death of Baghdadi, who was responsible for Islamic State's reign of terror across Iraq and Syria, should have substantially halted the Islamic militant group's holy war on infidels.
This past Tuesday, at least 11 people were killed and others wounded by an ISIS attack on a the village of al-Hawasha in the Diyala province in eastern Iraq — the group also claimed responsibility for a suicide attack that ripped through a busy market in Bagdad which killed at least 30 and injured 50 in July. This, notwithstanding Iraqi security forces arresting early this month Sami Jasim, who was in charge of the armed group's finances and a deputy of slain leader Abu Bakr al-Baghdadi.
And now while the Islamic State is regaining momentum President Joe Biden plans to evacuate the remaining 2,500 U.S. troops in Iraq will be evacuated by the end of this year — at least he has yet to rescind on this when he announced in July during a meeting with Iraqi Prime Minister Mustafa Al-Kadhimi the plan to pull out. Biden said the U.S. will continue to support the Iraqis in their fight against ISIS — it would seem highly unlikely he would fulfill on that promise after the botched Afghan retreat. While many Americans (and Iraqis) would like to see the American troops out, it serves to understand that the U.S. government helped create today's hornet's nest in Iraq because of personal interests — interests that are historically rooted in the early 20th century colonial period when the Middle East became an area of manipulation and gain for the victors of the First World War.
U.S. Involvement Pre-Saddam Era
American involvement in Iraq when oil is discovered in Kirkuk just after WWI. Its involvement, however, was limited since President Woodrow Wilson envisioned a liberal post-World War I political system that would include self-determination for Iraqis and other peoples of the former Ottoman Empire, though he was unable to promote that vision effectively. In 1922 — by this time Wilson was incapable to comply with his presidential duties because of a major stroke he suffered in 1919 — America began to make its presence known when it started to work together with Great Britain to capitalize Iraq's oil. The British knew they could not develop Iraq's fields on their own, and the Americans understood that they had to rely on the British to maintain a strong stabilizing presence in Iraq if they equally wanted to exploit their oil fields. Through a pact that has come to be known as the Red Line Agreement in 1928, together with the French, the creation of a Euro-American cartel that for the news few decades monopolized oil production throughout much of the Middle East.
When the threat of Nazi Germany occupying in Baghdad during World War II, U.S. diplomats endorsed the British plan to restore the monarchy, which cooperated with Allied war aims and strategy. Post-WWII international dynamics gradually drew the U.S. into a deeper political relationship with the Iraqis, that would remain throughout the Cold War.
The Saddam Era
U.S. intelligence helped Saddam's Ba'ath Party seize power for the first time in 1963. Evidence suggests, however, that Saddam was on the CIA payroll as early as 1959, when he participated in a failed assassination attempt against Abd al-Karim Qassem. Yet it was not until the 1980s when American hegemony in Iraq began — Hussein took over the reins of the Iraqi government in 1979.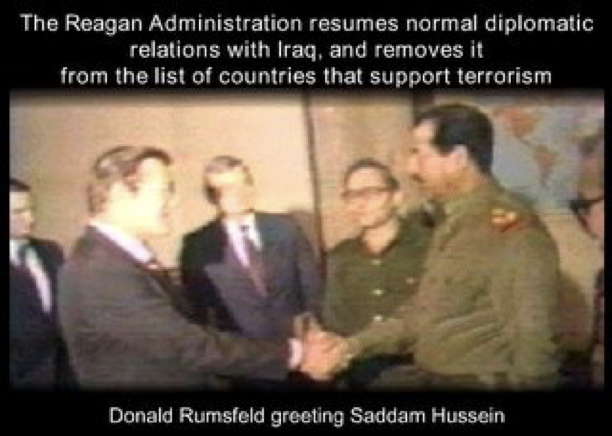 According to then-Senior Director for Political-Military Affairs Howard Teicher, the CIA secretly dispersed armaments and hi-tech components to Iraq in its war with Iran (1980–1988). It also clandestinely encouraged rogue arms dealers and other private military companies to do the same. Despite reports that then-Iraqi dictator Saddam Hussein was using chemical weapons against Iran as early as 1983, the Reagan administration chose not to disclose them. All that time, the official reason given for the U.S. support to Hussein in his war with Iran was to restore the peace and stability in the sector the Carter administration destroyed when he helped oust the Shah of Iran in 1979.
Further evidence suggests that the CIA had even helped the Iraqis use mustard gas and sarin prior to four major offensives in early 1988 that relied on US satellite imagery, maps, and other intelligence. While these assaults were pivotal in turning the tide of the war in Iraq's favor and bring Iran to the negotiating table, they were also the last in a series of chemical strikes. Subsequently, Hussein became even more defiant before the international community with his ruthless dictatorship.
The Price for Ousting Saddam
Under the guise of defending against a potential strike of weapons of mass destruction by Saddam Hussein — weapons he no longer had, let alone had anything to do with 9/11 — President George W. Bush started a war in an apparent attempt to occupy Iraq and profit from its oil fields. By removing Hussein and the Ba'athist Party's thirty-five years of rule, the full force of U.S. military could be displayed in one of the most important regions in the Middle East as its colonizer.
President George W. Bush eventually declared the U.S. war in Iraq over; his successor Barak Hussein Obama pulled the troops out altogether. The end results were lawlessness, social disharmony, and a theocracy ousting an American-imposed democratic government in the Nineveh plain with ISIS.
Many Iraqis accused the American government for allowing ISIS to walk into their country uncontested. The then-Obama administration insisted that they initially refrained from any military intervention in order to avoid civilian casualties.
Yet a declassified secret U.S. intelligence report, written in August 2012, predicted the prospect of a "Salifist principality" in eastern Syria and an al-Qaeda-controlled Islamic state in Syria and Iraq.
What were the end results?
Prior to the 2003 U.S. invasion of Iraq there were still well over 1.5 million Christians in the country; today that number has fallen to about 250,000 due to persecution at the hands of ISIS and other Islamists. At the height of ISIS' rampage through Iraq in the summer of 2014, over 5,000 Yazidis were massacred; Yazidi children were forcibly converted to Islam and taught Arabic, banned from speaking their native Kurdish. Thousands of Yazidi boys were starved, tortured and forced to fight for ISIS. Many former child soldiers today live with missing arms or legs, and as many as 10,000 women and girls were forced into sexual slavery by the Islamic State.
Not to mention, with the unprecedented economic crisis that has materialized in high unemployment rates and low paying jobs, Christians, Yazidis, and other religious minorities have found it more challenging that to live with dignity than their Muslim co-nationals. And just as the American government learned in Afghanistan, U.S.-led reconstruction efforts have not been able to eliminate the main security threats to the Yazidi and Christian populations that come from the Iranian-backed Shi'ite militias who ostensibly are supposed to protect them — to say nothing the the Islamic State's resurgence.
Today's Situation
Iraq's social and political landscape has changed dramatically after an escalation of regional and global power competition, the COVID-19-induced health and economic crises, and the unprecedented uprising by peaceful demonstrators in October 2019 that led to formation of a new government. Such never foreseen developments have paradoxically aggravated long-standing tensions, feeding public distrust in the state, and tribal violence in the south. They have also detrimentally affected minority communities, like the aforementioned Christians and Yazidis, especially in ISIS-affected areas, creating openings for ISIS remnants to step up attacks and contributing to continued internal displacement of over one million persons.
Muqtada al-Sadr, a Shi'ite cleric whose Mahdi Army followers battled American troops during the years of the occupation, made big gains in Iraq's parliamentary election on October 10. While it is not a given that al-Sadr will have enough support to form a government of his own, his victory could still pose difficulties for the U.S. and both Iraq and Iran.
Henry Kissinger once said: "A country [like the U.S.] that demands moral perfection in its foreign policy will achieve neither perfection nor security." Perhaps it is because, as he disclosed: "America has no permanent friends or enemies, only interests." And it appears that the Biden administration tends to be more concerned with rehashing the Iran nuclear deal than the plight of the Iraqi people.
This is not a criticism against the brave men and women who answered to call to help oust Islamic terrorists and are still in Iraq, nor is this an absolution of corrupt Iraqi government officials. Nevertheless, one cannot circumvent the American government's "colonial" policy for the past decades, which is to fleece the country's oil and its geographical position, which borders Iran, at the cost of Iraqis' human dignity.
______________________________________________________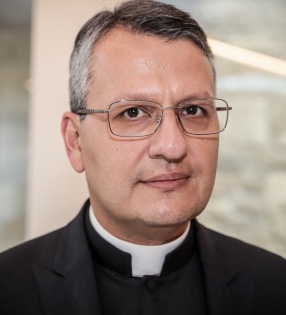 Mario Alexis Portella is a priest of the Cathedral of Santa Maria del Fiore and Chancellor of the Archdiocese of Florence, Italy. He has a doctorate in canon law and civil law from the Pontifical Lateran University in Rome; he also holds a M. A. in Medieval History from Fordham University, as well as a B.A. in Government & Politics from St. John's University. He is also author of Islam: Religion of Peace? – The Violation of Natural Rights and Western Cover-Up.