How Biden May Empower an Iranian-Venezuelan Axis of Evil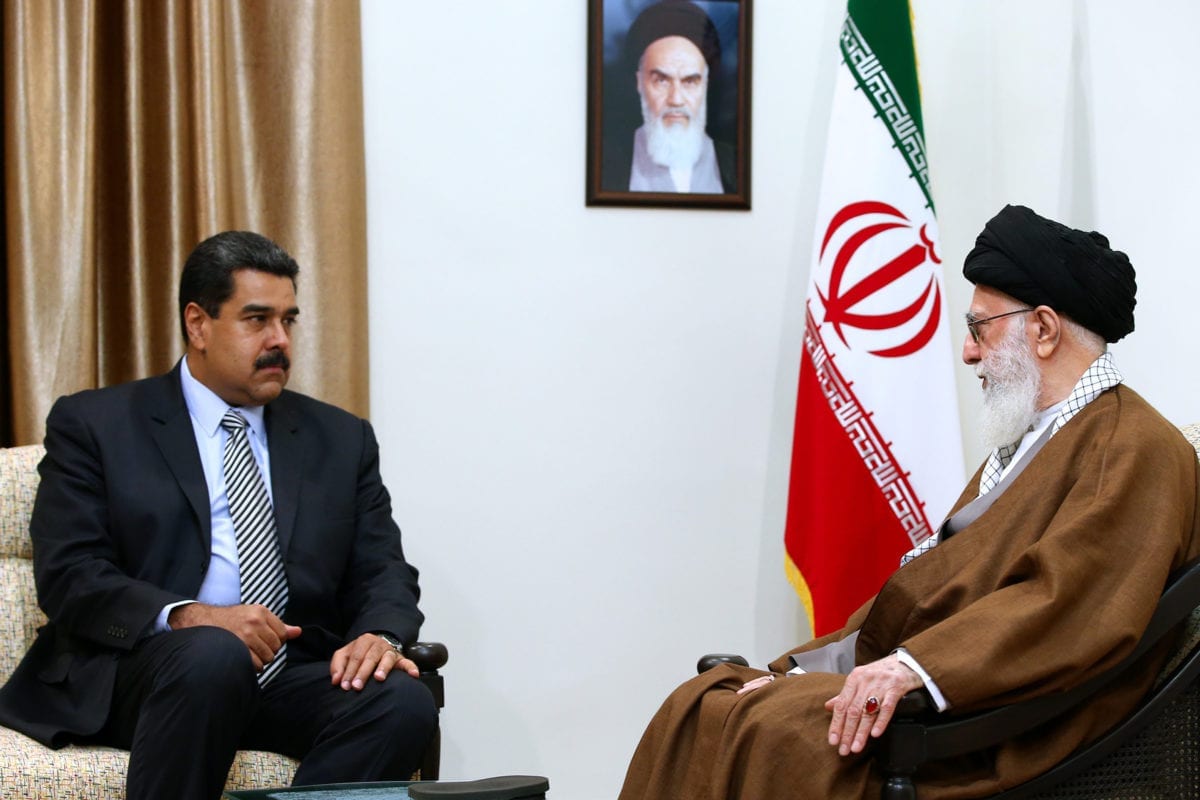 The effects of Joe Biden's election as the next president of the United States—still contested by President Donald Trump—may reverberate across the world, specifically in the Islamic Republic of Iran.
Many Iranians' hopes for a better future following the signing of the Joint Comprehensive Plan of Action (Iran nuclear deal) between Iran and world powers—China, France, Germany and the United Kingdom—in 2015 were quashed in 2018 when President Trump unilaterally abandoned the landmark deal that was anchored by the previous Obama administration. In essence, the regime never abided by the deal, and is presently rebuilding its main nuclear fuel enrichment facility at Natanz (about 140 miles south of Tehran) underground—the Pentagon disclosed in 2014 that Iran has the largest underground facility program in the Middle East, which conceals and protects critical military and civilian infrastructure throughout the country.
Trump's hawkish measures to impose waves of severe economic sanctions that blacklisted the entire Iranian financial sector as part of a "maximum pressure" campaign led to soaring inflation and shortages of medicine, which only impoverished the average Iranian while making the Islamic regime more powerful.
Now, as reported last week by Wall Street Journal, Iran is sending Venezuelan dictator Nicolas Maduro's socialist regime weapons and troops in order to maintain his hold on power.
According to Admiral Craig Faller, the mullahs are is sending Islamic Revolutionary Guard Corps (IRGC) Quds Force troops as well—the Quds Force is a division of the IRGC, itself designated a U.S. Foreign Terrorist Organization in April 2019.
In August, Colombian President Iván Duque, whose country borders Venezuela, claimed that the Maduro regime is currently negotiating the purchase of medium- and long-range missiles from Iran, although they remain in the preliminary stages.
"There is information from international intelligence organisms that work with us which shows there is interest from the dictatorship of Nicolas Maduro in acquiring some medium and long-range missiles through Iran," Duque warned at the time. "The information is that (the missiles) still haven't arrived but there has been contact especially under instructions from (Venezuela Defense Minister Vladimir) Padrino."
This is not the first time that the Iranian regime, accused by the U.S. as the number one state sponsor of terror, has sent Quds Force operatives, weapons and explosives to Venezuela. Such activity dates back at least a decade or more. This was affirmed by a U.S. Defense Intelligence Agency 2019 report that stated: "Tehran maintains particularly close military-to-military ties with Syria and Iraq and has signed basic military cooperation agreements with Afghanistan, Belarus, China, Oman, Russia, South Africa, Sudan and Venezuela [bolded for emphasis]."
In April, Secretary of State Mike Pompeo had warned Maduro against allowing landings by Iranian airlines such as Mahan Air, which has been used routinely for weapons shipments from Iran.
Despite having the second-largest known oil reserves in the world after the U.S., Venezuela is currently experiencing mass gasoline shortages that have brought parts of the nation to a standstill. In the latest show of regime-to-regime support, the Maduro regime and Iran have engaged in an oil-for-gold scheme as Venezuela grapples with the gasoline deficiencies.
The late-socialist dictator Hugo Chávez dramatically shifted Venezuela's geopolitical stance from that of a U.S. ally to a key member of a club of rogue states that includes Iran, Cuba, China, Russia and North Korea. Intelligence reports show that the Chávez and Maduro dictatorships have allowed the Iranian terror-proxy Hezbollah to use Venezuela as its Latin American operating base since the mid-2000s, consequently presenting a serious national security threat to the U.S. And as reported by the Atlantic Council, a vital element to the renewed Iran-Maduro pact is the clandestine support networks of Iran-backed Hezbollah.
Over the past year, the Trump administration has taken a series of actions that would make it more difficult for the presumed Biden administration to return to the nuclear deal, as Biden himself indicated he would like to do. He must realize that the Iranian regime finds Venezuela a friendly and strategic foothold in the Western Hemisphere from which to exert leverage against the U.S., whose presence in the Persian Gulf region it seeks to curtail.
According to Dr. Majid Rafizadeh, leading expert on Iran and U.S. foreign policy and president of the International American Council, the billions of dollars in frozen assets released to Iran after the 2015 nuclear deal only empowered its hegemony in the region:
"In Iraq, the Iranian regime currently supports at least 40 militia groups under the banner of the Popular Mobilization Forces. Some of these militias are known for committing war crimes, serious violations of international laws, and egregious crimes against humanity. After the nuclear deal, the Iranian leaders have even pushed and succeeded at making the Iraqi government officially recognize these militias and incorporate them into its political and security establishment."
It is imperative that the Madura-Iran alliance is fractured. Yet for Biden to rejoin the nuclear deal, despite saying that Iran must strictly comply to certain prohibitions—unless he has an ace up his sleeve—doing so would not just be pretentious, but it provide Iran-Maduro greater strength, to say nothing of how it would also empower the other aforementioned powers of evil.
__________________________________________________
Mario Alexis Portella is a priest of the Cathedral of Santa Maria del Fiore and Chancellor of the Archdiocese of Florence, Italy. He has a doctorate in canon law and civil law from the Pontifical Lateran University in Rome; he also holds a M. A. in Medieval History from Fordham University, as well as a B.A. in Government & Politics from St. John's University. He is also author of Islam: Religion of Peace? – The Violation of Natural Rights and Western Cover-Up.
Book available on Amazon, Barnes & Noble or WestBow Press.