EDL: The Last Men Standing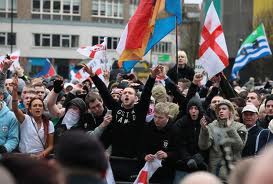 Today, I read a piece by Dr. Tim Stanley (a historian) on Daily Telegraph that amazed me of the depth of ignorance of some westerners about Islam. In this article titled, Islam Is Way More English than the EDL, Tim Stanley claims, "A lot of the fear shown towards Islam comes from the death of the Christian soul – we see a people who actually believe in something and we are intimidated."
I am not sure on what this doctor bases his diagnosis, but he cannot be more wrong. He ignores the fact that a growing number of people, who were born and raised as Muslims, are coming to the realization that Islam is a dangerous creed, and not all of them convert to Christianity.
Furthermore, quite contrary to his assertion, the spread of Islam in the west is the direct result of the death of the Christian soul.  People are not intimidated by faith; they are afraid of void. Faith gives them a sense of security. And because Christianity has lost its vitality and purpose, Islam is moving in to fill the vacuum.
Humans are primarily spiritual beings. For two centuries, the European intellectuals attacked every tenet of Christianity and did their best to uproot it. By doing so they created a spiritual vacuum, which Muslims are striving to fill.  However, those who know Islam are alarmed. Yes some interpretations of Christianity are not savory, but embracing Islam is like jumping from the frying pan into the fire.  Islam does not bring civilization, peace and harmony. All we have to do is look at Muslims. Can you name one Islamic country where there is peace and people are not busy killing each other in the name of religion? Since the beginning of Islam, Muslims have been at war with others and with each other.
Name one Islamic country where religious minorities enjoy equal rights with Muslims. The Quran (5:51) instructs Muslims to "take not the Jews and the Christians for your friends," and let us not forget that atheists, polytheists and animists don't even have the right to life. See Quran 9:5.
Which Islamic country allows a non-Muslim to become the head of the state? The Quran 9:23 prohibits taking nonbelievers as guardians and rulers, even if they are the fathers and brothers of the believers.
Which Islamic country gives women equal right? Women according to Muhammad are deficient in intelligence and religion (Bukhari 1:6:301). They are inferior to men and should be beaten into obedience (Q.4:34).
Dr. Stanley reasons that because Queen Victoria had a crush on her Muslim servant Abdul Karim, the British should not be racist. Adbdul Karim (1863-1909) was 44 years younger than Queen Victoria. She was old enough to be his grandmother. Unless the Queen was a pervert, the claim is absurd. Similar claims, such as the first sailors landing on the shores of America were Muslims, are made up by Muslims to stake a claim in the history of the west. Assuming the allegation is true, how can the sexual vagaries of an old queen be interpreted as religious inclusiveness and why should the moral relapse of the British monarchs become the norm for all its citizens?
Furthermore, what race has to do with all this? Islam is a religion not a race. Is Dr. Stanley so ignorant that he does not know the difference between religion and race? Of course he knows. By plying the race card he wants to intimidate the critics of Islam to shut up if they don't want to be called racist.
The deception does not end there. Dr. Stanley quotes a poll showing Muslims donate more money to charity than any other religious group. What he leaves out is that Islamic charity is very different from what we know as charity.  It is the money Muslims pay to promote Islam. It is an obligation on every Muslim to take part in jihad and if they can't fight with their body, they must finance other ghazis (raiders) to fight on their behalf. The 9/11 attacks were funded entirely by Islamic "charity" (zakat) to Al Qaeda. All terrorist attacks are funded in this way. Virtually, all the monies donated to Islamic charities are earmarked for the promotion of Islam (mosques, madrasahs, Islamic literature, and jihad).  Zakat is for the promotion of Islam, not to help the needy. And if the needy is helped, it is in expectation that they either convert to Islam or enlist in Jihad.
Although he acknowledges the "need for Muslims to integrate better into English society," Dr. Stanley minimizes the problem and says it involves just 1% of Muslims. He is wrong again. There are numerous "culturally sensitive" zones in several European countries where not even the police dares to enter. Far more than 1% of Muslims live in these quarters. For the rest of Muslims, it is just a matter of time to create their Islamic no-go zones until the country becomes Islamic, one neighborhood at a time. This is how Muhammad took over Medina. Muslims don't integrate whether they are the minority or the majority because the Quran (3:28) prohibits them to take unbelievers for friends or helpers. Their goal is to dominate.
The most bizarre assertion of Dr. Stanley is when he says, "Most Muslims cling on to values that were once definitively English and that we could do with rediscovering." Really? Maybe he can tell us when the British stoned the adulterers, married prepubescent girls, executed the apostates, beat their wives legally, and practiced clitoridectomy. And if they did any of these, are they something they want to rediscover through Islam?
Another absurd assertion of Tim Stanley is, "Islam instructs its followers to cherish their families, to venerate women, to treat strangers kindly, to obey the law of any country they are in (yes, yes, it really does), and to give generously."
I am baffled. Where does he get his information about Islam?  The Sharia law prescribes polygamy. In Islam women are chattel. They must cover and stay at home. By which standard beating women and questioning their intelligence is considered veneration?  The Quran says don't take the unbelievers as friends and don't obey their rule. How can one twist the obvious truth so much?
There is however one thing that Tim Stanley and I agree upon and it is the fact that the English have lost their identity. He says "a hundred people will come up with a hundred ways of defining Englishness, and each with [sic] disagree violently with the other."
His solution to this problem is that the Brits should adopt Islamic identity. I am of the opinion that they should find their own. The Islamic identity has not brought peace, progress and happiness anywhere. It has brought dictatorship, poverty, discrimination, misogyny, violence, violation of human rights, and countless other ills.  The results speak of themselves. Muslims strive to escape from their self-inflicted miseries and come to the west to enjoy the bounties that the kafirs, whom they so despise, provide for them.
I take my hat off to EDL. They are the custodians of the authentic British values. These are freedom, democracy, respect for human rights and gender equality. No dear Dr. Stanley, stoning, child marriage, gay hanging, lashing people for eating in public during the Ramadan and beating them for drinking alcohol are not British values. If you admire these "values", why don't you go and live in Iran, Pakistan, or pick any Muslim country of your choice.
EDL and its leader Tommy Robinson are patriots.  You probably don't know what patriotism means and equate it with fascism.  They see the danger of Islamization in their hometowns.  Unlike you and the middle-class liberals who despise the working class whom they pretend to speak for and who are united with Muslims in their hatred of Christianity, the EDL is made of real folks – the working class – the very people who make the wheels of the economy churn and allow the likes of you to live comfortably without dirtying your hands.  These people have far more moral fiber than you and more rights to the future of their country than you, who confess not knowing what Englishness stands for and are waiting for Muslims to define it for you. And yes, they believe is something and it is you who are intimidated by their resolve.Talk about projection.
­­­­­­­­­­­­­
Ali Sina is author of Understanding Muhammad and Muslims and the  founder of faithfreedom.org and alisina.org. Follow his tweets @AliSina_FFI
Tags: EDL, English Defense League, Islam in UK, Islam in the west, jihad, Tommy Robinson, Tim Stanley.