The Dhimma's Return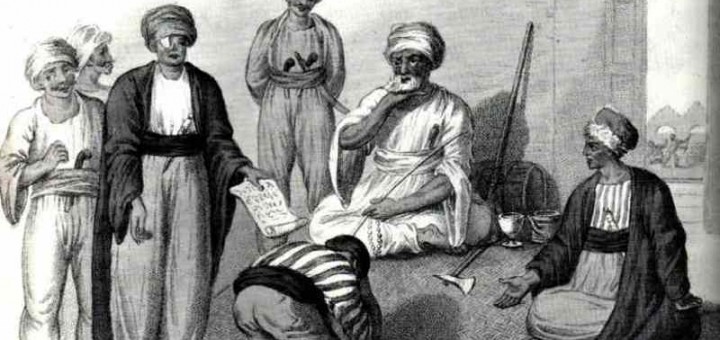 Non-Muslims had become "Dhimmis", second class citizens with limited rights, or non-citizens with absolutely no rights, just based on their beliefs. The Jews, Christians and Zoroastrians were given certain rights but their lives were legally valued as less than 1/2 or 1/8th of a Muslim's life (depending on which source of Shari'a a judge decided to use in cases of compensations for loss of life or limb). They lost their right to testify in court against Muslims and they lost all sorts of imaginable rights to material and social status which might demonstrate any semblance of superiority or power over Muslims.[1]
Muslim jurists have made this principle explicit, for example, the Yemeni jurist al-Murtada wrote that 'The agreement will be cancelled if all or some of them break it …'[8] and the Moroccan al-Maghili taught 'The fact that one individual (or one group) among them has broken the statute is enough to invalidate it for all of them.'[9]
In 2008 the Egyptian Muslim writer Ahmad al-Aswani lamented the escalating attacks on Copts in his nation, which have been egged on by Islamic leaders. Al-Aswani held Christian clergy partly responsible for denying that Islamic sentiment was behind the abuse. He writes that after attacks:
Of course, the usual Coptic notables deny any suspicion of sectarianism, and affirm national unity, and the sheikh and the priest embrace. … It causes me regret, and as an Egyptian it makes my heart bleed, to see this farce endlessly repeated … lives and property are taken with impunity, and clearly with the authorities' collusion – with no fear of effective response, and with the confidence of all that, as always, the matter will end with beard-kissing and forgetting.[11]
In the Palestinian territories the devastating impact of such silence threatens the continued viability of the Christian Arab community.
Justus Reid Weiner, in his investigation of the deteriorating human rights situation of Christians living under the Palestinian Authority, has pointed out that there is a widespread distrust of religious leaders among Palestinian Christians, who 'obfuscate the situation as it affects their constituents'.[12] One Christian man said, 'Our leaders are liars: They tell the newspapers that everything is OK. But when Christians go to the market, they're afraid to wear crosses.'[13]
Weiner identifies the two main reasons for the denial:
• Fear and intimidation – one Palestinian woman said 'We are afraid. They have knives [and] guns and can do whatever they want. They can kill you simply … [for] speaking bad about them.'[14] The Muslim Palestinian 'Abd al-Nasser al-Najjar, lamented confiscations of Christian lands by Muslims in Bethlehem and elsewhere, and reported that Christians are silent 'so as not to attract attention', and when they do attempt to take steps to retrieve their property, they can be subjected to death threats.[15]
… refuse … the propaganda that wants to prove that there were any studied or willed persecution from our Muslim brothers and sisters of the Christians. We consider it as a mere propaganda against Islam, a cold war against our Muslim brothers that only benefits the Zionists of Israel.[17]
… although certain Christian religious leaders such as Bishop El-Assal [former Anglican Bishop of Jerusalem, responsible for Palestine, Israel, Jordan, Lebanon and Syria] enjoyed close connections with Arafat over the years, these mutually supportive relationships bear no resemblance to the difficult, often dangerous, circumstances in which common Palestinian Christians live. These leaders are given special access to the media and used this opportunity to gain sympathy and political support from Christian countries for Arafat and his policies.[18]
Building on this tradition, 19th century Jewish historians promoted the myth of an Islamic golden age to garner support against the rise of racism across Europe. Gerber has observed that 'The cult of a powerful, dazzling and brilliant Andalusia in the midst of an ignorant and intolerant Europe formed an important component in these contemporary intellectual currents.'[23]
The historian Bernard Lewis, writing in the second half of the 20th century, continued this theme:
The dhimma on the whole worked quite well. The non-Muslims managed to thrive under Muslim rule, and even to make a significant contribution to Islamic civilization. The restrictions were not onerous and were usually less severe in practice than in theory …1[25]
Lewis compared the example of medieval Islam favorably to that of Christian Europe:
A repeated theme in these school texts is that the West should be grateful to Islamic civilization for preserving Greek philosophy. The narrative offered to justify this gratitude is that during the Dark Ages the Islamic world underwent a golden age of cultural and scientific development, preserving Greek learning, which then kick-started the Western Renaissance.
Of course Greek civilization did not need 'rescue-by-conquest': indeed it continued in Constantinople all through the European dark ages. It is true that when the Europeans translated Arabic texts into Latin, this did stimulate the development of Western philosophy and science.[29] However the fact that elements of Greek philosophy and science were transmitted to Europe via Arabic was not something for which Western children should be schooled to feel grateful. If Arab conquest had never happened, we can assume that Greek culture and philosophy would have continued to develop in Alexandria, Damascus and Constantinople to the present day.
There is a good deal of evidence that senior Western political leaders are submitting to the worldview of dhimmitude. In the wake of the post-9/11 declaration by George Bush that 'Islam is peace',[33] European leaders have been lining up to praise Islam.
On a visit of Saudi Arabia in January 2008, President Sarkozy of France gave a speech declaring that Islam is 'one of the greatest and most beautiful civilizations the world has known'.[34]
It is important to recognize the greatness of Islam, its civilizations and its immense contribution to the richness of the human experience, not only through profound belief and theology but also through the sciences, literature and art.
No one can deny that at its core Islam is entirely consonant with the principle of fundamental human rights, including human dignity, tolerance, solidarity and equality. Numerous passages from the Quran and sayings of the Prophet Muhammad will testify to this. No one can deny, from a historical perspective, the revolutionary force that is Islam, which bestowed rights upon women and children long before similar recognition was afforded in other civilizations.
… And no one can deny the acceptance of the universality of human rights by Islamic States.[35]
Observe here the dhimmitude themes of gratitude (for bestowing rights upon women), affirmation of the moral superiority of Islam (with the implication of inferiority of the infidel), and silencing any possible voice of protest by the repeated phrase 'no one can deny …'
The same censorious tone prohibiting criticism of Islam came out loud and clear in the comments of British Home Secretary Jacqui Smith, when she commented immediately after the Glasgow attempted bombing: 'Any attempt to identify a murderous ideology with a great faith such as Islam is wrong, and needs to be denied.'[36]
In a similar vein, President Obama acted quickly to deflect critique of Islam after the Fort Hood massacre, declaring about Major Nidal Malik Hasan, the alleged gunman: "we cannot fully know what leads a man to do such a thing." [37]
The voices of extremism are no more representative of Islam than the use in times gone by of torture to force conversion to Christianity represented the teachings of Christ.[38]
In 2005 the Organization of the Islamic Conference adopted a 'Ten Year Action Plan' to address challenges facing Muslims in the world today. Item 6 on their plan was to combat Islamophobia, and one of their strategies was to get the United Nations to 'adopt an international resolution on Islamophobia, and call on all States to enact laws to counter it, including deterrent punishments'.[42]
At the December 2006 meeting of the OIC a decision was taken to create an 'Observatory' to monitor all reports of 'Islamophobia'. This strategy proved effective. In August 2007, Mr Doudou Diene, the UN Special Rapporteur on Contemporary Forms of Racism, Racial Discrimination, Xenophobia and Related Intolerance, presented a report to the UN Human Rights Council on 'the manifestations of defamation of religions and in particular on the serious implications of Islamophobia on the enjoyment of all rights'.[43] After this, the OIC's 'anti-defamation of religion' resolutions were passed, first by the UN Human Rights Council, and then at the General Assembly in December 2007.[44]
An ensuing 'Observatory Report' was presented to the 11th session of the OIC, meeting in Senegal in March 2008. Elizabeth Kendal, human rights activist, commented that the Report asserts:
… that in order to have peace, the correct (OIC-approved) version of history and of Islam must be understood, accepted and promoted (anything else is 'baseless' Islamophobia or inciteful 'defamation' of Islam)[45]
Distortions are also creeping into the fabric of Western societies. One common pattern is the privileging of Islam in law enforcement and legal processes.
Today Islam is exerting an increasingly important influence in the destiny of Western cultures.Through mass immigration, oil economics, cultural exchange and even terrorism, the remnants of what was once Christendom now find themselves having to respond to Islam and its distinctive 'take' on the world. One of the great challenges is that the West, in seeking to find a response, is coming under the influence of the worldview of dhimmitude.
Within the Islamic worldview, there are limited options for the roles that non-Muslims communities can play. In classic Islamic theology, the dogma of the 'three choices' meant that the only real alternative to 'enmity to Allah', apart from conversion, was dhimmitude.
The requirement that non-Muslims – at least those who are not enemies – embrace dhimmitude, and affirm, appease and serve Islam, greatly limits the repertoire of responses that non-Muslims can have towards it.
As the crowded church was belting out hallelujahs, I stepped into the church courtyard for some fresh air. The Muslim call to prayer was beginning to echo from the myriad of mosques all around.
I thought how this reflected the situation in Gaza in Christmas 2007 – that while the muezzin were on loudspeaker, the church bells here are played from a cassette tape. A nervous young nun adjusted the volume – loud enough to peel through the church but not to penetrate its walls – it might risk offending Muslim Gazans passing by.[51]
[3] Ibid., p.82.
[4] Ibid., p.102.
[13] Ibid., p.23.
[14] Ibid., p.23.
[17] Ibid., p.24.
[18] Ibid., p.23.
[30] Ibid., p.4.