Why Does God Allow Evil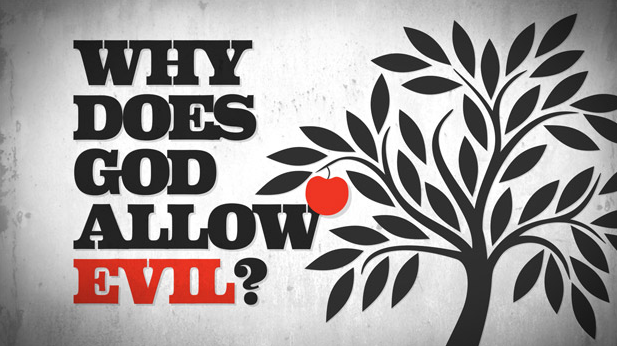 Hello Dear Ali Sina,

I have read your story and articles about Islam. Perhaps you can answer my simple questions. I if God is almighty why He didn't prevent evil to persuade Adam & Eve? And why He can't put the fallen angel to hell or whatever place so it can't destroy humans?  A  simple question eh!

Another question: If God is the most compassionate creator, bla bla bla…..why He would let the evil one to mislead humans,  whom He claims to love?

If He knows everything why would He need to test people?  It's very amusing …..Stupid / Selfish / Cruel!

Thank you Ali Sina…………….May the Universe be with you.
Our understanding of God is erroneous.  God is often believed to be the creator, manager, director, mover and shaker of the universe. If you believe Muhammad, nothing takes place in the world unless God wills it. He thought even when people commit evil acts, it is not they who do it but God is doing it through them.  According to this thinking God creates thing by fiat. He says, "be" and things come to exist as if by magic.
The Islamic site http://www.whyislam.org/on-faith/destiny-and-free-will/ on the concept of free will explains: "Islam teaches that in order for us to freely perform in the test of life, He has given us free will to lead our lives as we wish, but the outcome of each of our actions is governed by the will of God. If God does not will for something to take place, it will not happen no matter how hard we try. And if He wills for something to occur, it will transpire no matter what we do to stop it."

This concept, is backed by several Quranic verses. However, if God were in charge of everything, free will would be meaningless.  This is very much like what the political freedom Iranians enjoy. People are free to elect their president, but can vote only for the candidates preselected by the Supreme Leader. Their freedom is a sham.  The freedom that Allah gives to humans, as described by Muhammad is also a sham.  If God is responsible for the outcome of our actions, we are not and therefore He cannot punish us for what He is responsible of.
God is a mathematician, a physicist, a scientist but not a magician.  Even though God has set the rules of the universe and can change them, He cannot violate them.  It is like a programmer writing an app. Even though she is the creator of that app she cannot do things for which the app is not designed.  God created the laws of the universe and wrote the software that brought the world into existence.  It took nearly 14 billion years for the universe to come to this stage, not six days as it is said in the Old Testament and rehashed in the Quran.
Deists believe that God created the world like a watchmaker and now the universe is working without His intervention.  They remove God from the world altogether, the way the watchmaker is removed from the watches he builds. According to deism God is so redundant now that He could be dead.  His creation will continue to work without Him and even after His death.
That is of course a mistake.  God is never removed from His creation.  He is present in every atom. If God ceases to exist, the universe will vanish instantly. The universe is in the consciousness of God. All things, visible and invisible are in Gods' thoughts. Matter can only exist when observed by a conscious being. God is the Universal Consciousness that gives birth to the physical universe.
We are a part of this universal consciousness.  If you compare Universal Consciousness to an ocean we are water molecules and droplets of that ocean. All life on earth depend on the ocean. The way it works is that the ocean sends out a part of itself in the form of vapor to rain on the dry land and nurture life.  It is actually the droplets of water that create life, not the ocean directly. The ocean creates life through its vapors.
That is how God operates in the world. If God is the Universal Consciousness and we are His droplets, God operates through us. By us I mean all beings and not just humans.  We have more consciousness than an ant, but all living beings are conscious beings fulfilling God's plan.
Since our consciousness is essentially the same as God's consciousness, just all waters are essentially the same as the ocean, we are all free, like our Source.  We have all the attributes that God has in much smaller quantity. In other words, we are all made in the image of God, resembling him.  This is not exclusive to humans. All living sentient beings are made in the image of God.  Our bodies look different but our soul is essentially the same, because all souls come from the same source.  We are all children of God. This is a divine universe.
We are often told that God is our creator. This is not true. God may have created our physical being through the process of evolution but our soul is uncreated and eternal because it is a piece of God. God is our heavenly father and just as your earthy father and mother are not your creator God is not the creator of your soul.  You come to this world with the help of the genes of your parents.  technically your are a piece of them, an extension of them. The same is true about your soul. You carry God's DNA in your soul.  While your physical body has the genes of two parents, your spiritual body has the genes of only one Parent and that is God. So to be more precise you are a clone of God, made in His image, only smaller. Every living being is divine, an extension of God and free like our heavenly Father.
So, if we are free, it means we can rebel against God and do things contrary to His will. If we could only do things that God wanted, we would not be free.  You can write an app that does exactly what you want every time. But the machine operated by such an app is not free. We are not robots. God is often described as Love. Love cannot exist without consciousness and consciousness cannot exist without freedom. Computers can be smarter than us but they are not conscious.  A mosquito is more conscious than the most sophisticated super computer. So, a mosquito can have feelings and emotions and I am sure even feel love at her own level, something robots can never do.
Muhammad believed that angels have no free will as he claimed in the Quran 66:6. "They (angels) do not disobey Allah in what He commands them but do what they are commanded.
According to the Bible angels have personalities and emotions (Luke 2:13–14), intelligence (2 Corinthians 11:3, 14), and free wills (2 Timothy 2:26).
This can be demonstrated by the very fact that Lucifer, an angel, decided to rebel against God. Other angels chose to remain steadfast. They did not rebel and won't rebel not because they can't, but because they so choose to.  This is true even about Jesus. Jesus was tempted "in every way" (Hebrews 4:15), yet He did not sin. The very fact that Satan strived to tempt him is because he knew Jesus could sin.  No conscious being can exist without freedom and freedom is meaningless without freedom to sin.
So, if we are free, it follows that we must be able to sin and to rebel against God.  God wants us to act as his operators and administrators in the world doing His bidding which is spreading love but He cannot force us.  Note that I said God cannot.  God cannot impose his will on us because otherwise we would not be free.   2 + 2 = 4 and God cannot change it to 5 or to any other number.  That would be absurd and God cannot do absurd things. We are either free or we are not. If God imposes His will on us and make us do things that he likes, then we are not free.  This would be absurd because conscious beings are free by their very definition.
I rambled a lot but I hope I made it clear why God cannot stop evil. He cannot because we are not God's creation but rather his fractals.  We are bits and pieces of God like cells from His body, or like his facsimile.  We have the same spiritual DNA that God has. Just as you can't change the DNA of your cells, God can't make us obedient.  He is free and because we are made with His spirit, we too are free.  God cannot take that freedom away from us or we cease to be conscious beings and that is impossible.  God has sent His first born, our elder brother Jesus to show us the way and help us choose good over evil, love over hate and forgiveness over revenge. This is the path we have to take freely.
By the same token, God does not send anyone to hell. People choose to go to hell freely. If your heart is filled with hate, if you have no love for people, in other words if you are a true Muslim doing what Muhammad said, hating mankind, killing people and causing pain, you distance yourself from God and your place is hell.  There are only two places to go. To go to heaven and be close to God you must be like Him. God is love.  If you love your will go to heaven and if not, you won't.
As you see, everything Muhammad said is false. Not only God is not responsible for your evil deeds, He does not even punish you.  You choose to do evil freely and you choose to go to hell freely. You don't go there voluntarily, but that is the only place open for you if you have no love for others.  Islam is the highway to hell.