When I contradict with the religion?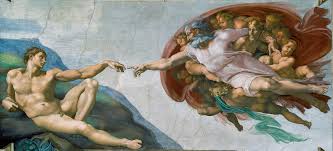 By Fozol Oviovi
By long and intricate ways of evolution, we, the human have developed our brain, our creativity, our power imagination & critical thinking more than any other species on this planet. Yet all of our ability is still confined within the invisible boundary of life and death.
Our critical thinking ability incessantly gave rise of questions about what lay outside of this boundary. We wanted to know where we came from and where we will be heading towards at the end of this life. We thought about how this universe was created, and by whom? How the nature and the earth came into being?
Obviously we hardly got those answers and this is the point where our imagination came into action. From practical experience we knew nothing can be created on its own. We tried to apply this cardinal rule on the genesis of this universe. "If there is a creation there must be a creator." And obviously that creator who possessed the might of creating the whole universe is far superior to any of the human we ever knew. This is how the idea of a superhuman species or God came into being.
After imagination here comes our creativity. We used our creativity to promote the ideas of God into an organize religion. And this is the point where we have taken it too far. There is a God, who requires continuous coaxing in order to be in a festive mood. His complacency promise great rewards in both temporal and celestial life. On the other hand his wrath will cause ineffable sorrows and suffering on earth as well as in the afterlife. We used our creativity to create heaven and hell as our ultimate destination beyond the boundary of death, and it will be decided on the basis of complacency or wrath of our imaginary God. And that's the point when various rituals started to emerge. To appease the God. Again from our practical experiences we can't find an unmixed good in anything. Where there's a good thing, there must be a bad stuff lurking around. Each of our emotional feelings have equal and opposite feeling to counterpoise. Like happiness-sadness, joy-sorrow, revelry-depression thriving-suffering etc. So does every other thing in this universe. Like Light-darkness, rigidity-fragility, heat-cold etc. So why not the God have an equal and opposite competitor? We already assumed God to be an assortment of all good attributes. So his competitor should be a diabolic evil, a wicked abomination. This is how Satan was created. And these all are due to the awesomeness of our creativity.
It's okey that many of us can't get pleased with the truth and seek complacency in historic lies and fallacies. Many of us have such a high self esteem that they aren't ready to except the obvious truth. They can't simply accept that their whole existence will someday be demolished by death. So they try to console themselves believing in imaginary afterlife, which is more promising than their current condition. If they simply find salvation in it, then who the hell I am to stand against it? If they wanna live their whole life by deceiving themselves then it's their personal choice and I don't give a shit about that. But my contradictions with religion begin when they try to impose their own believe on me, When they try to judge me from their own perspectives, When they tell me how to lead my own life, when they invade in my bedroom and speak against my sexual orientation, when they violate animal welfare and arrange sacred rituals and sacrifices, when they say I will burn in hell for eternity only for not believing their fallacies, when they hack my friends to death for revealing truth that debunk with their lies, when they incarcerate women within veils and imprison them in their own house, when they reply rationalism with terrorism, when they spread hatred and wage war, When they kill and get killed out of insanity, when they impede against the progress of science and spread ignorance, finally after doing all these shit when they claim themselves to be the best human and declare their dogma to be the peaceful religion.
This is the moment when I throw my shits at their face.
————
Ali Sina's response:
You provided an explanation into how the religious sentiment in humans was created. According to you humans created God because they did not know better and had no answer to many questions about life. Is that explanation true? Is there any evidence to validate this view?
Denying something does not disprove that thing. This argument only denies the existence of God and a spiritual reality beyond the material and tangible world. It does not disprove either.
The fact is that we cannot know the truth about anything with the facts about that thing are not known to us. When it comes to God and the spiritual world we know absolutely nothing. There is no way to know that world through instruments that can only gauge material phenomena.
We know a lot about brain and how it works. But we don't know a blip about consciousness. When it comes to consciousness we don't know even where to start. We can't write the first sentence about it.
The argument that just because we can't measure something that thing does not exist is an absurdity. It presupposes that the entire reality is made of matter and if something cannot be detected by any instruments that thing does not exist.
All the instruments we humans build are extensions of our body. They allow us to see the small or the big and even invisible objects. They allow us to hear and see from hundreds of thousands of miles away. They allow us to measure the very cold and the very hot, etc. But we have not and cannot build instruments to measure consciousness. We can even register the brain activity, but we have no understanding of the nature of thought, identity and emotions. Why I am aware of who I am while my computer that is much better than me in doing many tasks has no awareness of it self?
The problem with materialists is that they wear blinders which does not allow them to see anything beyond the matter.  There is more to reality than what our senses or our instruments can detect. That is the spiritual reality. That reality is pure consciousness  and it can be detected through consciousness.  We need the right tool to measure anything. A microscope will not help you measuring the length or the temperature of something. To measure a world made of consciousness we need to use the right instrument.  That instrument is our consciousness.
But humans are discovering new things every day and some of these discoveries revolutionize our perception of reality. One such example was the discovery of Copernicus validated by Galileo. Another was the discovery of the evolution of species by Darwin and others, the discovery of gravity by Newton, the theory of relativity by Einstein. All these discoveries really shattered the world. Now we accept them as facts but they were revolutionary when they were first announced. However, we are at the verge of a new discovery that may dwarf all the previous ones. It is the discovery that the world may be nothing but a hologram. That what we see and touch, may not be real at all. The reality is elsewhere, a world that is not made of matter, where time and space don't exist.
So my friend, before pooh poohing those who don't share your materialistic worldview, take a look at the new frontiers of science. It is taking us somewhere that even the scientists themselves are not willing to go.
The discovery that the universe is only a hologram confirmed by the reports of the near death experiencers may make this century the most important century in human history. We may be at the verge to discover God, something many people had been doing through their own consciousness for eons. No, they were not ignorant fearful people. They were enlightened sears, with a greater perception than the average folk.
It is true that charlatans like Muhammad and many others, took advantage of humans' quest for God for their own personal gain.  But that should not be used as an argument that God does not exist and the spiritual reality is hocus pocus.  Today there are countless charlatans like Beni Hin, Jimmy Swaggart and others who take advantage of people's faith for the same reason.  However it is very naive to use them as evidence that religion is false or even blame Jesus for the chicanery of these con artists.