U.S. Government Fails to Address the Islamic Threat, Again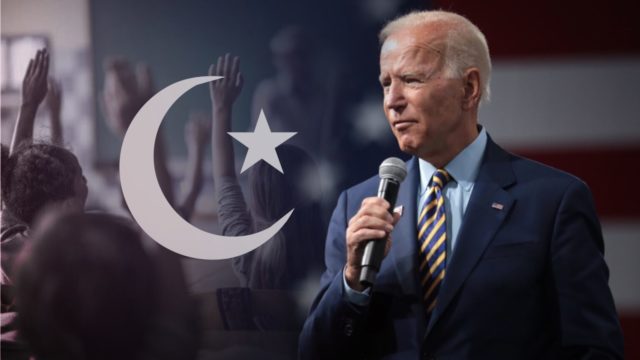 The White House released this month a National Strategy for Countering Domestic Terrorism, a step welcomed by numerous of counter terrorism and countering violent extremism professionals who have long been pointing out the rising tide of domestic terrorism in the United States.
The study revealed a new strategy to confront domestic terrorism that focuses on improving threat information flows, targeting online recruitment materials, "tackling racism" that feeds "the most persistent and lethal" extremist violence, and enacting better pre- and post-hiring screening to spot extremists in sensitive jobs such as federal law enforcement or the military.
According to the NSCDT assessment, one key aspect of the present-day domestic terrorism threat emerges from racially or ethnically motivated violent extremists and networks whose racial, ethnic, or religious hatred [my emphasis] leads them toward violence, as well as those whom they encourage to take violent action. These actors have different motivations, but many focus their violence towards the same segment or segments of the American community, whether persons of color, immigrants, Jews, Muslims, other religious minorities — [notice how Christians are not mentioned] — women and girls, LGBTQI+ individuals, or others. Their insistence on violence can, at times, be explicit. It also can, at times, be less explicit, lurking in ideologies rooted in a perception of the superiority of the white race that call for violence in furtherance of perverse and abhorrent notions of racial "purity" or "cleansing."
While the present occupants of the White House have proposed a plan to end all forms of terrorism in the American home front — excluding the killing of innocent babies in the mothers' wombs — they have once again failed to single out that sharia-driven Muslims are responsible for the religious domestic terrorism in the U.S. In fact, while the leftwing Antifa and right-wing extremists bare responsibility for many extremist-related domestic deadly acts of violence in the past decade, terrorism and violence inspired by Islamists continues to pose a serious threat to Americans.
Islamic Threat in U.S.
It is true that the number of individuals arrested for domestic Islamist extremist criminal activity decreased from 2017 to 2018 by approximately 40 percent. Yet according to the anti-hate organization ADL, as late as June 2019, U.S. law enforcement has foiled at least five Islamist extremist inspired plots in America, including plots to
attack federal buildings in Washington D.C.;
carry out a vehicular ramming at the National Harbor in Maryland;
attack a white supremacist rally in California, attack a pro-Israel rally and the Israeli consulate in New York;
detonate explosives in Times Square in New York — in 2018, 13 Muslims who were legally residing in the U.S. were arrested for domestic criminal activity motivated by Islamist extremism; four of the 13 arrests were linked to terror plots, one of which resulted in the murder of a high school student.
ADL points out that a robust subculture of propagandists "inspired by Islamist extremist ideology persist on open-source and encrypted online platforms." Part of this comes from ISIS and like-minded jihadists propaganda efforts that continue to "influence Islamist extremist activity in the United States."
This was recently materialized by the deadly car ramming attack on the U.S. Capitol on April 2, 2021, by Noah Green, a 25-year-old from Indiana, who was a follower of the Black nationalist Nation of Islam. President Joe Biden refused to call it an act of (Islamic) terrorism.
Last week Biden marked the 5th Anniversary of the Pulse Nightclub Islamic Terrorist Attack that took the lives of 49 innocent people in Orlando, Florida. Yet in a clear effort to manipulate the narrative for political purposes, Biden and the Democrats pushed the pretentious story that the jihad attack was a hate crime against the LGBTQ community and had nothing to do with Islam, notwithstanding the killer, a U.S. citizen of Afghan descent and a practicing Muslim, Omar Mateen, was an "Islamic State terrorist."
So why is the Biden administration and his Democrat cronies staying silent on this? The answer is quite clear: capitulation to the Islamophobia movement that willfully refuses to acknowledge the Islamic religious texts that inspire Muslim terrorists to commit their atrocities.
Incidentally, last year, then-candidate Biden expressed his desire that Islam be taught in American schools so that students would learn about this "religion of peace." He even went to far as to cite a hadith of the Islamic Prophet Muhammad in which, as Robert Spencer points out, explicitly promoted acts of violence against anything or anyone who would oppose his teachings.
If there is going the Biden administration truly intends to eliminate the threat of (Islamic) religious terrorism, then it should name the Council for American Islamic Relations (CAIR) as a terrorist organization.
CAIR and the Threat of Islamic Terrorism
Islamic advocacy groups, such as CAIR, with headquarters in Washington, D.C., have publicly opposed to U.S. law enforcement officials from even investigating mosques and imams that preach and instigate hatred. CAIR representatives rant that such measures are religiously and racially motivated to discriminate against Muslims. This is because CAIR is linked to Islamic terrorist groups.
CAIR's mission is "to enhance the understanding of Islam, encourage dialogue, protect civil liberties, empower American Muslims, and build coalitions that promote justice and mutual understanding." Yet, as detailed at length by the Center for Security Policy, since its founding in 1993, CAIR has presented itself publicly as a benign Muslim American "civil rights organization." But from that time to this, the United States government has known that CAIR actually is an entity founded by the Muslim Brotherhood's Palestinian franchise: Hamas, a group officially designated since 1994 as a terrorist organization.
Evidence of CAIR's true character as a U.S.-based instrument for political warfare and fundraising for Hamas — and the federal government's certain knowledge of the truth — did not come to light until the largest terrorism financing trial in the nation's history: the 2007-2008 Holy Land Foundation prosecution.
In the course of that trial, FBI Agent Laura Burns testified about the wiretap and surveillance transcripts of two planning sessions held in Philadelphia in October 1993 and leading up to the organizational meeting of CAIR. Specifically, she presented proof that CAIR's mission was to assist "Sister Samah," its founders' hardly opaque code-name for Hamas, as the prospect of its terror designation loomed.
Like his predecessor, Biden, refuses to deal with CAIR as a threat to our national security, to say nothing of its sponsorship of international Islamic terror groups, despite concerns from notable figures, some of them from the Democrat Party:
As indicated, not all Muslims are terrorists, but every single act of "religious-inspired" terrorist has thus far been a Muslim.
__________________________________________________
Mario Alexis Portella is a priest of the Cathedral of Santa Maria del Fiore and Chancellor of the Archdiocese of Florence, Italy. He has a doctorate in canon law and civil law from the Pontifical Lateran University in Rome; he also holds a M. A. in Medieval History from Fordham University, as well as a B.A. in Government & Politics from St. John's University. He is also author of Islam: Religion of Peace? – The Violation of Natural Rights and Western Cover-Up.
Book available on Amazon, Barnes & Noble or WestBow Press.