U.S. Criticizes Iran But Not The Saudis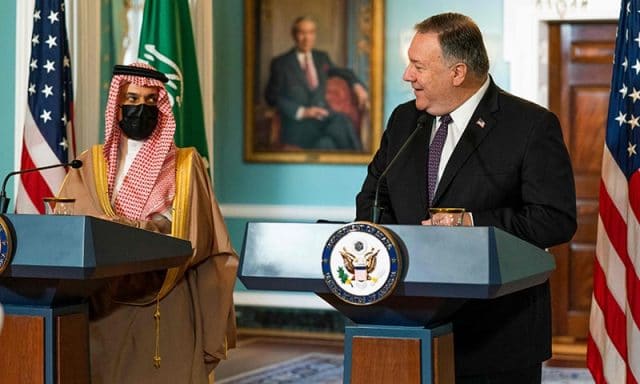 On Wednesday, U.S. Secretary of State Mike Pompeo met with Saudi Foreign Minister Prince Faisal bin Farhan Al-Saud in Washington. In a joint-conference, Pompeo said: 
"It's no secret that Iran's destabilizing behavior threatens Saudi Arabia's security and disrupts global commerce. That's clear from Iran's ballistic missile attacks on Saudi oil facilities in the fall of last year, and the frequent, ongoing Houthi bombardment of Saudi territory using rockets, drones, and other lethal technology supplied by the regime in Tehran."
"Today we reaffirmed our mutual commitment to countering Iranian malign activity, and the threat it poses to regional security and prosperity, and the security of the American people as well," said Pompeo. The United States supports a robust program of arm sales to Saudi Arabia, a line of effort that helps the Kingdom protect its citizens and sustains American jobs."
The truth of the matter is, the Kingdom of Saudi Arabia, not Iran, is the biggest state sponsor of terrorism in the world today and its Wahhabi observation of Islam remains the source of most radical Islamic extremism — Wahhabism is described as the most draconian and sectarian observation of Islam, which includes forced marriages of prepubescent and teenage girls to adult men, having boys as sex slaves, slavery and human trafficking, including that of children, the exploitation of women as property and the death penalty for Muslims who leave Islam or convert to another religion.
For years the Iran has borne the unenviable title of "world's biggest state sponsor of terrorism." However, out of the 61 groups that are designated as terrorist organizations by the U.S. State Department, the overwhelming majority are Wahhabi-inspired and Saudi-funded groups, with a focus on the West and Iran as their primary enemy. Only two groups are Shi'ites — Hezbollah and Kataib Hezbollah, and only four have ever claimed to receive support from Iran. Nearly all of the Sunni militant groups listed receive significant support from either the Saudi government or Saudi citizens.
Keeping in mind that, as per then-candidate Donald Trump's words, the Saudis, and not the Iraqis or the Iranians were primarily responsible for the attacks on September 11, 2001. Trump was most likely referring to the 28 pages that were redacted from the 2002 Joint Inquiry into the 9/11 attacks. Those pages implicate Saudi elites of financing the attacks. Nevertheless, Pompeo applauded "the Kingdom's tremendous progress in promoting regional peace and prosperity on many fronts."
In a 2017 article on Huffington Post by Adam Weinstein, a U.S. Marine veteran who fought in Afghanistan, Weinstein explained:
"It is certainly true that not all Sunni extremist movements find their roots in Wahhabism. Al-Qaeda was inspired by the anti-state Islamist literature of Muslim Brothers like Hassan al-Banna and Sayyid Qutb. But organizations and movements evolve. The al-Qaeda we know today is very much a product of the more extreme elements of the Wahhabi movement that is tolerated and promoted by Riyadh. However, it is Pakistan rather than the Arab world, which is the true ground zero of Saudi Arabia's export of extremism. An invasive strain of Saudi-sponsored Salafism, often referred to as the Ahl-e-Hadith movement, has spread throughout Pakistan, all the while the fundamentalist Deobandi movement is increasingly supported by Gulf donors. According to a U.S. government cable, 'financial support estimated at nearly 100 million USD annually was making its way to Deobandi and Ahl-e-Hadith clerics in the region from 'missionary' and 'Islamic charitable' organizations in Saudi Arabia and the United Arab Emirates ostensibly with the direct support of those governments.'"
Prince Mohammad bin Salman (MBS), the de facto ruler of Saudi Arabian, was recently spurned by the rest of the world as his country failed to get elected to the United Nations Human Rights Council (UNHRC)— for whatever it may be worth since China is part of the UNHRC.
But while the Saudi ruler denies any involvement in the Washington Post journalist Jamal Khashoggi's grizzly murder inside Saudi Arabia's Istanbul Consulate, he can hardly feign ignorance of the women's rights activists who have been in jail for more than two years, subjected to torture and threats of sexual abuse. Nor can he deny the Saudi-led war in Yemen, which MBS started as defense minister in 2015, and which has now with continuing support from the Trump administration carried out more than 257,000 air strikes, made the country the worst humanitarian disaster in the world — Trump, notwithstanding the bipartisan majorities in the House and Senate passing legislation in 2019 to block or limit U.S. weapons sales to Saudi Arabia, the UAE and Jordan — Jordan is also part of the Saudi-coalition in Yemen — used an emergency declaration to finalize a deal that would sell $8.1 billion in armaments to the three countries.
Last week, the European Parliament passed a bill condemning the kingdomm's human rights abuses and called on the European Union to boycott the G20 summit, which is due to be hosted by Saudi Arabia next month.
On Friday, to mark the second anniversary of the murder of Khashoggi, the Biden campaign released a statement promising to hold Saudi Arabia to account: "Under a Biden-Harris administration, we will reassess our relationship with the Kingdom, end U.S. support for Saudi Arabia's [genocidal] war in Yemen, and make sure America does not check its values at the door to sell arms or buy oil," it declared. And this is exactly what the U.S. has to do — this is not to be interpreted by the reader as an endorsement on my part for the Biden-Harris ticket because of their pro-abortion position and my opposition to it.
Trump has said that if he did not sell weapons to MBS, Riyadh would buy them from China or Russia — I say let them. Nevertheless, the COVID-19 situation has put Saudi Arabia's economy in a terrible state due to a collapse in oil prices, making it rather dubious that it can afford to keep up these huge arms payments.
Yes, Iran is a sponsor of international terrorism and the regime must be brought to justice, but the Saudis are no angles either; it is time the Trump administration acknowledges this. For those who disagree, I ask the question: "Who flew the planes on 9/11?"
__________________________________________________
Mario Alexis Portella is a priest of the Cathedral of Santa Maria del Fiore and Chancellor of the Archdiocese of Florence, Italy. He has a doctorate in canon law and civil law from the Pontifical Lateran University in Rome; he also holds a M. A. in Medieval History from Fordham University, as well as a B.A. in Government & Politics from St. John's University. He is also author of Islam: Religion of Peace? – The Violation of Natural Rights and Western Cover-Up.
Book available on Amazon, Barnes & Noble or WestBow Press.