Truck attacker plows into French crowd, kills 84 celebrating Bastille Day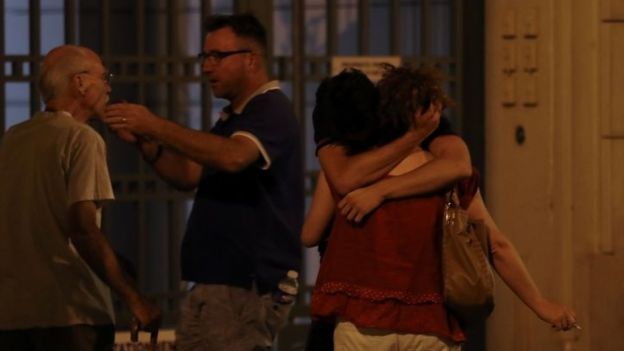 When will the politicians start reading the Quran to understand that the order to kill non-Muslims is in the Islamic Holy book and that all Muslims believe in every word of this book? This carnage will not end until Islam is banned and all Muslims are expelled from non-Muslim countries. Muslims have a religious duty to kill us and we have the right to live. How can we reconcile these two? We can't. The only solution is to ban Islam and expel all Muslims. The more we wait the more of us they kill.
To those who say "I know Muslims who won't kill a fly" I say  Muslims are not required to kill flies, but they are required to kill you.  It is therefore foolish to judge Muslims by our standard.  Every Muslim is a potential terrorist.  
A gunman at the wheel of a heavy truck plowed into a crowd celebrating Bastille Day in the French city of Nice on Thursday, killing at least 84 people and injuring scores more in what President Francois Hollande called a terrorist act.
The attacker, identified by a police source as a 31-year-old Tunisian-born Frenchman, also opened fire before police shot him dead. He had been known to the police for common crimes but not to the intelligence services, the source said.
Interior Minister Bernard Cazeneuve said 18 of the injured were in a critical condition after the 25-tonne truck zigzagged along the seafront Promenade des Anglais as a fireworks display marking the French national day ended just after 10:30 p.m. (04:30 p.m. EDT).
The attack, which came eight months and a day after Islamic State gunmen and suicide bombers struck Paris on a festive Friday evening, seemed so far to be the work of a lone assailant.
Hollande said in a pre-dawn address that he was calling up military and police reservists to relieve forces worn out by a state of emergency begun after the militant group killed 130 people in the French capital in November.
Only hours earlier Hollande had announced the state of emergency would be lifted by the end of July, but the president said that following the attack, in which several children were killed, it would now be extended by a further three months.
"France is filled with sadness by this new tragedy," he said.
Officials said hundreds were hurt as the driver wove along the seafront, knocking them down "like skittles". A local government official said weapons and grenades were found inside the unmarked articulated truck.
Dawn broke on Friday with the pavements smeared by dried blood, while smashed children's strollers, an uneaten baguette and other debris were strewn about the Mediterranean seaside promenade. Small areas were screened off at regular intervals. What appeared to be bodies covered in blankets were visible through the gaps.
The scene appeared to confirm what one city official said during the night – that the truck drove a full 2 km (1.5 miles) along the promenade after mounting the curb.
The truck, a rental vehicle according to local officials, was still were it came to rest, its windscreen riddled with bullets.
Hollande called the tragedy on the day that France marks the 1789 revolutionary storming of the Bastille prison in Paris as an attack on liberty by fanatics who despised human rights.
France would, nonetheless, continue its air operations against Islamic States in Syria and Iraq.
Police were trying to establish whether the driver might have had any accomplices in a city with a reputation for Islamist activism. There had been no claim of responsibility on Friday morning
"A SCENE OF HORROR"
The truck careered into families and friends listening to an orchestra or strolling above the beach toward the grand, century-old Hotel Negresco.
"It's a scene of horror," member of parliament Eric Ciotti told France Info radio, saying the truck "mowed down several hundred people." Jacques, who runs Le Queenie restaurant on the seafront, told the station: "People went down like ninepins."
Bystander Franck Sidoli, who was visibly shocked, said: "I saw people go down."
"Then the truck stopped, we were just five meters away. A woman was there, she lost her son. Her son was on the ground, bleeding," he told Reuters at the scene.
Major events in France have been guarded by troops and armed police since the Islamic State attacks last year, but it appeared to have taken many minutes to halt the progress of the truck as it tore along pavements and a pedestrian zone.
Police told residents of the city, 30 km (20 miles) from the Italian border, to stay indoors as they conducted further operations, although there was no sign of any other attack.