Thoughts and Evil Spirits
Dear Mr Sina,

I have looked into certain aspect of Christianity.

I find the bible mostly brutal. But I find myself coming back to Jesus Christ, and certain aspect of possession, the Jezebel spirit and how it is another language for scientifically explained things, but giving more depth, a depth that science can't give.

I am not sure of what I believe anymore, what is your view on these topics?

Best regards

Helena
Hello Helena,
I share your views on the Bible. In my opinion the Bible is not the word of God but a book that contains the word of God. The authors of the various chapters of the Bible are known. They recounted their own understanding. It is a mistake to take the words of humans as verbatim words of God.
The reason it is a mistake to assume the Bible is the word of God is that there are numerous errors and scientifically false statements in the Bible. If we take this book as the word of God, we have only two choices, to reject reason or to reject God. Either choice leads to disastrous consequences. We will either slide into the underworld of fanaticism or descend into the inferno of materialism.
The only way to reconcile the belief in God and adherence to science is to read the Bible with critical mind. Consider the Bible as a gold mine. In the best mines there is more dirt than gold. The minor knows how to separate them. We should read the Bible with the same mindset. It should not be rejected because it contains precious gems and it should not be accepted in its entirety because it contains a lot of nonsense.
Spirits are real. You and I are spirits. We are in this world temporarily. Here we need a physical body to interact with the physical world, in the same way that astronauts need a space suit when they go to space. Once this human experience ends we leave behind this body and will find out we are not human at all. This world is a game we have come to play, or a school so we can experience things that we cannot experience in spirit world. For example, you want to experience courage, For that you need to face fear. There is no fear in heaven. You want to experience forgiveness. For that you need to face injustice. There is no injustice in heaven.  That is why we come here. We come here to experience negative things and over come them. Why people leave the comfort and safety of their homes and go mountain climbing, ride on a roller coaster, take part in all sorts of frightening activities? Because they want to experience fear, raise their adrenaline and feel alive.  Some people come more than once. Some have been coming back over a thousand times.  Why? Because heaven is boring. Of course there are other places we can go but most souls are not even aware of them.
The physical world is only the epidermis of the real world. There are far more beings in spirit form than there are in human form. Many of them are right here on earth. We cannot see them. They see us, but they cannot interact with matter. Because they don't have the earthly suits that we have, the only way these spirits can interact with the world is through living beings such as humans. But they cannot do that unless we give them our consent.  It is not that they follow a law and don't want to violate that law. They are simply unable to interact with this world or with us unless we let them.  We have the power over our body and mind. Only we can give them that power.
Some of these spirits are not so good. They can take control of our body through our vibration. If the frequency of our spirit is high they cannot have any power over us. If it is low they find a way to penetrate our body and take control over it. This is exactly how diseases take control of our body. If you eat right, exercise and are in good spirit, your immune system will protect you from viruses and diseases. If your immune system is deficient, you become an easy target for diseases.
Just as you can boost or weaken your physical immune system with your choice of foods and physical activity you can increase or diminish your resistance against evil spirits with your thoughts. Negative thoughts such as hate, anger, jealousy, revenge, hopelessness, lower the frequency of our spirit and open our body to evil spirits that surround us.  Positive thoughts, such as love, compassion, forgiveness, kindness, courage and hopefulness increase the frequency of our spirit and make our body impenetrable by evil spirits. Hopelessness is the outcome of faithlessness.
The spirit of Jezebel is very real. This evil entity possessed the historic woman known as Jezebel.  That is the origin of its name. But this entity existed before and lives in many bodies of men and women. Remember that time and space are byproducts of the matter and spirits are not restricted by either of them. So an evil spirit can occupy many bodies at the same time. Hillary Clinton is possessed by the spirit of Jezebel and perhaps a billion other people.
People do evil things because they allow evil spirits to take control of them. Once your spiritual immunity is weakened evil spirits enter your body like viruses as a legion and can drive you to madness. Sometime medications can help. But medications are just band aids. We need to restore our spiritual health if we want to get cured. That can be done once we replace all negative and ungodly thoughts with positive and godly thoughts.
I can give you two examples of how thoughts affect the physical world and our body.  One example is the placebo effect. A significant percentage of diseases can be cured only by giving a person a sugar pill if the patient is told it is a powerful medication. When you believe you will get healed you often get healed. You can also heal others if you believe it. That is how Jesus healed the sick, restored the eyesight of the blind and raised the dead. He said we can do the same if we had faith like him. Even though our faith is not as strong as that of Jesus it is strong enough to heal our own sicknesses if we believe so.
Another example that can be demonstrated is water memory. Water droplets are let to dry and then they are photographed. These droplets dry showing a pattern, that is symmetric and beautiful when are dropped with thoughts of love, kindness and thankfulness and ugly when they are dropped with thoughts of anger, hate and disgust. The pictures tell the whole story.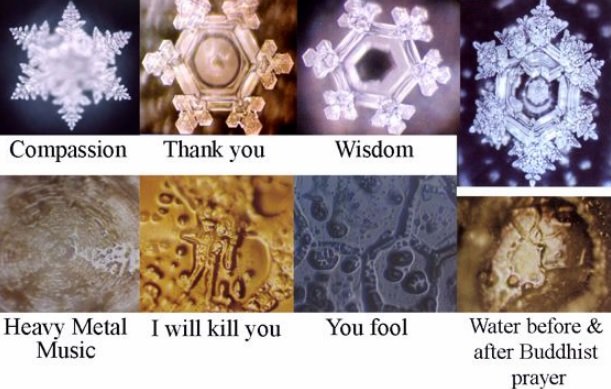 This concept is attacked viciously by materialist scientists because it upends their entire world view. But it is promoted by no less an authority than Nobelist Luc Montagnier who discovered the AIDS virus.
People don't realize that the only thing they have 100% power over is their thoughts. Other than that we don't have much control over anything else. But our thoughts control everything, including our body  So if you want to change your world or the world around you, you need to change your thoughts.  By canceling negative thoughts and replacing them with positive thoughts, we can expel all demonic spirits that control us, cure our mind and even body and change the world.
I end this with two real gems from the Bible for those who recognize the gems of truth.
For as he thinketh within himself, so is he.  (Proverbs 23:7)
But I tell you that anyone who looks at a woman to lust after her has already committed adultery with her in his heart. (Matthew 5:28)
If you want to learn more about water memory these videos are a good place to start.  And don't believe in those who deny it because they are the same people who deny the survival of consciousness despite the irrefutable evidence.  Materialism is a faith and materialists are just as much close minded as religionists.
https://www.youtube.com/watch?v=0lK9nYZC6ak