The Plight of Christians in Today's Islamic World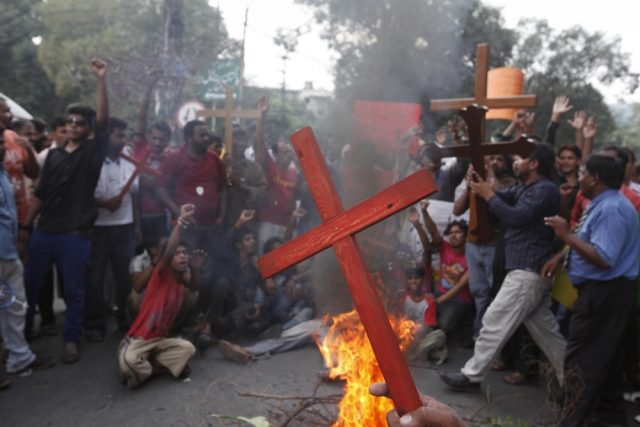 We know from history that the once powerful Roman and Christian North Africa, the land that gave birth to a number of great heroes and heroines, such as saints Cyprian, Augustine, Felicity, and Perpetua, vanished under Muslim assaults. Except for their moral and intellectual accomplishments, those great figures might as well never have existed in present-day North Africa.
There was a resurgence of Christians in the aforementioned areas during the 19th and 20th centuries as a result of the Western missionaries who sought to resow the seeds of Christendom. Yet, again, the presence of those who identify themselves with the Christian faith, is disappearing.
A Once Prevalent Christian Presence All But Gone
Turkey — just one hundred years ago, Christians made up 20-25% of Turkey's population. During 1915-1916, Armenians, Syriacs and Christians in general were subjected to a genocidal campaign at the hands of the Ottoman Turks. Today Christians in Turkey number a mere 150,000, or 3% of the population.
Lebanon — Maronite Christians represented 53% of the population in the mid-20th century., but after the Lebanese civil war (1975-1990), approximately 670,000 Christians (compared to 157,000 Muslims), resulting in Christians today making up just 20% of Lebanon's population.
Iraq — Prior to the U.S. invasion of Iraq in 2003, there were still well over 1.5 million Christians in the country; today that number has fallen to less than 500,000 Christians due to persecution at the hands of ISIS and other Islamists. Iraqi Christians living in Mosul, one of the countries largest cities, found themselves under the control of Islamic State in 2014. Their homes, and they themselves, were marked with the Nasrani sign, the Arabic letter "n", marking them for their faith. Forced to pay additional taxes, convert, or be exterminated, many fled.
Egypt — after the deposition of President Hosni Mubarak in 2011, more than 100,000 Christians immigrated to the United States, Europe and Australia. Most were from the economic and scientific elite. More and more are leaving all the time in the face of escalating Islamic terrorism.
The Cause For A Decline In Numbers
Jihads or "holy wars" against Christians has been part of the problem. In Nigeria, for example, since 2009, "not less than 32,000 Christians have been butchered to death by the country's main Jihadists."
The falling demographic figures, however, as explained by the Jordanian writer and Christian convert (from Islam) Rami Dabbas, are not just the result of physical persecution but political and economic discrimination.
In Iraq, for example, there has been an unprecedented economic crisis materialized in high unemployment rates and low paying jobs. Such austerity, has compelled many young Christians to leave as they see no future in their ancient homeland. As Dabbas states:
"If you are a Christian, there are many places you cannot work, such as government institutions, and this drives many to leave the country. Many young Christians in Iraq completed their university education in anticipation of a job in the state's government which is one of their rights as a minority, only to find that they are rejected by corrupt Muslim officials and forced to work in menial labor."
In Egypt, Christians live as second-class citizens. Most of them work in cleaning and garbage collection, and live in the poorest neighborhoods of Cairo in makeshift slums. They are isolated and viewed with contempt by Muslim society. This is evident after three Muslim men who dragged 70-year-old woman naked through her village over her son's alleged affair with a Muslim woman were acquitted by an Egyptian court last week.
In Pakistan, the 4,015,000 Christians — about 1.6% of the Pakistani population — find the country's highly controversial blasphemy laws disproportionally applied against them. The laws, which can carry a mandatory death penalty in some cases, are often used to settle personal grievances. For example, any person who finds themselves accused by another of offending their religious beliefs by any word by any sound or gesture, or any object placed in their sight, can find themselves in front of a Sharia court. Incidentally, in 2014, Pakistan's The Nation newspaper reported that 68% of Pakistanis believed the blasphemy law should be repealed, but Prime Minister Imran Khan has maintained his support for the laws.
Consequently, there is also the dilemma of Christians being forced convert to Islam. In October 2020, the Pakistani High Court upheld the validity of a forced marriage between 44-year-old Ali Azhar and 13-year-old Christian Arzoo Raja. Raja was abducted by Azhar, forcibly wed to Azhar and then forcibly converted to Islam by Azhar.
Having visited Iraq in 2018 and northeast Nigeria (where sharia norms are prevalent) in 2019, I can personally testify that Christians and other religious minorities are treated like third-class mail by so-called "peaceful" Muslims. And as can be surmised, the situation has gotten worse.
Many Christians, however, continue to resist immigrating because they love their homeland. At the same time, they can only do so much by themselves.
As we Christians observe the birth of Christ this year let us not forget our brethren who continue to have the courage to celebrate Christmas notwithstanding Islamic oppression.
__________________________________________________
Mario Alexis Portella is a priest of the Cathedral of Santa Maria del Fiore and Chancellor of the Archdiocese of Florence, Italy. He has a doctorate in canon law and civil law from the Pontifical Lateran University in Rome; he also holds a M. A. in Medieval History from Fordham University, as well as a B.A. in Government & Politics from St. John's University. He is also author of Islam: Religion of Peace? – The Violation of Natural Rights and Western Cover-Up.
Book available on Amazon, Barnes & Noble or WestBow Press.