The Muslim World's Scandalous Rapport With Communist China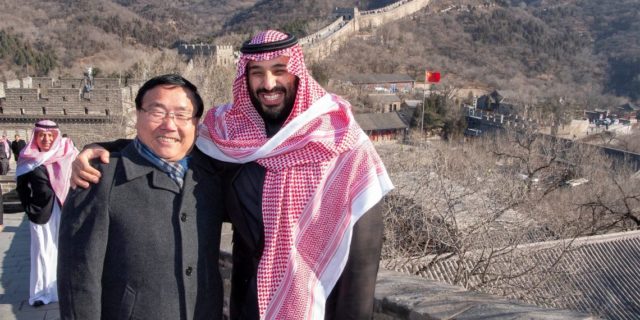 It has been nearly one year since the free world sadly witnessed the Chinese Communist Party's (CCP) forces storm into Hong Kong arresting human rights activists, consequently bringing democracy in the autonomous region to an end. While the United States, Australia, and the European Union (with the exception of Italy and the Vatican) condemned the repression, the Muslim world has refrained from criticizing the CCP, especially on its genocidal treatment of Uighur Muslims.
Former detainees have previously told of torture, beatings and electrocution as well as being forced to eat pork, attend political re-education lessons and sing Communist political songs in their "re-education" camps to weed out terrorism.
Some women who are able to flee China after being released from the concentration camps described forced abortions and torture by Chinese authorities. One woman said she was forced to have an abortion when she was six-and-a-half months pregnant, and a man alleged he was "tortured day and night" by Chinese soldiers in prison.
The fact that most Islamic nations have refused to condemn the CCP for its latest atrocity should not surprise us. As reported by The Guardian, in July 2019, Pakistan, Saudi Arabia, Egypt, the United Arab Emirates, Algeria and other Muslim-majority states that pose as defenders of the faith helped to block a western motion at the United Nations calling for China to allow "independent international observers" into the Xinjiang region where Uighur Muslims are being persecuted.
The Islamic world did call out Myanmar's military violence against Rohingya Muslims in 2017—citizens in Jordan and Iran staged multiple protests in solidarity with the Rohingya.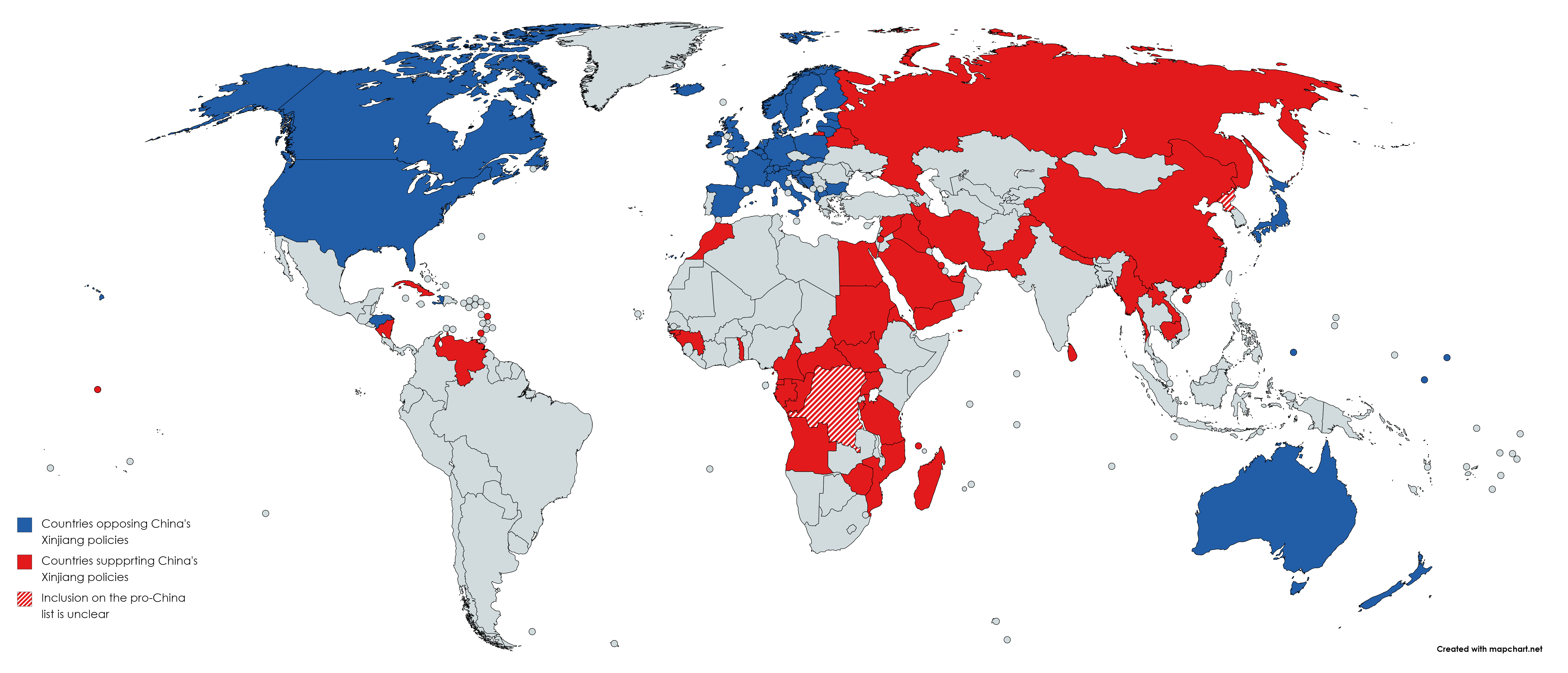 Yet why are they so reticent to come to their brethren's aid in China? Well, it is all about money!
Money is More Important than Muslim Lives
Many Muslim-majority countries, with the exception of Turkey, have withheld speaking out against the CCP's treatment of the Uighur Muslims because they do not want to jeopardize their economic relationships with Beijing.
Most of these agreements entail China giving substantial loans to economies with a bad credit rating, such as Pakistan which are already finding difficult to repay.
Simone van Nieuwenhuizen, a Chinese politics researcher at University of Technology Sydney, told Business Insider: "Like most states, many Muslim-majority countries have increasingly close economic relations with China."
What tends to be more scandalous is that Muslim countries like Egypt, a BRI partner country, have apparently helped the CCP with its Uighur crackdown. In the summer of 2017, according to a Human Rights Watch report, for example, Egypt detained dozens of Uighur students in the country without giving a reason, denied them access to lawyers and their families.
Saudi Arabia's Crown Prince Mohammed bin Salman, has even gone so far as to defend China's use of concentration camps for Uighur Muslims, saying it was Beijing's "right."
Islam in China
China is home to about 22 million Muslims, roughly 1.6 percent of the Chinese populaton.
Islam arrived in China during the reign of the Tang dynasty in the seventh century. While Muslims established themselves in Chinese ports and in Silk Route trading posts, they nevertheless lived segregated from the Han Chinese majority for five centuries.
By the 13th century under the Mongol Yuan Dynasty, Muslims came to China in unprecedented numbers to serve as administrators for the new Mongol rulers due to the latter's enormous inexperience in running the bureaucracy of the Chinese empire.
During this time, wealthy officials continued to bring their wives with them, while lower-ranking officials took local Chinese wives. For about the next 300 years—during the Ming Dynasty—Muslims continued to be influential in government. Among them was Zheng He, a Muslim eunuch who served as for Chinese fleets on exploratory and diplomatic journeys through Southeast Asia and the Indian Ocean.
Under the Qing Dynasty (1644 through 1911), especially with the rise of Chinese nationalism, the Muslim population clashed with the Qing rulers and revolted on numerous occasions.
As explained by Alexandra Ma, editor at Insider's London bureau, many revolts were staged as opposition to the influx of Muslim migrants, who were coming from the overpopulated regions of China to regions that had not previously been under direct Chinese control. These rebellions were violently suppressed by the state, ending a long period of accommodation for Muslims in China.
Current Scandalous Situation
Knowing full well that, as per Islamic teaching, they should openly condemn the CCP's sterilization of the Uighur women, they sanctimoniously consent to this, as well as China's imprisoning their own religious brethren in concentration camps. This is the result of the "pact," as as confirmed by CGTN News—the official website for China Global Television Network—the aforementioned Muslim states have done with China, as latter expressed its appreciation to their Islamic counterparts, especially Jordan and Saudi Arabia, on issues concerning China's principled stand on Hong Kong. 
Communist China, notwithstanding its atheistic doctrine—another taboo in Islam—has had no opposition from the Muslim states as they both tend to be strategically aligned with the same long-term objectives. Both Saudi Arabia and Iran, for example have already benefitted militarily. On the economic spectrum, China has engaged into oil refinery contracts with the kingdom worth $10 billion with Saudi Arabia. And  for the first time, Chinese travelers may enter Saudi Arabia by simply filling out an online form. And, notwithstanding the ongoing conflicts in the region, the CCP has thus far managed to maintain and pursue a policy of "neutrality" keeping friendly ties with all parties despite sometimes conflicting geopolitical interests.
In any case, notice how the Islamic world has also gone silent on Beijing's repression of more than 13 million Muslims in Xinjiang, which include the Hui people. Unlike the Turkic Uighurs (and Tibetan Buddhists), who are accused of nurturing separatist ideas, China's Hui Muslims—an East Asian ethnic group predominantly composed of Chinese speaking adherents of Islam distributed throughout China—(and Christians) are being punished for no reason other than their religious beliefs.
Click Video Below to Hear of a Former Uighur's Experience in Chinese "Re-education" Camp
Nick Cohen, columnist for The Guardian summarizes the Chinese-Islamic pact as hypocritical, at best:
"'The idea of the sacred is quite simply one of the most conservative notions in any culture, because it seeks to turn other ideas—uncertainty, progress, change—into crimes,' said Salman Rushdie when he was in fear of his life in 1990. He was talking about conservative Islam. China has been able to turn criticism of its disastrous record on incubating the Covid-19 virus and its atrocities against its Muslim minorities into crimes, and the people who should be shouting the loudest are bowing their heads in reverential silence."
The Islamic body politic's indifference to their persecuted Chinese brothers and sisters since their sharia-based laws are parallel to those of the CCP. In the end, they are like those Western nations who have been and continue to be complicit to crimes committed by Islamic heads of state and Muslim terrorists simply because the petrodollar outweighs the cries of the marginalized and oppressed. In other words, China and the Islamic nations are like two thieves. They both hate each other, but when there is something the two can profit from, like Pilate and Herod, they will become the best of friends. So much for the so-called religion of peace!
__________________________________________________
Mario Alexis Portella is a priest of the Cathedral of Santa Maria del Fiore and Chancellor of the Archdiocese of Florence, Italy. He has a doctorate in canon law and civil law from the Pontifical Lateran University in Rome; he also holds a M. A. in Medieval History from Fordham University, as well as a B.A. in Government & Politics from St. John's University. He is also author of Islam: Religion of Peace? – The Violation of Natural Rights and Western Cover-Up.
Book available on Amazon, Barnes & Noble or WestBow Press.