The Jihad against the Yazidis Continues
In a historic moment, last month a UN investigation team known as UNITAD declared that the Islamic State committed genocide against Yazidis. The announcement comes after years of advocacy by the Yazidi community for the recognition and restitution for the crimes done to them.
The UN team focused on an August 2014 attack in Sinjar in Northern Iraq against the Yazidi community, as well as a mass killing of military personnel at Tikrit Air Academy in June 2014. "I am able to announce that based upon independent and impartial investigations, complying with international standards and UN best practice, there is clear and convincing evidence that the crimes against the Yazidi people clearly constituted genocide," the team lead said.
Many people, specifically in the West, have mistakenly been led to believe that the threat to Yazidis has receded in Kurdistan (Iraq) and Syria.
Why does the Plight Continue?
As personally told to me by a young Yazidi student, Basma Alali, who studies English at the Catholic University of Erbil (CUE)—founded in December 2015 by Archbishop Bashar Warda, of the Chaldean Catholic Archdiocese of Erbil—the Kurdish ruling party is "secular and does not tolerate Islamic extremism which in turn has brought some stability in Kurdistan whereby all religions and ethnicities can live together. On the other hand, Arabs Islamists still see Yazidis as infidels, even some official members of the Iraqi government see us as infidels. Some of the ruling parties in the Iraqi government are Islamic extremists and they neglect Yazidis on a continuous basis."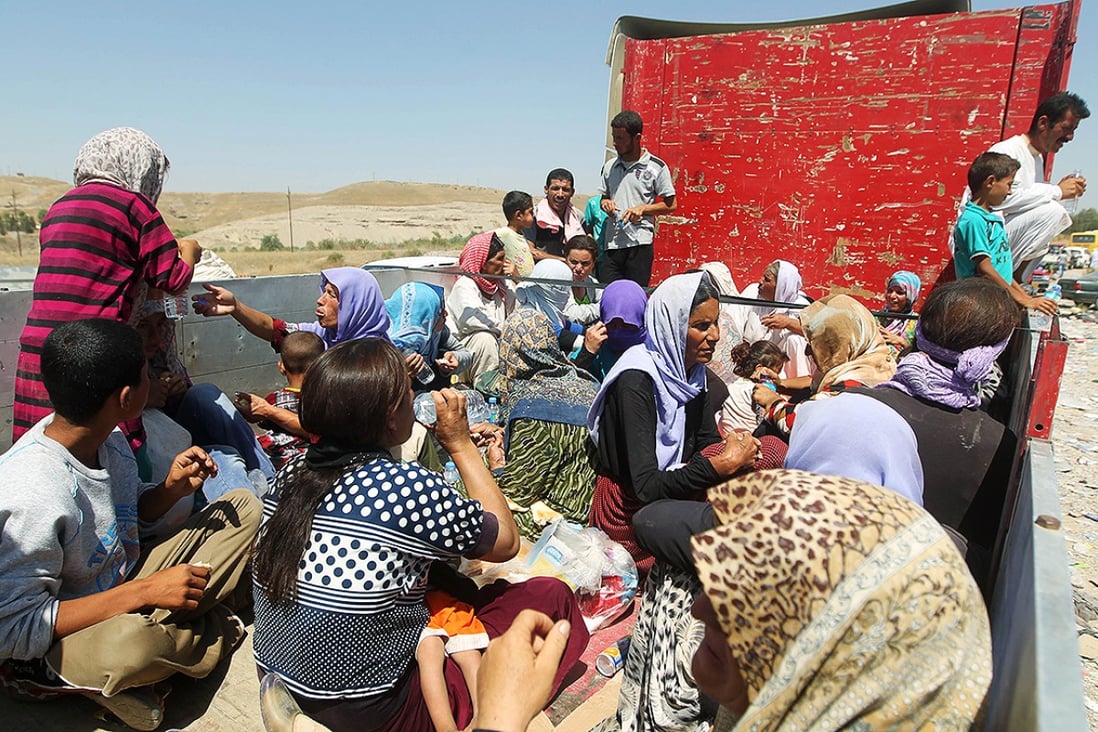 In fact, many Yazidis continue to languish in refugee camps—nearly 200,000 Yazidis still live in displacement camps in the Kurdistan region—and they have no status with the UN group that is tasked with processing claims. Some have been told that they will have to wait until 2022 just to go through the interview phase of the process.
Adding insult to injury, the Shafaq News Agency reported last week that according to Khadida Jougi, administrator of the Snuny sub-district in the north of the Sinjar, Iraq, that the trafficking of the Yazidi abductees from al-Hawl camp—a refugee camp close to the Syria-Iraq border—to other destinations is still ongoing.
Jougi said: "[T]rafficking networks are still in the process of smuggling the Yazidis from inside al-Hol camp to Idlib, where terrorist organizations such as al-Nusra and Ahrar al-Sham are sending them to different territories in Syria."
He stressed, "As Yazidi activists and humanitarian organizations, we have tried several times to enter the camp looking for Yazidi women and children; it is, however, very difficult in the presence of ISIS militants who are still under the influence of extremist ideologies."
Journalist Barbara Kay of Canadian Jewish News reported that the genocide at the hands of ISIS militants was the 74th such genocidal experience the Yazidi people have suffered throughout their long history, which includes having lost 350,000, alongside the million-plus Armenians killed by the Ottoman Turks during World War I.
Now, in compliance with the implementation of the hakimiyyat Allah, i.e., the kingdom of Allah on earth, Turkish President Recep Tayyip Erdoğan is now targeting Yazidis.
According to the German-based Society for Threatened People International, Turkey's top religious body, the Religious Affair Directorate (Diyanet), is building mosques in Yazidi villages to with the goal of Islamizing the remainder of the northern Syrian region of Afrin—at one time Yazidis numbered anywhere between 20,000 to 30,000 in Afrin; just a few thousand remain today.
Since 2018, Erdoğan has also employed al-Qaeda and Islamic State militants along with his troops in the takeover of Afrin, where 300,000 Christians, Yazidis, and Kurds were displaced. According to a high-ranking member of the Syriac Democratic Federation, Abdulrahman Hassan:
"Our heritage was attacked, the city was destroyed. Villages were plundered, women and girls were taken hostage, men are missing. Also several churches were destroyed and church members arrested."
And just days after the U.S. pullout from northern Syria, Turkey began to assail Kurdish and Christian civilians—many of them children—with chemical weapons.
Unlike persecuted Christians (or Kurds), Yazidis do not have a worldwide network of co-religionists, nor do they have an ethnic homeland of their own. They are a fragile people—approximately one million worldwide—whose history stretches back over 6,000 years.
While the Yazidi community at large applauds the aforementioned UN verdict, there is concern about what happens next. The UN team was created to be an investigative group, not a prosecution one, thereby allocating responsibility for the criminal proceedings to take place in Iraq's domestic courts. UNITAD has since received requests from 14 states for assistance in the proceedings. Some, including Nadia Murad, a prominent Yazidi advocate, have called for UNITAD to recommend their discoveries and the subsequent prosecutions to the International Criminal Court or to create an ad hoc tribunal.
As I explain in my book Islam: Religion of Peace? – The Violation of Natural Rights and Western Cover-Up, so long as sharia law prevails, all those who do not submit to Islam will never be considered worthy enough to be treated as a human being.
This is something that is even stipulated in Article 24 of the Cairo Declaration of Human Rights in Islam (1990), signed by every Islamic country, including Turkey and the Palestinian Authority: "All the rights and freedoms stipulated in this Declaration are subject to the Islamic Sharia."
Despite the fact that sharia discourages any proper development of human rights—such as freedom of speech and of religion—and that it fails to recognize the equality between man and woman, Western governments and NGOs collectively remain reluctant to criticize it. They willingly refuse to publicly admit that it not only justifies the illegitimate use of force against kafirs—what the Quran and Islam call the unbelievers—but requires that all human beings subjugate themselves to it:
On that day the faithful will mock the kafirs, while they sit on bridal couches and watch them. Should not the kafirs be paid back for what they did? —Sura 83, 34-36
As Robert Spencer says:
"This is either appalling ignorance on the part of those whose job it was and is to know better, or willful dishonesty. Either way, this refusal to face reality continues to deform our response to the jihad threat, in ways that sooner or later will be catastrophic, as jihadis take advantage of the fact that our attention has been elsewhere for so long."
__________________________________________________
Mario Alexis Portella is a priest of the Cathedral of Santa Maria del Fiore and Chancellor of the Archdiocese of Florence, Italy. He has a doctorate in canon law and civil law from the Pontifical Lateran University in Rome; he also holds a M. A. in Medieval History from Fordham University, as well as a B.A. in Government & Politics from St. John's University. He is also author of Islam: Religion of Peace? – The Violation of Natural Rights and Western Cover-Up.
Book available on Amazon, Barnes & Noble or WestBow Press.