The Islamization of Lebanon and the Solution to Its Crisis
Lebanon remains on the brink of collapse politically, socially and economically. This does not bode well for Israel, and Jerusalem has reached out repeatedly with offers to assist its neighbor to the north. But that's all but impossible due to the involvement of Hezbollah.
The Shiite militia has inserted itself into all parts of the Lebanese state, and has through what can only be described as an "occupation" handed the country over to Iran. Lebanon is today effectively a province of Iran.
What makes this all the more troubling is that Lebanon used to be one of the few safe havens for Christians in the Arab Middle East. With the rise of Hezbollah, the equation changed, and the terror group became the main political and military player in the country. With this began a process of Islamization. Hezbollah claims that its sole raison d'être is to resist Israel. But it is just as dedicated to transforming Lebanon into an Islamist stronghold.
Israel Today spoke with Father Mario Alexis Portella Chancellor of the Archdiocese of Florence and a priest at the Cathedral of Santa Maria del Fiore to get a better understanding of what's happening to our north.
Israel Today: Lebanon was historically a Christian country. But through a series of wars and Islamist incursions, it has slowly become a Muslim-majority state, leading to its present collapse. Can you speak to this tragic history and where it has led us today?
Father Portella: While the Christian population in Lebanon is gradually decreasing, I would not necessarily classify their present state of affairs as an Islamization. In other words, it is not as if they're being forced to accept Islam or being asked to pay the jizya (poll tax) in order to live in the country. It tends to be, instead, an ongoing discrimination at the hands of a corrupt body politic in which both Sunni and Shiite Islamists—the former under the grip of Saudi Arabia and the latter under Iran—that has curtailed the opportunities for Christians to live in dignity.
Many Christians, as a result, have sought to flee the country, which is not necessarily what either Sunnis or Shiites desire. The fact that there is still a respectable number of Lebanese Christians in the country, even though they are not collectively respected, serves the interests of both the Sunnis and Shiites. In other words, their very presence is used to portray a trilateral cooperation when the reality is quite different. And regrettably, the Christians in government have not been able to establish enough political clout to defend their own.
Lebanese Christians have suffered tragedy after tragedy over the past century, especially during the civil war (1975–1990). Lebanon at that time became a battlefield for opposing cultures, religious orientations, ethnicities, political and/or ideological claims. This, however, did not happen spontaneously or in a vacuum.
Its origins date back to the Ottoman Empire, which for good or for bad, had maintained some sort of satiability in the occupied Middle East region for nearly four centuries. The same could be said after the First World War when the League of Nations mandated that Lebanon would be administered by France after the Partition of the Ottoman Empire.
Yet the Lebanese did not have a say when Lebanon officially became part of the French colonial empire in 1920. Such imposition was the result of the secret Sykes-Picot agreements of 1916 between the British and French—France had also obtained Syria.
This ultimately encumbered Lebanon with its sectarian political system that was originally intended to protect the Christians population. Ultimately, the elite in the country held onto a most intricate power-sharing arrangement when Lebanon gained its independence in 1943. It was decided that the country's president would be a Maronite Christian, the prime minister a Sunni Muslim and the Speaker of Parliament a Shiite Muslim—Shiites make up approximately 27 percent of Lebanon's approximately 6.2 million population; Sunni Muslims make up another 27 percent, while Christians comprise 40.5 percent.
The complex system became one of the causes of the nation's civil war, and a way for sectarian leaders to divide and share spoils since Christians held a six-to-five ratio over Muslims in their Parliament. As a result, political institutions, even after the civil war ended, were hindered from making any substantial socio-political progress as Lebanon remained at the whim of the aforementioned sectarian and former militia leaders. They eventually inserted themselves in both government ministries and public institutions. And since the Lebanese political system is based on consensus, any decisions made by the body politic must have unanimous consent—the standard Lebanese political mantra is that there can be "no victor and no vanquished." This is why the country experiences a permanent political gridlock that has often led to sporadic acts of violence.
It is important to highlight that prior to the current form of government established after the civil war, Christians had control of its body politic since there used to be a presidential system of government in which the president, being a Christian himself, had executive powers similar to the Chief Executive of the United States. Today, however, he acts more as a titular head of government. The real governmental power resides in Parliament, which is occupied by both Sunni and Shiite Muslims.
It is no wonder that today's Lebanese Christians are seeking to leave their country.
What's the solution, how do we get out of this mess without another civil war?
Hezbollah, which has evolved significantly from its origins as a guerrilla group in the early 1980s into a major political and military force, has a primary hold on the country, thanks to their backing from Iran. The group has continued to defy UN resolutions and international agreements that have called for their disarmament. In fact, Hezbollah has used its military strength, political power and grassroots appeal to integrate itself into Lebanese society by creating its own educational and social institutions that run parallel to the Lebanese state.
This has further added to the plight of the Christian population because the jihadists control the black market, and with the help of the Iranian regime they have depleted the fabric of Lebanese society, Christians in particular. And because of the sanctions imposed by the Trump Administration that remain in place under the Biden White House, the economic tragedy in Lebanon has given Hezbollah more leeway to coerce Christians to leave the country—keep in mind that Lebanon is highly dependent on the US dollar.
I hope and believe that there will not be another civil war in the country. It would not be advantageous to Hezbollah, as they might lose substantial backing from the Iranian regime, which itself is undergoing a financial crisis.
The entire international community must intervene in order to undermine Hezbollah's role in creating a parallel state. If Christians are going to have an effective say in government, the confessional government as it stands must change . Otherwise, the Saudi-backed Sunnis and Iranian-back Hezbollah will continue to exploit our Christian brethren.
When Israel invaded Lebanon in the early 1980s, local Christians rejoiced, and many even joined arms with the Israelis against local Islamist forces. Photo: Moshe Shai/FLASH90
What about normalization with Israel, could that solve the problem?
On that note, I also do not believe that peace can be established between Lebanon and Israel so long as Hezbollah continues to establish a parallel state—and the Israelis shouldn't. If a state engages into serious negotiations with terrorists, as the United States did with the Taliban in Afghanistan, one then recognises such jihadists as legitimate representatives of the country. This would create more harm than good.
I'm not denying the important role Israel can play to bring some sort of peace and financial stability. This, however, is something the Lebanese must achieve for themselves. But they cannot do it without the help of the international community, specifically the United States and Russia, both of whom will not push Hezbollah out—the Biden administration will not because it wants to reestablish the Iran nuclear deal and Vladimir Putin is a strong ally of Iran.
If ever a country needed separation of religion and state, it's Lebanon. Why isn't this possible?
We know that the encounter between Islam and Christianity in the Middle East has often taken the form of a doctrinal controversy. Such differences have served as a pretext, in the name of Islam, for practices of intolerance, discrimination, marginalization and even persecution against those who refuse to submit to jihadists. Yet as His Beatitude the Syrian Catholic Patriarch of Antioch (Syria) Ignace Joseph III Younan explained to me during our meeting in 2019, the Lebanese have learned how to co-exist with each other. The dilemma is that for Muslims, there can be no separation between religion and state, and this is what Hezbollah is doing.
It is important to note that Islam, while incorporating religious elements, has always had a socio-political foundation that has never been superseded. And those who wish to enjoy human rights, according to the Preamble of the Cairo Declaration of Human Rights in Islam (1990), "… since Allah created the ideal community and gave all humanity a civilisation it is universal and balanced … to ensure human rights… must comply with the sharia law."
The interview is an exclusive that appeared on Israel Today on February 10, 2022. Interviewer Rami Dabbas.
___________________________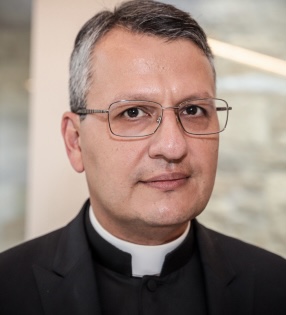 Mario Alexis Portella is a priest of the Cathedral of Santa Maria del Fiore and Chancellor of the Archdiocese of Florence, Italy. He has a doctorate in canon law and civil law from the Pontifical Lateran University in Rome; he also holds a M. A. in Medieval History from Fordham University, as well as a B.A. in Government & Politics from St. John's University. He is also author of Islam: Religion of Peace? – The Violation of Natural Rights and Western Cover-Up.