The Endurance Of Wife-Beating In Islam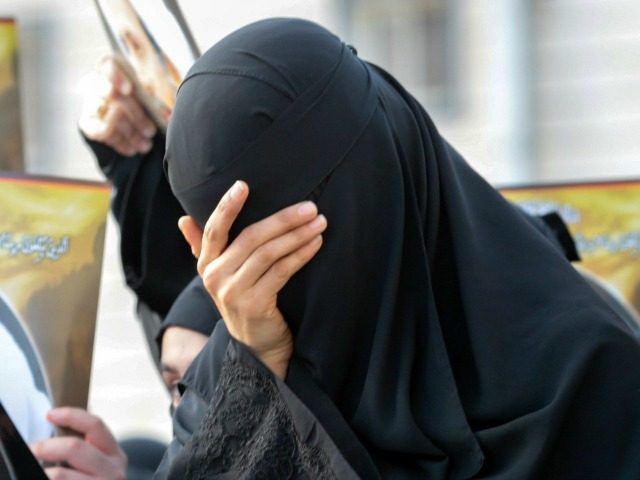 The complex and appalling stream of reports describing Muslim women being punished under sharia law for everything from wearing pants to not having sex with their husbands to being raped can no longer be ignored. Muslim women around the world are being disproportionately abused using outdated Islamic rulings and ages-old customs, while the men who commit such atrocities quite often escape justice.
Such is the case of Dhoha Sabah, an Iraqi woman who had been married for eighteen years when her husband first laid a hand on her. Crowded into a modest, single-room home in Baghdad's Sadr City neighborhood, the couple had always struggled to put food on the table for their four children.
But then the coronavirus pandemic struck, sending Iraq's oil-dependent economy into a downward spiral and putting many out of work.
"We don't have an income. The kids need to go to school, and I cannot afford it. Whenever I talk to him about this issue, he beats me and the kids," Sabah told Al Jazeera News. On at least one occasion, Sabah had to seek medical care because of her husband's physical abuse.
The Justification of Wife-Beating
The rise in domestic violence has highlighted the limited legal and financial support available for victims who often find themselves trapped in abusive households due to conservative sharia social norms that consider it shameful for women to leave or seek justice.
In Islam, a man is allowed to physically punish his wife (or wives) if she refuses to follow her husband's orders. The beating is intended as last resort solution to coerce submission. Such repulsive acts are not only justified but encouraged by the sharia law, which is composed of the Quran and the hadiths — the teachings, sayings, and actions of the Prophet Muhammad passed through a chain of narration that were collected by well-known Islamic scholars:
Fighting the Sharia System
As reflected by Al Jazeera, violence against women is normalized in tribal Islamic communities where the sharia is prevalent. According to a 2012 study by the ministry of planning, more than half of surveyed women believed that beating a wife for disobeying her husband's order did not constitute violence.
"The social values and customs consider it shameful for the woman to file a complaint against her husband or her brother. Even if she did file a case, as soon as her family hears about it, she'll drop it," said Marwa Abdul Redha, a young Iraqi lawyer who used to handle domestic violence cases.
Another woman, who requested to remain anonymous, has endured her husband's beating, rape, and psychological terror for more than twenty years; she married at the age of seventeen. She often thought about leaving, but both his and her family pressured her to stay.
"We have tribal rules. If the woman left her husband's house, she'd be killed. If she goes to her own tribe, they will tell her, 'return to your husband even if he beats you, you have to bear that'."
She eventually escaped to an underground shelter for abused women after the husband began to sexually harass their daughters.
She does not want to call the police for fear she could be forced to return or lose custody of her children.
"The law doesn't protect me. It's the men who hold all the power."
Abdul Redha could not recall a single case that resulted in a conviction of an abuser. She eventually turned her attention to other legal work, after the threats and hurdles she encountered while trying to defend victims began taking a psychological toll.
The aforementioned abuses exists in parts of society, regardless of religion. Yet another thing is when religious verses, such as those found in the Islamic texts, justify such crimes against humanity. This is why Arabian society at the beginning of Islam sanctioned appalling violence towards women.
Whenever human rights' advocates, writers, and women themselves speak out against draconian sharia-based ordinances, it is declared that the groups have western agendas and speak against Islam.
As a female Pakistani journalist said: "If women ask for equal rights, is it a western agenda? If they wish to be equal participants in the society to promote democratic values, would you term it a foreign practice? Are women in our society to walk on the tightrope of laws that harm their lives?"
No civilized society, especially one that carries the banner of democracy, should tolerate such laws. There must be awareness-raising campaigns in the West, the United States and Europe in particular, about human rights violations committed against women in the Muslim world. Acknowledgement of this will ultimately require a multigenerational and cross-societal commitment to social change by political leaders, in addition to a public support for the brave women continue to fight for the right to enjoy life with dignity.
__________________________________________________
Mario Alexis Portella is a priest of the Cathedral of Santa Maria del Fiore and Chancellor of the Archdiocese of Florence, Italy. He has a doctorate in canon law and civil law from the Pontifical Lateran University in Rome; he also holds a M. A. in Medieval History from Fordham University, as well as a B.A. in Government & Politics from St. John's University. He is also author of Islam: Religion of Peace? – The Violation of Natural Rights and Western Cover-Up.
Book available on Amazon, Barnes & Noble or WestBow Press.