The Clinton Emails And Apparent Link To The Muslim Brotherhood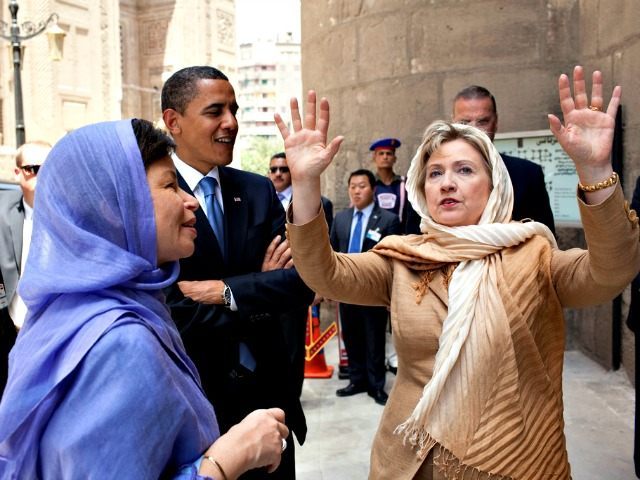 On Thursday Secretary of State Mike Pompeo, after taking swipes from President Donald Trump, agreed to release emails from his predecessor Hillary Clinton, saying it was important for "transparency." Pompeo denied any political motivation.
This comes a week after in a rare criticism of two of his most steadfast aides, Secretary Pompeo and Attorney General Bill Barr in which Trump demanded that both cabinet members take action concerning the previous administration of Barack Obama.
"They're in the State Department, but Mike Pompeo has been unable to get them out, which is very sad, actually. I'm not happy about him for that reason. He was unable to get them out. I don't know why. You're running the State Department, you get them out," Trump told Fox Business last week.
Although the move has been roundly criticized as potentially illegal, Trump, amid poor poll numbers, has been desperate to replicate the political boost that former FBI director James Comey's reopening of the investigation into the Clinton email scandal gave him immediately before his 2016 election victory.
It is unclear, however, what emails, classified or not, the Department has from Clinton's personal server that are not among the 35,000 already released. The majority of the emails in question were legitimately and legally released in 2015 at Clinton's request, amid an FBI investigation into her use of a private email server at home for government-related work.
According to a report by Israel Today, some of the emails from former Secretary of State Clinton to be released as part of Trump's election campaign apparently reveal direct U.S. involvement in the Arab Spring events of 2011 and a deep connection between the Obama administration and Qatar that included a joint effort to establish a media channel and an economic fund to be used by the Muslim Brotherhood — a terrorist organization, although not classified as one by the U.S. — as a means of intervention in Arab countries in the region.
One of the would-be emails discloses a plan between Clinton and the Qatari government to establish a media channel with initial funding of $100 million. This plan followed complaints from the Muslim Brotherhood about the weakness of their media system compared to other media outlets.
Steve Benen of MSNBC stated that even if any old Clinton emails revealed significant evidence of any wrongdoing during the Obama administration, "I'm hard pressed to imagine how this would alter the trajectory of the 2020 race — because the last time I checked, Hillary Clinton isn't running for anything." While this is true, let us not forget that Joe Biden was Obama's Vice President for eight years and could not have not known, if true, Clinton's covert operations.
The Arab media, in fact, has recently recently attacked presidential hopeful Joe Biden, stating that he "belongs to the same rotten tree" and that if he wins the world will witness far more serious events than the events of 2011 and the Arab Spring, which the Obama administration promoted as if they were spontaneous popular uprisings.
During the second presidential debate with Hillary Clinton in 2016, then-candidate Donald Trump promised if elected president he would appoint a special prosecutor to investigate the issue. After he was elected president, Trump during a 60 Minutes interview with Leslie Stahl reneged saying: "I don't want to hurt them, [the Clintons]. They're good people."
__________________________________________________
Mario Alexis Portella is a priest of the Cathedral of Santa Maria del Fiore and Chancellor of the Archdiocese of Florence, Italy. He has a doctorate in canon law and civil law from the Pontifical Lateran University in Rome; he also holds a M. A. in Medieval History from Fordham University, as well as a B.A. in Government & Politics from St. John's University. He is also author of Islam: Religion of Peace? – The Violation of Natural Rights and Western Cover-Up.
Book available on Amazon, Barnes & Noble or WestBow Press.