The Abraham Accords: The Truth Behind The Agreement Of Peace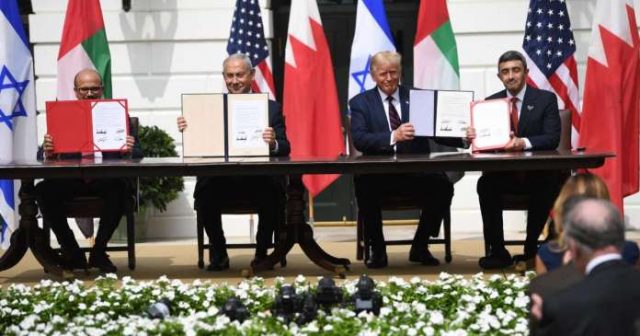 In what was a groundbreaking event on Tuesday at the White House, President Donald Trump presided over the signing of a Middle East agreement between Israel and two Gulf nations, calling it the foundation for a broader alignment against Iran that would fundamentally change the geopolitical dynamic in the region.
The so-called Abraham Accords Peace Agreement, brokered by the Trump administration and signed by Israel, the United Arab Emirates (UAE), the Kingdom of Bahrain and the U.S. (as a witness) normalizes diplomatic relations between the Arab nations and the Israelis — the only two other nations to have full diplomatic ties with Israel are Egypt and Jordan; the former via the Camp David Accords of 1978, the latter with the Wabi Arab Treaty of 1994.
While the Trump administration deserves credit for bringing getting the two Arab states to bypass the Israeli boycott — intended to prevent Arab states and discourage non-Arabs from directly or indirectly contributing to Israel's economic and military strength until Palestine is recognized as an independent and sovereign country — Tuesday's signing, framed as a peace treaty, has only made a precarious situation into a landmine waiting to explode.
Why the Abraham Accords are not About Peace
First and foremost, the Abraham Accords did not bring peace between Israel and the two Gulf nations. Unlike Egypt and Jordan who were both at war with Israel and then became friends, Bahrain and the UAE were never at war with Israel. They had in fact, already enjoyed unofficial diplomatic, security and trade relations.
As Noura Erakat, human rights attorney and an assistant professor at Rutgers University, says: "While Trump may be looking to score points as a peacemaker for his presidential bid, what he is doing is simply providing the military, financial and diplomatic infrastructure to further repress popular struggles for democracy and freedom in the Middle East."
The agreement with Israel will now allow the UAE to be able to purchase high-tech weapons from the U.S., including Reaper drones, EA-18G Growler jets and F-35 fighter planes. Bahrain, which stands to similarly benefit as it seeks air defense systems from the Trump administration, now stands to secure the superpower's military backing and diplomatic impunity for gross violations of human rights and the laws of war.
"From a purely military perspective, I think it's a dangerous development. It's not just a new weapons technology. The F-35 is an entire weapons platform," said Chuck Freilich, a former deputy national security adviser in Israel and an analyst of U.S.-Israel relations. He said the F-35s would represent a "dramatic upgrading" of the UAE's military capability.
Another disturbing factor about the "peace" accord is that the signees, including the U.S., never addressed the issue of human rights violations in the UAE, Bahrain or Israel.
UAE Human Rights Abuses
According to a Human Rights Watch (HRW) 2020 report, the UAE — a federation of hereditary absolute monarchies — is incredibly intolerant when it comes to pro-democracy and peaceful dissenters. The ruling regime in the Emirates is one of the most repressive and authoritarian regimes in the world with its terrible record of torturing human rights activists.
Their record is so bad that Wenzel Michalski, director of Human Rights Watch in Germany, stated that, "The state's fear of criticism must be extreme so that anyone who dares to criticize the political situation or human rights in the country can be now defamed as a 'terrorist' and therefore can face correspondingly harsh punishments."
A case in point has been that of Ahmed Mansoor, an award-winning human rights activist sentenced to 10 years in prison solely for exercising his right to free expression; he went on a hunger strike to protest his prison conditions and unjust conviction. During detention, Mansoor, like so many other detainees, was not only denied legal representation but was also subjected to torture and solitary confinement.
Other activists who have completed their sentences as long as three years ago continue to be detained without a clear legal basis.
The UAE government has also failed to adequately protect women from sexual and domestic violence. Under Article 53 of the Penal Code, "a husband's discipline of his wife" is "considered an exercise of rights," language that can be read as official sanction of spousal abuse. This is based on the Quranic teaching:
Men are in charge of women by what Allah has given one over the other and what they spend from their wealth. So righteous women are devoutly obedient, guarding in absence what Allah would have them guard. But those from whom you fear arrogance—advise them; forsake them in bed; and, strike them. But if they obey you [once more], seek no means against them. Indeed, Allah is ever Exalted and Grand. —Sura 4, 34
Bahrain Human Rights Abuses
Bahrain's Sunni Al-Khalifa monarchy rules over a majority Shi'ite population, which is largely poor and disenfranchised. Incited by such deplorable conditions for years — I can personally attest to this after having visited the small 295-square-mile island in 2008 — and the pro-democracy uprisings around the region under the banner of the Arab Spring, Bahrainis likewise took to the streets on February 14, 2011, demanding an elected parliament and a new constitution.
King Hamad bin Isa al-Khalifa, backed by authoritarian Islamic regimes, authorized 1,500 troops from Saudi Arabia and the UAE to enter the country to help brutally crush the protests.
Amnesty International has documented that from June 2016 to June 2017, Bahrain subjected at least 169 peaceful critics or their relatives to one or more of the following measures: summons, arrest, interrogation, prosecution, imprisonment, travel bans and torture. In one illustrative incident in May 2017, Bahraini authorities detained Ebtisam al-Saegh, a Bahraini human rights defender described by Amnesty International as a "prisoner of conscience," and blindfolded, beat and sexually assaulted her during seven hours of interrogation.
Human Rights Watch reported that authorities continue to arrest, convict, and harass prominent human rights defenders, journalists, and opposition leaders. The Court of Cassation upheld unjust sentences against prominent human rights defender Nabeel Rajab and opposition leader Shaikh Ali Salman. Authorities have failed to hold officials accountable for torture and ill-treatment, and oversight mechanisms are not independent of the government.
Israel's Wrongdoings
There have been a total of forty-three times the United Nations has drafted a resolution to sanction Israel for its breach of international law or human rights violations. Israel has never been held accountable because each time a charge was raised, the U.S., as a permanent member of the Security Council, vetoed the resolution. Israel's crimes, is something, that goes back for decades.
Erakat reports that during the apex of global resistance to apartheid rule in South Africa, Israel trained the South African military's elite units, sold tanks and aviation technology to its army and was reported to have helped it develop nuclear weapons. Upon his release from nearly 30 years in prison, Nelson Mandela proclaimed, "The people of South Africa will never forget the support of the state of Israel to the apartheid regime."
Similarly, from 1975 to 1979 — the years running up to El Salvador's civil war, in which the government crushed a popular insurgency and more than 75,000 civilians were killed — 83 percent of El Salvador's military imports came from Israel, according to the Stockholm International Peace Research Institute. Significantly, Israel's extension of support to South Africa and El Salvador reflected U.S. interests, as Washington was invested in the viability of South Africa's and El Salvador's ruling governments, thus underscoring Israel's status as the superpower's most unique ally in the Middle East.
Potential Ramifications
The Abraham Accords, aside making the Islamic regimes stronger, has a clause that would alter the status quo that could breed more violence in Israel — the status quo is an understanding among religious communities with respect to nine shared religious sites in Bethlehem and Jerusalem that any religious community that has a current right must consent to any change, either in procedure or substance.
In this case, it refers to the the Al-Asqa Mosque, which is built on top of the Temple Mount/Haram al-Sharif in Jerusalem. Non-Muslims can visit but are prohibited to pray at the site — this was upheld in a formal declaration in 2015 by Israeli Prime Minister Benjamin Netanyahu.
According to what was specified by President Trump: "As set forth in the Vision of Peace, all Muslims who come in peace may visit and pray at the Al-Aqsa Mosque and Jerusalem's other holy sites should remain open for peaceful worshippers of all faiths."
This means that Muslims would lose "sovereignty" over the Temple Mount, paving the way for Jews, who view it as their own, to pray there at any time. Essentially, the Israelis would now be in a position to "take over" what has not been conceded to them.
The very fact that nations should not work to at least get along with each other is not in question. Neither should, as already mentioned, Trump's efforts to make it a reality. That being said, one thing is to draw nations together to foster harmony in a given region, another is to "absolve" them of their crimes against humanity and simultaneously arm them with weapons that will only make their despotism more prevalent.
What will bring peace is a reciprocal respect, regardless of race, color or religion, as well forgiveness as just as Anwar Sadat and Menachem Begin did on September 17, 1978. Despite being bitter enemies, both Egypt and Israel put down their arms and were able to incorporate the teaching of forgiveness at Camp David Accords.
___________________________________________________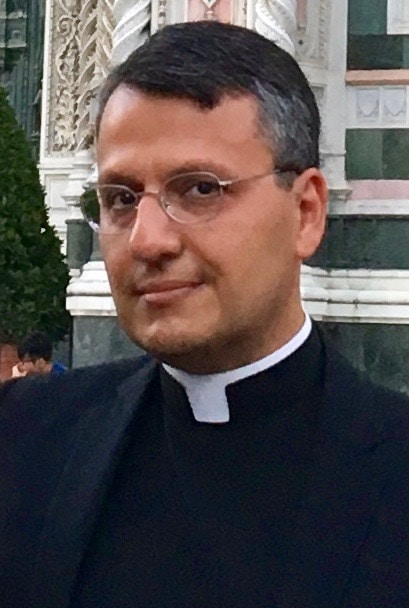 Mario Alexis Portella is a priest of the Cathedral of Santa Maria del Fiore and Chancellor of the Archdiocese of Florence, Italy. He has a doctorate in canon law and civil law from the Pontifical Lateran University in Rome; he also holds a M. A. in Medieval History from Fordham University, as well as a B.A. in Government & Politics from St. John's University. He is also the author of Islam: Religion of Peace? – The Violation of Natural Rights and Western Cover-Up.
Book available on Amazon, Barnes & Noble or WestBow Press.