Ten Thoughts re: Bibi Netanyahu's Speech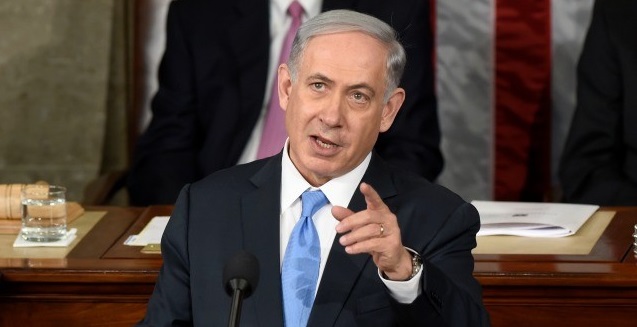 1.  Imagine if valiant Czechoslovakian President Edvard Benes' was able to directly warn Britain's Parliament of Hitler before Neville Chamberlain made his foolhardy trade of the Sudetenland for the fantasy of Hitler's peaceful intentions and promises. While some would have remained unable to see past their own blindness perhaps enough would have awakened to forcibly cut off the march of the twentieth century's most evil regime.
2. Much is made of the nuclear deal's supposedly agreed upon "sunset clause" that ultimately frees the Islamic Republic of Iran to run its nuclear program as it sees fit. Rumor has it that President Obama sought twenty years but the Iranians at least refused any period longer than ten. (Some rumors now suggest Iran has even rejected ten.) Unnoticed in all of this is the significance of ten years for an Islamic regime. Sharia requires that no treaty, or more appropriately truce ("Hudna"), be longer than ten years. Truces in Sharia are by definition temporary as the greater war that guides the expansion of Islam is perpetual. Mohammad, the model for all Muslims, entered into a ten year pact with Mecca which became the basis for this rule. While Obama fantasizes his deal will stop a war, Iran's demand signals and reconfirms that for it this is a war which must continue following the end of the truce unless its enemy (us) surrenders and submits. While Obama tries to sell his deal as the best path to prevent Iran from developing nuclear weapons, as Netanyahu stated, this deal, when coupled with the regime's theology, would "all but guarantee" that it gets such weapons.
And while Minority Leader Nancy Pelosi complains about being intellectually "insulted" by the speech as if she knows the enemy we are dealing with, she clearly does not. Again, Mohammad, as the exemplary Muslim, broke that very treaty with Mecca after two years and this became the basis for the principle that any truce can and should be broken once the Islamic entity is strong enough to resume and successfully prosecute the war. Iran's Islamic worldview, when coupled with its constitution, compels this regime to lie and cheat as it proceeds under any deal. To expect Iran to live with any deal it makes with us (and in no case longer than ten years) is itself intellectually insulting.
3. The Iranian regime, unlike Obama and our State Department, has learned from history. It is not making the very mistake Hitler made- to move before it had its knockout punch placed firmly in its back pocket. Imagine if Hitler had waited to begin his territorial outreach until his scientists had developed the atom bomb. Netanyahu instinctively understands there would be no Israel today. Beware the Iranian regime after it is so equipped.
And unfortunately, we seem to be doing the converse: telling ourselves we have the knockout punch in ultimately being willing to use overwhelming force against this regime when, in fact, we seem to have been culturally emasculated from ever doing so.
4. Further, perhaps the three most famous lies these days should read "this will be the most transparent administration in history," "You can keep your doctor, period!" and "all options are on the table." All of the tension surrounding the Netanyahu speech results from the fact that this third lie has been constantly dangled by Obama, his foreign policy supplicants and his obsessed and compliant media. Obama will never use military force against Iran's sites or regime. Not only would that contradict his policy of vacating the Middle East as well as his view of the US's long and repulsive history of colonial overreach in the region. It would contradict a critical notion which helped elect him twice- that Democrats are sophisticated craftsmen of soft power while Republicans are intellectually deprived buffoons of prehistoric brawn. Add his goal of unilaterally disarming our military and this President will clearly never utilize force against Iran.
It is not that Obama fairly assesses the risks of Iranian retaliation through its multiple proxies creating massive global disruption. Those proxies have been active for decades and will be activated, deal or no deal, whenever the regime deems useful.  Nor can Obama really believe that force will eliminate the value that inspectors bring in keeping us on top of how close to breakout the Iranian program has progressed. If inspectors and inspections could be relied upon when truly needed we never would have entered Iraq. The unfortunate lesson of history is that force is the only solution against this type of ideological and theologically apocalyptic enemy and the longer we wait the more our advantages deplete. Yet Obama will never travel this path no matter what his rhetoric requires. Force was never on the table; only Obama's disingenuousness.
5. Netanyahu made clear that this deal was ill conceived and ill prepared from the start. Good deals are easy to negotiate when a party has leverage. Simply put, what makes diplomacy work is leverage and the ultimate leverage, beyond, public opinion, beyond economic carrots and sticks, beyond ideological reasoning, is that very prehistoric brawn. Using those other "tools of smart power" as Hillary Clinton likes to say is valuable only when you have the ultimate hard power to back it up. And when dealing with other prehistoric parties, including the leaders of the Islamic Republic of Iran, only hard power counts. The rest is foreplay.
The true artistry of such diplomacy lies with those who craft leverage or the illusion of leverage where none exists. In these affairs, leverage comes from the credibly conveyed threat of force. Such a diplomatic artist knows how to prepare and organize his strategy and then manipulate his palette of advantages to force surrender without exposing his lack of leverage. Ayatollah Khamenei, President Rouhani and Foreign Minister Zarif have demonstrated such artistry- extracting seemingly endless concessions through their own credibly sold threats.
And despite our unparalleled military and economic power, we have depleted and eclipsed our own leverage. The constant refrain that Americans are "war weary" has insured that it is regurgitated in polls leading to circular repetition to almost irreversible acceptance. Without the will to fight, all of our weapons, military and economic, are meaningless. This is the weakness an accomplished diplomacy would have obscured but little has been made more apparent to the Iranian regime by our diplomatic maneuvers than this vulnerability. (Donald Trump has called Obama a "horrible negotiator…one of the worst ever.")
This was not always the case. In fact, George W. Bush created significant leverage in 2003. Having carried through on attacking both Afghanistan and Iraq, he had US troops ominously suggesting further ventures into another member of his designated "Axis of Evil," Iran. The regime clearly understood the message as it quickly began to cooperate with the US in a number of ways. It also marked a time of great outflows of Iranian, particularly Revolutionary Guard, funds into "safer" Arab financial territories. And most importantly, this is the time it stopped much of its nuclear march.
Unfortunately, this is also the time the American Left and its captive press began to pressure Bush into retreat which ultimately emboldened the regime to renew its nuclear advance even more aggressively.
Netanyahu made clear we should have only entered these negotiations from that position of strength- demanding as prerequisites that Iran stop its aggression, stop its terrorism and stop threatening Israel's annihilation. Before we delusionally pretend that Iran intends to act as a "normal country" once we address their seemingly reasonable (yet obviously made up) concerns, Netanyahu correctly demands that it first "act like a normal country." Any intelligent inventory of US leverage would have centered on military muscle as bedrock for economic pressure. Yet, Emperor Obama showed he wears mom jeans at best and the deal was doomed from the start.
Netanyahu and other Israeli leaders in the past have said it best through their actions in pre-emptive military strikes without notice or explanation. We need to listen to him in more ways than one.
6. Shame on us all if another piece of history repeats itself. When Winston Churchill first alerted the West to the Nazi threat, he was "retired." Should Netanyahu not continue as Prime Minister following the upcoming Israeli elections, the catastrophic horrors the world will face before it either calls Netanyahu back or finds another of similar constitution may not be survivable.
7. Beware the rationalizations that opinion leaders frantically employ to explain Obama's otherwise incomprehensible actions. Words such as "incompetent," "naïve," even "delusional" do not begin to address the reality of Obama's knowing pursuit of a destructive ideology. And of late, "legacy" has crept in to explain Obama's prioritizing any grand deal with Iran over all else, including a "bad deal." Obama has quite an ego but it is not dependent upon legacy; he wrote his memoir before he even started. Rather, he is investing his legacy in his ideological goals, not ours.
8. "Boycott" has been so intimately tied to Israel's criticism of Obama in the same way that "Islamophobia" has been tied to criticism of Islam and "racism" has been tied to criticism of blacks.
9. Obama craftily lowers expectations by insisting there is perhaps only a 50% chance he can close a deal; as if President Mighty Mouse will swoop down at the last moment and save the day! Many believe Obama has and continues to chase a deal with endless concessions. Others trust various rumors including that a deal was made long ago between Obama's closest comrade, Valerie Jarrett, and her long time Iranian regime friend, Ali Velayati- the rest being just window dressing. Few believe Obama will walk. If a deal fails, it will either result from Iran's intention never to complete a deal (or to continue the process with even greater demands) or from Congress' reaction to this very speech. Bravo Bibi.
10. Remember the mantra chanted by Hillary Clinton as well as media and think tank elites years back, "Don't change the regime, change the regime's behavior." Obama made clear he will never seek to change the regime. Netanyahu made clear that this deal in any of its iterations will fail to change regime behavior. In fact, he demanded that change as a precondition to any negotiations.
When we tire of arguing whether Netanyahu's speech was appropriate, outlined a viable alternative, was based on speculation and so on, we must face the simple fact that underlies all of the tension: the nuclear negotiations with Iran have been ill conceived from the start. Iran will never change its behavior. Unfortunately, it remains political blasphemy to state the obvious- The West will never be safe until we change the Iranian regime. (And don't be fooled that the 2009 Green movement's alternatives would have represented any true change at all.)
Thank you Bibi.