Send returning ISIS fighters to live with George Clooney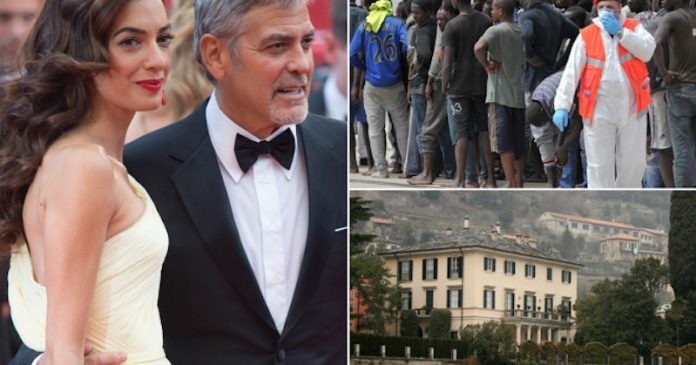 Now that ISIS are finally taking a battering in the area of the Mid-East they have controlled for the last three-years, it is no surprise to learn that most of them now want to run home to Europe.
Given that their days of unopposed rape, murder and thuggery are numbered, and that real men from the coalition forces are closing in, those of European origin hope to run home to the safety of their mothers.
And naturally, despite the absence of any sign of humanity, they are pleading with Europe to share our humanity, dignity and rule of law with them.
More
–
One of these scum, a Dutchman calling himself Victor D, who is known as Zakariyya al Hollandi to his equally inbred and mentally retarded ISIS colleagues, has written to the Dutch government in advance of his impending return;
'IN WRITING THIS, I DO NOT TRY TO PROVE MY INNOCENCE. I WANT TO SHOW YOU THAT I AM CONVINCED THAT I FOUGHT FOR A NOBLE AND HONEST CAUSE (…) I AM SUSPECTED OF BEING A MEMBER OF A TERRORIST ORGANISATION.
BUT THAT CAN ONLY BE ESTABLISHED IF WE DEFINE THE DEFINITION OF THE WORD TERROR. IF WE TAKE THE DICTIONARY, FOR INSTANCE, A COUNTRY LIKE THE USA SHOULD BE DEFINED AS A TERRORIST STATE.'
Which translates as this worthless waste of skin is asking us to treat his violent, merciless jihadi cause against the women and children of the Yazidi Christians as a noble and worthy one.
Before leaving for the Islamic State Victor was a postman. He told friends he wanted to live in a society under Sharia Law and has admitted to being a member of 'many' terror groups, but not ISIS.
Despite being photographed with known Dutch ISIS fighter Yilmaz, Victor wants us to believe he is not all that bad after all. Misunderstood, perhaps.
At the time of writing he is still in Syria and claims there are ten other Dutch born fighters who want to come home with him.
It is believed that more than 40,000 foreign fighters from over 110 countries went to Syria and Iraq to join ISIS. Many are still alive and some in Holland, especially the Dutch newspaper NRC believe there is a duty to 'do all they can to bring them home.'
Which is a great idea, if they are planning public executions in Nuremberg Town Square.
One Dutchman, an academic professor of counter terrorism, said;
'THE DUTCH CLAIM THEY DO A LOT TO KEEP ITS YOUTH ON THE RIGHT TRACK, BUT NOW THEY REMAIN SILENT. WHY DON'T WE TRY TO GET OUR LOST SONS BACK HOME?
WHY ARE WE NOT SENSITIVE ANYMORE TO OUR CHRISTIAN VALUES? THE NETHERLANDS SHOULD DO SOMETHING FOR THOSE WHO LOST THE BATTLE IN THEIR CALIPHATE, AND THEY SHOULD BE PUT TO TRIAL IN THE NETHERLANDS.'
Safety expert Peter Wijninga of the The Hague Centre for Strategic Studies (HCSS) believes the Dutch should go a step further;
'THE NETHERLANDS SHOULD START INFORMATIVE CAMPAIGNS VIA FACEBOOK ON HOW PEOPLE CAN SAFELY LEAVE THE WAR ZONES ON THEIR WAY BACK HOME.'
By 'people,' he means the sub-human vermin we have all seen burning, drowning and beheading people in cages over the last few years. These 'people' should be 'brought safely out of the war zone,' he says.
So this is modern Dutch counter-terrorism teaching is it? It is the reason Holland is going to Hell.
Dutch lawyer André Seebregts, who spends his life defending the indefensible, who have already run home to The Netherlands, does not agree with Bakker and Wijninga.
That's a relief. Nor does any right-thinking European.
Seebregts has said that during the trial of one ISIS member it was revealed that the Dutch police are already in touch with many ISIS fighters in Syria in an attempt to persuade them to return home. He told reporters that 'the Dutch do more than you think already.'
ISIS fighters, made up of European nationals, have carried out thousands of public executions, decapitations and crucifixions. They have thrown homosexuals from tall buildings and released videos showing the decapitations and burnings.
They have carried out 90 global attacks in 21 countries, killing nearly 1400 people. 3500 Yazidi women and children have been held as slaves and repeatedly raped, for years.
How long do you think it will be before we see the first video clip, filmed in Europe, of innocent people, who have been randomly kidnapped, being burned alive or beheaded wearing an orange jumpsuit. Filmed in a barn somewhere close to Luton, Lyon or Milan?
It is worth sharing a tweet from a Dutch correspondent who is now based in Syria who warned us;
'ALMOST ALL SYRIANS SAY THE SAME THING, THAT ISIS MEMBERS FROM ABROAD WERE THE CRUELLEST, THE MOST VIOLENT. THEY WERE TOTAL CRIMINALS AND PSYCHOPATHS.'
By that he means the Western ones. The Europeans who are now hoping to come home and create a 'Fifth Column' made up of the 'lost sons,' as the Dutch counterterrorism professor called them.
To date nobody has been able to explain why my policy for dealing with these mentally retarded European ISIS fighters is a bad idea.
Which is;
1. Cancel their passports and revoke all citizenships.
2. Catch them if you can but don't throw too much money at it. Let them drift like beggars around the Middle East for the rest of their short lives  instead and take their chances.
3. Transport the ones who are caught straight to somewhere near George Clooney's house and, after a short trial, execute them publicly in his swimming pool.
Or you could go Dutch instead. Good luck Europe.

-Albert Jack
Read – Is it time to drive Islam out of Europe?
Read – The Slow Death of Europe
We appreciate thoughts and comments on any story (below)