Qur'an and Terrorism
10/23/2013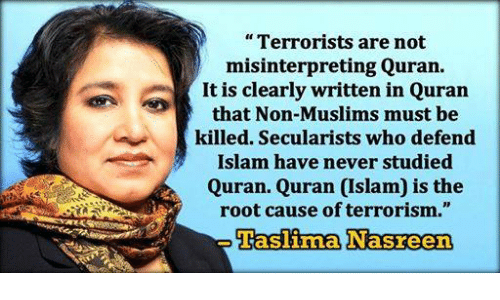 "Until the philosophy which holds one race superior and another inferior is finally and permanently discredited and abandoned – everywhere is war." – Haile Selassie
Any act of terrorism is a major violation of one of the most fundamental human rights – the right to life. By creating a climate of fear, terrorism also violates a man's birthright to live free from fear, as stated in the preamble of the Universal Declaration of Human Rights. As terrorism grossly and systematically violates human rights, it is natural to consider it as a crime against humanity.
Though the world is exposed to different types of terrorist threats, for last several decades we have witnessed severe Islamic terrorism movements. The destructive activities of the Muslims caused death of thousands of innocent citizens and huge economic losses. Obviously, they don't do it for pleasure, but then what is the root cause of Islamic terrorism? Is Qur'an totally innocent of this crime? When Qur'an plays an important part of their daily lives, how much this supposed to be holy book is responsible for the motivation of the Muslim terrorists? To search for an answer, I intend to examine the contents of various Islamic terrorist manuals.
Let's begin with the Communiqué from the Armed Islamic Group (Algeria). This manual (September 8, 1995) starts with two Qur'anic verses (63.8 and 35.10) glorifying Allah. Subsequently, this manual makes its intention very clear by citing this verse,
"… enmity and hatred have appeared between us and you forever until you believe in Allah alone  …" (Q: 60.4)
This manual then proceeds to call all apostates, unjust rulers, their families, their followers and any who render them allegiance infidels and bring Allah's curse on them.
"Let not even one of them close his eyes without expecting his head to be cut off from his body, for his possessions to be looted, and his women to be taken captive. This is Allah's bounty; He gives it to whomever He wishes".
"Everyone should know that the killing, massacring, slaughtering, expulsion, burning and taking of captives what we do, these care sacrifices for the sake of Allah. We will inform you that because of our creed and our way there is no dialogue, no compromise, no cease-fire."
This manual has clear warnings to the infidel world, and with each warning suitable Qur'anic verses are cited.
"The world should know that we don't fear any created creature, we only fear Allah, the One, 'So fear not men, but fear me' (Q: 5.44)."
"The Messenger of Allah said; 'This religion will continue as long as a group fights for it until the hour of judgment appears' and we are that group, with Allah's permission we will kill and slaughter and never cease 'so that sedition [temptation] might end and the only religion will be that of Allah' (Q: 8.39). We will continue like this until this religion is victorious."
"Blood, blood, destruction, destruction – 'We will, without doubt, help our messengers and those who believe, (both) in this world's life and on the Day when the Witnesses will stand forth (Q: 40.51)'"
This passage from the same manual confirms that the members of Armed Islamic Group (Algeria) are motivated by Allah's promise.
"We are not afraid of death or killing, since it is one of the two good things – either martyrdom with absolute certainty, or victory and power, and we will ambush them so that Allah will strike them with torment either from Him or from us so that the rage will be removed from our hearts and out hears will be healed (paraphrase of the verse 9.14-5)".
The irony is that they incite violence in Allah's name with a clear conscience – "our religion and manner are blameless."  
Next we will examine the declaration of war of World Islamic Front for Jihad against Zionists and Crusaders (February 23, 1998). This terror manual starts with a quote from the most aggressive verse of the Qur'an – The Verse of the Sword.
"But when the forbidden months are past, then fight and slay the Pagans wherever ye find them, and seize them, beleaguer them, and lie in wait for them in every stratagem (of war)." (Q: 9.5)
This terror manual holds the entire Infidel world responsible for the present decadence of the Muslims – "The [Infidel] Nations are quarreling with each other over the Muslims, just as starving people quarrel over a bowl [of food]." And then it goes on to curse the Americans in particular quoting several militant verses.
"We give this opinion to all Muslims – The ruling to kill the Americans and their allies – civilians and military – is an individual duty for every Muslim who can do it in any country in which it is possible to do it, in order to liberate the al-Aqsa Mosque and the holy mosque [Mecca] from their grip, and in order for their armies to move out of all the lands of Islam, defeated and unable to threaten any Muslim. This is in accordance with the words of Almighty Allah, 'fight them on until there is no more Tumult or oppression, and there prevail justice and faith in Allah; but if they cease, Let there be no hostility except to those who practice oppression.' (Q: 2.193) and, 'And why should ye not fight in the cause of Allah and of those who, being weak, are ill-treated and oppressed' (Q: 4.75)."
"So, with Allah's permission, we call every Muslim who believes in Allah and desires a reward to comply with Allah's order to kill the Americans and plunder their money wherever and whenever they find it. We also call on Muslim ulema, leaders, youths, and soldiers to launch the raid on Satan's U.S. troops and the devil's supporters allying with them, and to displace those who are behind them so that they may learn a lesson".
While invoking Allah's curse on the Americans, these verses were cited.
"O believers, answer (the call of) Allah and His Messenger when he calls you to that which gives you life; and know that Allah intervenes between man and his heart, and that to Him you shall be gathered." (Q: 8.24)
"O believers, what (excuse) have you that when it is said to you: Go forth in Allah's way, you should incline heavily to earth; are you contented with this world's life instead of the hereafter? But the provision of this world's life compared with the hereafter is but little. If you do not go forth, He will chastise you with a painful chastisement and bring in your place a people other than you, and you will do Him no harm; and Allah has power over all things." (Q: 9.38-9)
"Faint not nor grieve, for ye will overcome them if ye are believers." (Q: 3.139)
A communiqué from Qa'idat al-Jihad (April 24, 2002) starts with a militant verse from the Qur'an.
"Fight those who believe not in Allah and the Last Day, nor hold that forbidden which hath been forbidden by Allah and His Messenger, nor acknowledge the religion of Truth, (even if they are) of the People of the Book, until they pay the Jizya with willing submission, and feel themselves subdued." (Q: 9.29)
Then it quotes Muhammad's message to the disbelievers – "I have come to you in order to slaughter you" and glorifies self-sacrifice and martyrdom in Jihad – "the sole motivating factor for those youths was to protect the religion of Allah."
Next I will examine Ali al-Aliyani – The importance of Jihad, on the goal of Jihad. This extremist manual declares its primary goal as,
"… to make certain that people worship Allah, and to remove them from the worship of creatures to the worship of the Lord of the creatures… the greatest goal of Islamic Jihad is to return the humanity to the original state that is the primal monotheism (hanifiyya) that will cause them to be submissive to the Lord of worlds, and to make them derive their worldly way of life from Him, and to worship Him, since Allah commanded that they should not worship anyone other than Him."
This manual then calls Muslims to start a global war on the disbelievers by citing these terror verses from the Qur'an,
"Fight in the cause of Allah those who fight you …" (Q: 2.190)
"Will ye not fight people who violated their oaths, plotted to expel the Messenger, and took the aggressive by being the first (to assault) you? Do ye fear them? Nay, it is Allah Whom ye should more justly fear, if ye believe!" (Q: 9.13)
"And why should ye not fight in the cause of Allah…" (Q: 4.75)
"And fight with them until there is no more persecution and religion should be only for Allah; but if they desist, then surely Allah sees what they do." (Q: 8.39)
It confirms that the global Jihad on the polytheists has elevated goals, noble benefits and many uses. Jihad will continue "till they pay the poll-tax out of hand and submissively" (Q: 9.29). It proves that one of the goals of Islamic Jihad is that the Infidels should be compelled to be humiliated and submissive. This manual also advocates killing of the Infidels.
"Killing the Infidels, annihilating them and exterminating them is necessary because infidelity is like cancer or even worse, so when an Infidel does not convert to Islam or is not submissive to the laws of Islam then it is necessary to extirpate him so that the society in which he exists is not corrupted…. The ultimate goal, at which time the Jihad will cease, is conversion of the entire world to the creed of Islam"
These verses are cited to back up the above statement.
"Therefore, when ye meet the Unbelievers (in fight), smite at their necks; At length, when ye have thoroughly subdued them, bind a bond firmly (on them)." (Q: 47.4)
"Fight them, and Allah will punish them by your hands, cover them with shame, help you (to victory) over them." (Q: 9.14)
"When thy Lord inspired the angels, (saying): I am with you. So make those who believe stand firm. I will throw fear into the hearts of those who disbelieve. Then smite the necks and smite of them each finger." (Q: 8.12)
"And slay them wherever ye catch them, and turn them out from where they have Turned you out; for tumult and oppression are worse than slaughter; but fight them not at the Sacred Mosque, unless they (first) fight you there; but if they fight you, slay them. Such is the reward of those who suppress faith." (Q: 2.191)
"Behold! Allah promised you one of the two (enemy) parties, that it should be yours: Ye wished that the one unarmed should be yours, but Allah willed to justify the Truth according to His words and to cut off the roots of the Unbelievers" (Q: 8.7)
"That He might cut off a fringe of the Unbelievers or expose them to infamy, and they should then be turned back, frustrated of their purpose." (Q: 3.127)
"It is not fitting for a prophet that he should have prisoners of war until he hath thoroughly subdued the land. Had it not been for a previous ordainment from Allah, a severe penalty would have reached you for the (ransom) that ye took." (Q: 8.67-8)
"O Prophet! Strive hard against the unbelievers and the Hypocrites, and be firm against them. Their abode is Hell,- an evil refuge indeed." (Q: 9.73)
"That, and also because Allah is He Who makes feeble the plans and stratagem of the Unbelievers." (Q: 8.18)
Next I will quote from the terror manual "Moments before the crash" (January 22, 2003) by Louis Atiyat Allah. Throughout this manual, there is mindless glorification of martyrdom. The author of this manual finds Islamic Jihad as a very stimulating and exciting topic. Recalling the 9/11 terror attack, the author wrote,
"During the final moments before the crash of the first plain, I imagine them reciting the Qur'an in their hearts, repeating that, 'Allah hath purchased of the believers their persons and their goods; for theirs (in return) is the garden (of Paradise): they fight in His cause, and slay and are slain: a promise binding on Him in truth (Q: 9.111)'. Here Muhammad Ata sits behind the steering wheel… seeing the distance lessen with terrifying speed that cannot strengthen any other human hearts than those filled with the love of Allah."
"When the day of Allah comes, the Day of Bush is null and void."
"These are the impressions of martyrdom according to the new martyrdom operation method in the contemporary world. We Muslims invented it, and we will be leaders of humanity in it. We will seek martyrdom together, holding fast with our hands embracing each other, singing the tune of eternity and repeating it while we face death."
"The sheikh Usama says Allahu Akbar and the Muslims in every direction follow him."
Following militant verses from the Qur'an are cited to support martyrdom.
"Truly Allah loves those who fight in His Cause in battle array, as if they were a solid cemented structure." (Q: 61.4)
"And that Our forces,- they surely must conquer." (Q: 37.173)
Finally, I will examine the al-Qaeda terror manual – Declaration of Jihad [Holy War]. Throughout this terror manual, there is no shortage of militant and destructive thoughts and suggestions.
"Islamic governments have never and will never be established through peaceful solutions and cooperative councils. They are established as they [always] have been by pen and gun, by word and bullet, and by tongue and teeth."
"The member has to be willing to do the work and undergo martyrdom for the purpose of achieving the goal and establishing the religion of majestic Allah on earth."
"After the fall of our orthodox caliphates on March 3, 1924 and after expelling the colonialists, our Islamic nation was afflicted with apostate rulers who took over in the Moslem nation. These rulers turned out to be more infidel and criminal than the colonialists themselves. Moslems have endured all kinds of harm, oppression and torture at their hands."
"They [the rulers] tried, using every means and [kind of] seduction, to produce a generation of young men that did not know [anything] except what they [the rulers] want… However, majestic Allah turned their deception back on them, as a large group of those young men who were raised by them [the rulers] woke up from their sleep and returned to Allah, regretting and repenting. The young men returning to Allah realized that Islam is not just performing rituals but a complete system: Religion and government, worship and Jihad [holy war], ethics and dealing with people, and the Koran and sword."
"These young men realized that an Islamic government would never be established except by the bomb and rifle …. The confrontation that Islam calls for with these godless and apostate regimes, does not know Socratic debates, Platonic ideals nor Aristotelian diplomacy. But it knows the dialogue of bullets, the ideals of assassination, bombing, and destruction, and the diplomacy of the cannon and machine-gun. The young came to prepare themselves for Jihad, commanded by the majestic Allah's order in the holy Koran".
Following Qur'anic verses are cited throughout this terrorist manual.
"Against them make ready your strength to the utmost of your power, including steeds of war, to strike terror into (the hearts of) the enemies of Allah and your enemies, and others besides whom ye may not know, but whom Allah doth know." (Q: 8.60)
"And Allah's enemies plotted and planned, and Allah too planned, and the best of planners is Allah." (Q: 3.54)
"Remember how the Unbelievers plotted against thee, to keep thee in bonds, or slay thee, or get thee out (of thy home). They plot and plan, and Allah too plans; but the best of planners is Allah." (Q: 8.30)
"Verily they have plotted their plot, and their plot is with Allah, though their plot were one whereby the mountains should be moved." (Q: 14.46)
"O mankind! Reverence your Guardian-Lord, who created you from a single person, created, of like nature, His mate, and from them twain scattered (like seeds) countless men and women;- reverence Allah, through whom ye demand your mutual (rights), and (reverence) the wombs (That bore you): for Allah ever watches over you." (Q: 4.1)
"O ye who believe! Obey Allah and obey the messenger and those charged with authority among you." (Q: 4.59)
What we understand from our investigation is that the core teaching of these terror manuals places the goals prescribed in the Qur'an above any and all human life. That's why Qur'an not only shapes the nature of Islamic terrorism but it also is the sole cause of it. Now we know why Islam in particular has a terrorism problem. Though the Muslim clerics and preachers like Zakir Naik repeatedly tell us that the Qur'an pays high value of human life, whether it is Muslim or Non-Muslim, and makes it absolutely forbidden to take an innocent life unjustly, actually it is not so. The hard fact is that the Qur'an is the mother of all the Muslim terrorist manuals; blood drips from every page of it. The poisonous teachings of the Qur'an are the sole reason for the Islamic terrorism that we are seeing today. Quite the contrary to what liberals want everyone to believe, Islamic terrorists are terrorists because they strictly follow the satanic instruction of the Qur'an, and not because of anything the non-Muslims do, have done, or have not done.
This satanic book is the main source of the fanatical will of those September 11 terrorists. This book is responsible in every way for Islamic terrorism and suicide bombing. What a surprise that it is a Muslim who decides that religion is nothing to do with suicide bombings when the ONLY religion that carries out suicide bombings is Islam! A non-exhaustive list of elements to be found in the concept of Islamic terrorism is as below,
The indiscriminate and random killing of persons, especially civilians and non-combatants,
Assassinations,
The emphasis on the surprise nature of attacks,
The quest for shocking the community through media coverage,
The existence of a self-proclaimed religious cause to justify those attacks.
A careful study of the Qur'an will confirm that each element can be supported by many suitable verses. Muslims are the zombies at the hands of immoral Qua'rnic teachings, and from here they get their inspiration and hope. Muslim terrorist groups project all sorts of pejorative attributes onto their target groups with the supporting verses from the Qur'an in a way to dehumanize them. Thus, violence can be directed without much remorse against the dehumanized members of the target group. The mandate is from the highest power – the satanic god of Islam. As example, during 1995, The Armed Islamic Group of Algeria (GIA) commented in a press release, "Everyone should know that the killing, massacring, slaughtering, expulsion, burning, taking of captives that we do, these are sacrifices for the sake of Allah". This destructive thought came from this verse,
"Say: Truly, my prayer and my service of sacrifice, my life and my death, are (all) for Allah, the Cherisher of the Worlds". (Q: 6.162)
The Brigadier S.K. Malik's (Pakistani Army) made it very clear in his controversial book, The Qur'anic Concept of War; "We see that, on all the occasions when God wishes to impose His will upon His enemies, He chooses to do so by casting terror into their hearts".
It is high time the world should wake up and recognize that Qur'an is not what many Muslim clerics want us to believe, and not what so many non-Muslims are deceived into believing – it is not a divine book – it is a satanic composition of hate, intolerance, and violence against Muslims and non-Muslims alike – virtually everyone that doesn't strictly follow it's tenets. This is a manual of intimidation, vengeance, violence, terror and war, instead of peace, tranquility, harmony and justice. Qur'an reminds the Muslims that,
"Allah hath purchased of the believers their persons and their goods; for theirs (in return) is the garden (of Paradise): they fight in His cause, and slay and are slain: a promise binding on Him in truth…"  (Q: 9.111).
This verse is the main motivating factor for Islamic suicide bombing. Islamic terrorists are terrorists because they strictly follow the satanic instruction of the Qur'an, and not because of anything the non-Muslims do, have done, or have not done. USA is certainly not the "The Great Satan" or "The Bigger Terrorist".
There are very good and universal reasons to discredit and ban Qur'an for good. In fact there was never a good reason for Qur'an to survive beyond Muhammad's time. Until the basic human rights are equally guaranteed to all, we cannot achieve world peace, and the first step we should take is to ban the Qur'an.
————————————————————————————-
Bibliography
Human Being to Human Bomb by Dr. Razzaque Russell
Martyrdom in Islam by David Cook.
Rethinking Islamism – The Ideology of the New Terror by Meghnad Desai.
Root Causes of Terrorism; Myths, Reality and Ways Forward by Tore Bjorgo.
The Qur'anic Concept of War by Brig. S. K Malik.
Understanding Jihad by David Cook
Sujit Das lives in Mumbai (India). He is the author of several articles critical of Islam and two books Islam Dismantled: The Mental Illness of Prophet Muhammad and The Allah Delusion available for online purchase at Amazon.com and in various book stores. He can be contacted at [email protected]