Papal Encyclical Lays Out Islamic Integration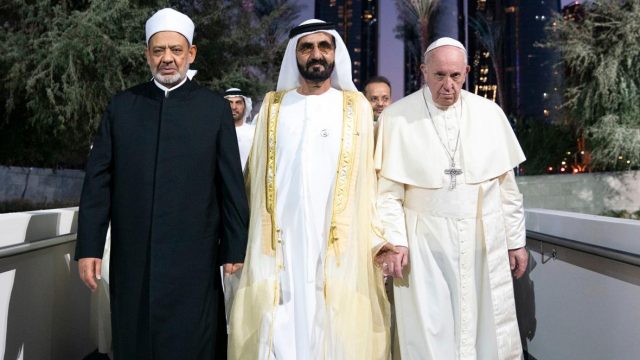 The Vatican officially released Pope Francis' new encyclical on "human fraternity" Fratelli Tutti (All Brothers) on Sunday — an encyclical, or letter from the pope, is a form of communication by a pope historically used to clarify teachings or express the pope's opinion on any given issue.
The Argentinian pope chose the "theme of fraternity" for his encyclical in order to manifest his "constant embrace of migrants," simultaneously condemning human trafficking, the socio-economic exploitation of the underprivileged by global elitists and governments and other human rights violations. He also accused market capitalism for failing to meet the needs of people during the COVID-19 chaos.
Presenting a somewhat utopian society, Francis effectively laid out a vision for a post-COVID world that would integrate Islam as a "religion of peace."
The novelty of Fratelli Tutti, however, does not lie in this or in the criticism of capitalism, let alone the assimilation of immigrants. What tends to be revolutionary is for the first time a pope named a leading representative of another religion as a source of inspiration for his encyclical: the Grand Sheikh of Al-Azhar University in Cairo, Egypt — the institution is the oldest and most prestigious Sunni university for Islamic learning — Ahmad al-Tayyeb.
Praise for Islamist Imam al-Tayyeb
The Pontiff, on various occasions, recognized Ahmad al-Tayyeb as a Muslim who strives for peace and harmony among the peoples of the world:
"With the Grand Imam Ahmad al-Tayyeb…. we wish to emphasize that, together with these historical advances — [science, technology, medicine and industry], great and valued as they are, there exists a moral deterioration that influences international action and a weakening of spiritual values and responsibility."
The truth of the matter is that al-Tayyeb, while considered by some as a moderate within the Sunni world, including the pope, is an advocate of hardline sharia law and an antisemite — a shorthand term for an amorphous body of legal rulings, judgments and opinionated from the Quran and Hadith of Prophet of Islam.
Logically, Fratelli tutti evaded the topic of human rights violations that stem from Islamism (i.e., political Islam) as promoted by the imam.
For example, Francis stated: "Today we state clearly that 'the death penalty is inadmissible' and the Church is firmly committed to calling for its abolition worldwide." In a television interview on June 16, 2016, al-Tayyeb stated, "The penalty for an open apostate, departing from the community, is well stipulated in sharia. An apostate must be pressed upon to repent within a variable period of time or be killed."
This is based on the hadith in which the Prophet Muhammad stated: "Whoever changed his Islamic religion, then kill him." — Sahih al-Bukhari, Vol. 9: Book 83, 57.
There is no record that el-Tayyeb ever retracted previous antisemitic remarks against Israel and the Jews.
Criticism of Christians and Absolving Islam
Accusing Christians of "destructive forms of fanaticism" that hurt "the fraternity" of human beings, the Bishop of Rome absolved Islam from any type of hate speech or violence:
"In my fraternal meeting [in 2019], which I gladly recall, with the Grand Imam Ahmad Al-Tayyeb, 'we resolutely [declared] that religions must never incite war, hateful attitudes, hostility and extremism, nor must they incite violence or the shedding of blood. These tragic realities are the consequence of a deviation from religious teachings. They result from a political manipulation of religions and from interpretations made by religious groups who, in the course of history, have taken advantage of the power of religious sentiment in the hearts of men and women."
Francis was quite adamant in his defense of Islam as a religion of peace saying that jihadists take their Islamic texts "out of context":
"For this reason," the Pope says, "terrorism… is not due to [the Islamic] religion, even when terrorists instrumentalze it. It is due, rather, to an accumulation of incorrect interpretations of religious texts and to policies linked to hunger, poverty, injustice, oppression and pride.'"
This is a far-stretch of the truth.
The Texts Say Otherwise
If one reads certain Quranic verses, such as Sura 2, 216, not only is violence promoted in the Quran but it is seen as a virtue:
"Fighting has been enjoined upon you while it is hateful to you. But perhaps you hate a thing and it is good for you; and perhaps you love a thing and it is bad for you. And Allah Knows, while you know not."
As I explain in my book Islam: Religion of Peace? – The Violation of Natural Rights and Western Cover-Up, many Muslim scholars and other apologists argue that the murder of innocent people committed by jihadists in the name of Islam was never ordained by Muhammad. Their pretext is the "Quranic" verse:
"If anyone slays [kills] a person, it would be as if he slew the whole people, and if anyone saved a life, it would be as if he saved the life of the whole people."
What is misleading about this is that this verse, as presented, does not exist anywhere in the Quran. It is, instead, a distorted version of verse 32 of the fifth sura, which states:
"For that cause, We decreed upon the Children of Israel that whoever kills a soul unless for a soul or for corruption [done] in the land — it is as if he had slain mankind entirely. And whoever saves one — it is as if he had saved mankind entirely. And our messengers had certainly come to them with clear proofs."
The ordinance is in reference, as per the preceding verses, to the killing of Abel by his brother Cain. Verse 32, which begins "for that cause" (reason = min ajli dhaalika), meaning "for the reason Cain killed Abel," is followed by the decree given to "the Children of Israel" (i.e., the Jews) who, according to Muslims, received an earlier set of scriptures. Effectively speaking, this is applied to Muslims who as the new chosen people of Allah should not kill their brethren. The verse likewise sanctions killing as an act of vengeance against those who kill or cause disharmony in the Islamic community. The two verses that follow the 5ht sura (33–34), disclose anything but a peaceful message:
"Indeed, the penalty for those who wage war against Allah and His Messenger and strive upon earth [to cause] corruption is none but that they be killed or crucified or that their hands and feet be cut off from opposite sides or that they be exiled from the land. That is for them a disgrace in this world; and for them in the Hereafter is a great punishment, except for those who repent before you apprehend them. And know that Allah is Forgiving and Merciful." — Sura 5, 33–34
Effort to Stop Islamism Blocked by al-Tayyeb
On December 28, 2014, Egyptian President Abdel Fattah el-Sisi attempted to confront the Islamic teachings that incite violence and other forms of human rights violations when he addressed the members of the al-Azhar University; he called for a re-interpretation of the Quran:
"All this that I am telling you, you cannot feel it if you remain trapped within this mindset. You need to step outside of yourselves to be able to observe it and reflect on it from a more enlightened perspective. I say and repeat again that we are in need of a religious revolution. You, imams, are responsible before Allah. The entire world, I say it again, the entire world is waiting for your next move … because this umma [the community] is being torn, it is being destroyed, it is being lost—and it is being lost by our own hands."
While many Muslim intellectuals applauded the Egyptian leader's proposition, ironically it was the Pope Francis' collaborator for peace, Ahmed el-Tayeb, who blocked it.
__________________________________________________
Mario Alexis Portella is a priest of the Cathedral of Santa Maria del Fiore and Chancellor of the Archdiocese of Florence, Italy. He has a doctorate in canon law and civil law from the Pontifical Lateran University in Rome; he also holds a M. A. in Medieval History from Fordham University, as well as a B.A. in Government & Politics from St. John's University. He is also author of Islam: Religion of Peace? – The Violation of Natural Rights and Western Cover-Up.
Book available on Amazon, Barnes & Noble or WestBow Press.