Muhammad Predicted in Bhavishya Purana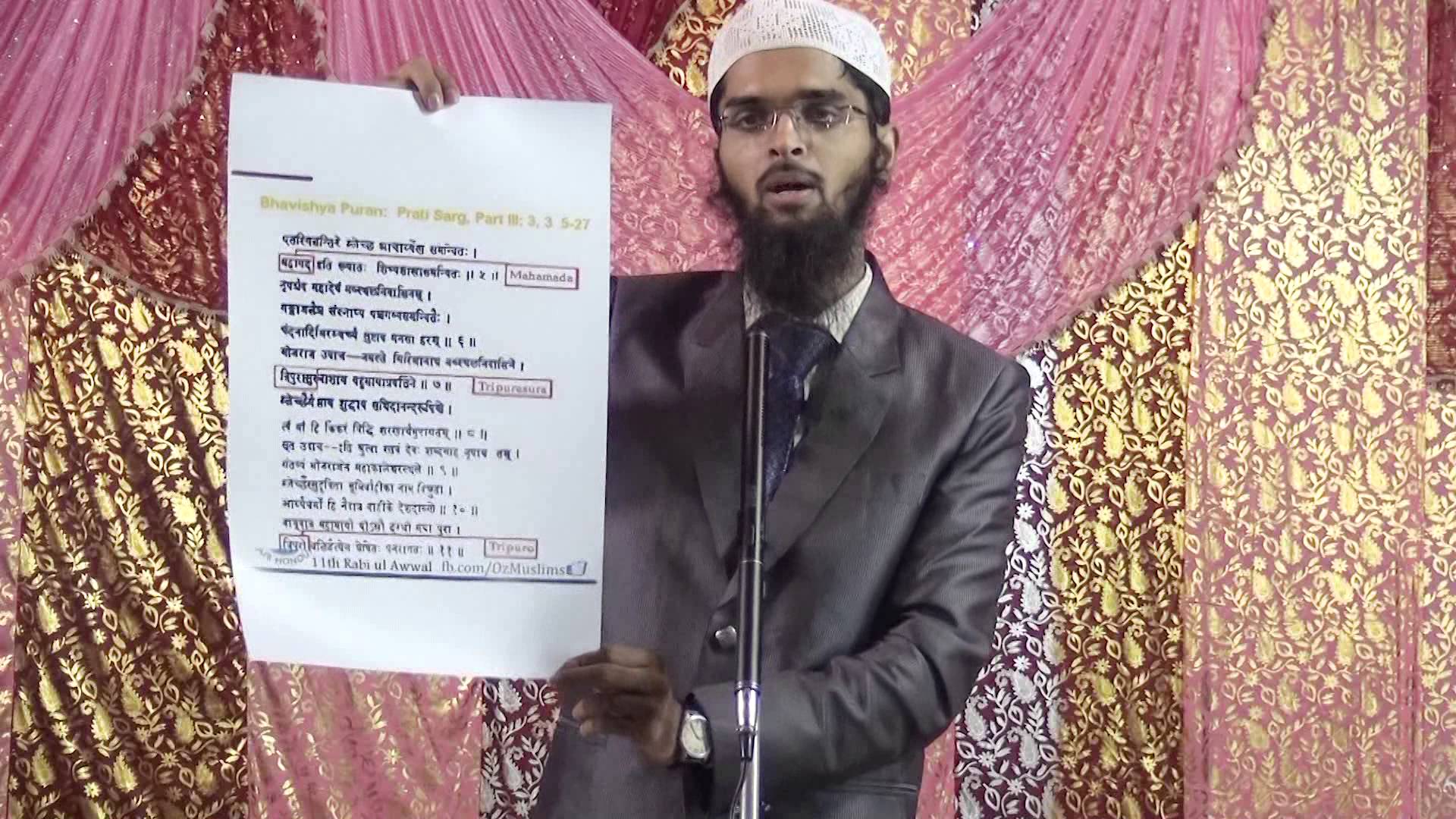 The Bhavishya Purana has a reference regarding someone named Mahamada, which some people are very eager to make the claim that it means Prophet Mohammed, thus saying that the Prophet is predicted in the Vedic literature. But before we come to that conclusion, with additional research, let us take a closer look to see what the full reference to Mahamada really says.
It is explained in the Bhavishya Purana (Parva 3, Khand 3, Adhya 3, verses 5-6) that "An illiterate mleccha[foreigner] teacher will appear, Mahamada is his name, and he will give religion to his fifth-class companions." This does not describe much in regard to his life, but it does mention someone by the name of Mahamada, and what he was expected to do, which was to give his own form of religion to the lower classes of his region. Some people suggest this person to be Prophet Mohammed, and are, thus, most willing to accept that Prophet Mohammed was predicted in the Bhavishya Purana. Some Muslims then suggest that if he was predicted in this way by a Vedic text, then Hindus should all accept Mohammed and become Muslims. However, on the other hand, it would seem odd that Muslims would accept a Vedic text to try to convince Hindus to become Muslims. But if we look at the full translation of this story, they may not want to jump to the conclusion that this story represents Prophet Mohammed.
So here is the Roman transliteration of the Sanskrit in the Bhavishya Purana, however accurate it may be (Prati Sarga: Part III, 3.3.5-27).
mahamadh ithi khayat, shishya-sakha-samniviyath 5
……. mahadev marusthal nivasinam.
mahadevthe snanya-pya punch-gavua samnivithya
tripurarsur-nashav bahu-maya pravathiney 7
malech-dharma shav shudhaya sat-chit-anandaya swarupye,
thva ma hei kinkare vidhii sharanaghatham 8
suta uvacha: ithi shurthiya sthav deva shabadh-mah nupaya tam,
gath-vaya bhojraj-ney mahakhaleshwar-sthale 9
malech-shu dhushita bhumi-vahika nam-vishritha
arya dharma hi nav-vathra vahike desh-darunya 10
vamu-vatra maha-mayi yo-sav dagdho myaa pura
tripuro bali-daithyane proshith punaragath 11
ayoni sa varo math prasava daithyo-vrudhan 
mahamadh ithi khayath , paishacha-kruthi thathpar 12
nagathvaya thvya bhup paisachae desh-vartake
math prasadhayane bhupal tav shudhii prajayathe 13
thi shruthva nupshav svadesha-napu maragmath 
mahamadh toi sdhav sindhu-thir mupaye-yav 14
uchav bhupati premane mahamadh-virshad
tva deva maharaja das-tva magath 15
mamo-chit sabhu jiya-dhatha tatpashya bho nup
ithi shruthya ththa hata para vismaya-magath16
malechdhano mathi-shasi-tatsaya bhupasaya darutho17
tucha tva kalidas-sthu rusha praah mahamadham
maya-thei nirmithi dhutharya nush-mohan-hethvei 18
hanishyami-duravara vahik purusha-dhamum
ityak va sa jidh shrimanava-raja-tathpar 19
japthya dush-sah-trayach tah-sahansh juhav sa
bhasm mutva sa mayavi malech-dev-tva-magath 20
maybhithashtu tachya-shyaa desh vahii-kamayuuah
guhitva svaguro-bhasm madaheen tva-magatham 21
swapiit tav bhu-ghyot-thro-shrumadh-tathpara
madaheen puro jath thosha trith sayam smurthaum 22
rathri sa dev-roop-shav bahu-maya-virshad
paisacha deha-marathaya bhojraj hi so trivith 23
arya-dharmo hei to raja-sarvoutham smurth
ishapraya karinayami paishacha dharma darunbhu 24
linga-chedri shikhaheen shamshu dhaari sa dhushak
yukhalapi sarva bhakshi bhavishyat jano maum 25 
vina kaul cha pashav-thosha bhakshava matha maum
muslanav sanskar kushariv bhavishyat 26
tasman-musal-vanto hi jathiyo dharma dhushika
ithi pishacha-dharma mya kruth 27
To set the scene, in this section of the Bhavishya Purana, Shri Suta Gosvami first explained that previously, in the dynasty of King Shalivahana, there were ten kings who went to the heavenly planets after ruling for over 500 years. [This gives these kings roughly 50 years of rule for each one.] Then gradually the morality declined on the planet. At that time, Bhojaraja was the tenth of the kings on the earth [who would have ruled about 450 years after King Shalivahana]. When he saw that the moral law of conduct was declining, he went to conquer all the directions of his country with ten-thousand soldiers commanded by Kalidasa. He crossed the river Sindhu [modern Indus River] going northward and conquered over the gandharas [the area of Afghanistan], mlecchas[present-day region of Turkey], shakas, Kashmiris [Kashmir and present-day Pakistan], naravas, andsathas. Crossing the Sindhu, he conquered themlecchas in Gandhar and the shaths in Kashmir. King Bhoj grabbed their treasure and then punished them.
Then, as verses 7-8 relate, the Aryan King Bhojaraja, who had already left India for the lands across the Sindhu River and to the west, meets Mahamada [some say this is Mohammed], the preceptor of the mleccha-dharma [religion of the mlecchas], who had arrived with his followers. Thereafter, however, the King went to worship the image of Lord Mahadev, the great god Shiva, situated in the marusthal, desert. King Bhoj bathed the image of Shiva with Ganges water and worshiped him in his mind with panchagavya (the five purificatory elements from the cow, consisting of milk, ghee, yogurt, cow dung, and cow urine), along with sandalwood paste, etc., and offered him, the image of Shiva, sincere prayers and devotion. King Bhoj prayed to Lord Mahadev, "O Girijanath who stays in themarusthal (land of deserts), I offer my prayers to you. You have forced maya [the illusory energy] to destroy Tripurasur [the demon Tripura]; but the mlecchas are now worshiping you. You are pure and sat-chit-anand swaroop [eternal knowledge and bliss]. I am your sevak[servant]. I have come under your protection."
Verses 10-27 relates next that Suta Goswami explained: After hearing the king's prayers and being pleased with him, Lord Shiva said: "Let the King go to Mahakaleshwar (Ujjain) in the land of Vahika, which is now contaminated by mlecchas. O King, the land where you are standing, that is popular by the name of Bahik, has been polluted by the mlecchas. In that terrible country there no longer exists Dharma. There was a mystic demon named Tripura (Tripurasura), whom I have already burnt to ashes once before, he has come again by the order of Bali. He has no origin but he achieved a benediction from me. His name is Mahamada and his deeds are like that of a ghost. Therefore, O king, you should not go to this land of the evil ghost. By my mercy your intelligence will be purified." [This would seem to indicate that this Mahamada was an incarnation of the demon Tripura.] So hearing this, the king came back to his country and Mahamada came with them, but only to the bank of the river Sindhu. He was expert in expanding illusion, so he said to the king very pleasingly, "O great king, your god has become my servant. Just see, as he eats my remnants, so I will show you."
The king became surprised when he saw this happening before them. Then in anger Kalidasa, the king's commander, rebuked Mahamada, "O rascal, you have created an illusion to bewilder the king, I will kill you, you are the lowest…" Then the king left that area.
Later, in the form of a ghostly presence, the expert illusionist Mahamada appeared at night in front of King Bhojaraja and said: "O King, your religion is of course known as the best religion among all. Still, by the order of the Lord, I am going to establish a terrible and demoniac religion and enforce a strong creed over the meat-eaters [mlecchas]. My followers will be known by their cut [circumcised] genitals, they will have no shikha[tuft of hair on their head, like Brahmanas], but will have a beard, make noise loudly, and eat all kinds of animals except swine without observing any rituals. They will perform purificatory acts with the musala, and thus be called musalman, and not purify their things with kushagrass [one of the Vedic customs]. Thus, I will be the originator of this adharmic [opposed to Vedic or Aryan Dharma] and demoniac religion of the meat-eating nations." After having heard all this, the Bhavishya Purana goes on to relate that King Bhojaraja returned to his land and palace, and that ghost of the man also went back to his own place.
It is lastly described how the intelligent king, Bhojaraja, established the language of Sanskrit amongst the threevarnas — the Brahmanas, Kshatriyas and Vaisyas — and for the Shudras he established prakrita-bhasha, the ordinary language spoken by common men. After ruling his kingdom for another 50 years, he went to the heavenly planets. The moral laws established by him were honored even by the demigods. The arya-varta, the pious land is situated between Vindhyachala and Himachala, or the mountains known as Vindhya and Himalaya. The Aryans reside there, but the varna-sankaras reside on the lower part of Vindhya. The musalman people were kept on the other [northwestern] side of the river Sindhu.
* * *
Thus, from the interpretations of the present editions of the Bhavishya Purana that are available, it seems to say there was someone named Mahamada that King Bhojaraja met in the desert, who was supposedly a reappearance of the Tripura demon, who would start his own religion for those mlecchas who are unable to follow the spiritual codes of the deeper aspects of spiritual culture, or Vedic Dharma, and who would also spread adharma, or that religion that would be opposed to Vedic Dharma. Plus, Mahamada knew and accepted the depth of the Vedic spiritual path and admitted to its superiority. But is Mahamada really Prophet Mohammed?
This article and more information at  www.stephen-knapp.com]