Maulana Wahiduddin Khan condemns Paris attacks and Ali Sina's Reply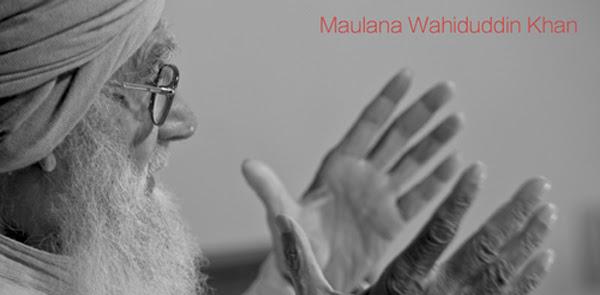 Statement on Paris Attacks:
On November 13, 2015 a group of terrorists mounted unprecedented attacks on several sites in and around the French capital, killing about 150 people and seriously injuring scores of others. Without doubt, an attack of this kind is highly condemnable.
A witness to one of the shootings at a concert hall, where at least 110 people were killed, said that one of the gunmen shouted 'Allah Akbar' as he indiscriminately fired at the crowd gathered for the concert. These self-styled mujahideen were practically saying, 'Violence is great', but used 'God is great' as their slogan. This incident reminded me of a saying of the Prophet of Islam, who once said to his companions that a day would come when Muslims would commit unlawful acts. His companions asked with surprise how this would happen. He replied: 'They would give it a name other than its real name and thus make it lawful.'
The present-day violence in the name of jihad is a clear example of the above Hadith. These so-called mujahideen have given their acts of violence the name of 'jihad' and are thus engaged in perpetrating terror. This kind of violence can be termed 'justified violence'. Since these people have sought justification for their violence, their conscience does not refrain them from killing others. Taking the lives of innocent people is an act for which there is no excuse whatsoever. In the Quran, killing an individual is regarded as the most heinous crime: 'Whoever killed a human being—except as a punishment for murder or for spreading corruption in the land—shall be regarded as having killed all mankind.' (5:32) This verse certainly applies to people who went on a killing rampage in Paris. Those engaged in this self-justified violence should know that no self-styled justification can make an unlawful act lawful.
To those who, based on such incidents, form an opinion that Islam is a religion of violence, I will say that Islam should not be judged by the acts of Muslims. Islam should be judged through its scripture and not through the practice of Muslims.
Respected Maulana,
That is a wonderful statement. You condemn terrorism and invite Muslims to live peacefully with people of other faiths, to treat their women equally and strive to improve their lives. These are truly laudable words. But do they really reflect the teachings of the Quran and the examples set by the Prophet Muhammad?
You quoted the verse 5:32 where Muhammad says, God ordained for the Children of Israel that anyone who murders one person is as if he has killed all humanity. Muhammad is not saying this is what God has ordained for Muslims. It is for the Jews. The instruction to Muslim is given in the verse that follows:
Q.5:33. "The recompense of those who wage war against Allâh and His Messenger and do mischief in the land is only that they shall be killed or crucified or their hands and their feet be cut off on the opposite sides, or be exiled from the land. That is their disgrace in this world, and a great torment is theirs in the Hereafter".
What is the meaning of waging war against Allah and his messenger? How can one wage war against God? Anyone who opposes Islam and criticizes it is, according to Muhammad, waging war against God. What is the meaning of "mischief?" Again, anyone who questions the validity of the claim of Muhammad is deemed to be spreading mischief.
Many French do not believe in Islam and are critical of it. The caricaturists of Charlie Hebdu, drew Muhammad and the French soldiers have been fighting against the Islamic State. Therefore, according to Muhammad, they should be killed, crucified and their hands and their feet be cut off.
So my respected Maulana, if you don't like what Muslims do, do not blame them. They are doing what their prophet told them to do.
When Muhammad said to his companions a day will come that Muslims will commit unlawful acts and will call it lawful, he was not talking about murdering the unbelievers. Murdering the unbelievers is ordained in the Quran. During the last ten years of his life in Mecca Muhammad raided 87 times. Ghazwa means raid. He butchered unarmed men, enslaved and raped their women and looted their belongings. He was talking about people like you who speak against jihad when it is ordained and encourage amity with people of other faith when it is forbidden.
Doesn't the Quran 2:216 say, "Fighting is enjoined on you, though it is disliked by you; and it may be that you dislike a thing while it is good for you, and it may be that you love a thing while it is evil for you; and Allah knows while you know not."
Doesn't Q. 3:28 say, "Let not the believers take for friends or helpers unbelievers rather than believers: if any do that, in nothing will there be help from Allah."
The only exception given in this verse is when Muslims want to deceive non-Muslims.
Let me quote one hadith.
Bukhari :: Book 3 :: Volume 46 :: Hadith 717
Narrated Ibn Aun, "The Prophet had suddenly attacked Bani Mustaliq without warning while they were heedless and their cattle were being watered at the places of water. Their fighting men were killed and their women and children were taken as captives; the Prophet got Juwairiya on that day."
Juwairiya was a 21 years old young married woman. Muslims killed her husband and she fell to the lot of a Muslim. Muhammad saw she was beautiful and paid that Muslims her price and bought her for himself.
On the same occasion Muslims raped the women, even though their husbands were alive and had escaped to the mountains.
Bukhari :: Book 5 :: Volume 59 :: Hadith 459
Abu Said said, "We went out with Allah's Apostle for the Ghazwa of Banu Al-Mustaliq and we received captives from among the Arab captives and we desired women and celibacy became hard on us and we loved to do coitus interruptus. So when we intended to do coitus interruptus, we said, 'How can we do coitus interruptus before asking Allah's Apostle who is present among us?" We asked (him) about it and he said, 'It is better for you not to do so, for if any soul (till the Day of Resurrection) is predestined to exist, it will exist."
Note that Muhammad did not forbid the rape of the prisoners of his raids, but rather discouraged coitus interruptus a fanciful word for withdrawing one's penis before ejaculation. In fact the Quran also condones the rape of prisoners of war or as Muhammad called them "your right hands possessions."
Q. 4: 25. "And whoever of you have not the means wherewith to wed free, believing women, they may wed believing girls from among those (captives and slaves) whom your right hands possess."
The word nikah is often translated as to wed. It literally means to coitus. Even if we translate it as wedding, you can't wed your slave, because the slave has no free will to agree to such wedding.
Dear Maulana, I understand it is difficult for you to speak the truth about Muhammad as your own follower will surely slit your throat in a heartbeat. I hope however that other people in this list will start examining Islam and realize all the evil affecting the Muslim world is caused by this belief, because it is a lie.
In conclusion I invite everyone to watch this short video that clarifies the verse 5:32 that is often quoted out of context. Isn't it an irony that the only peaceful verse in the Quran is a quote from Talmud and has nothing to do with Islam? http://www.faithfreedom.org/the-quran-and-the-siege-of-paris/
If anyone is interested to know the truth about who Muhammad was, they can get my book Understanding Muhammad from Amazon.
http://www.amazon.in/Understanding-Muhammad-Muslims-Ali-Sina-ebook/dp/B00BRWUQEA/ref=sr_1_2?ie=UTF8&qid=1447922911&sr=8-2&keywords=ali+sina
Or download it for free. It is available in English, Urdu, Arabic, Tamil, Hindi, Indonesian, Kannada, Bangla, Malayalam. https://www.faithfreedom.org/understanding-muhammad-free-download/
Kind regards
Ali Sina
This response is sent to Maulana Wahiduddin Khan and if he replies I will post it here.