Islamists Take Advantage of Political Correctness
Christian persecution in the Islamic world, as well as in communist China and North Korea, has gotten worse. However, hate crimes against those who profess to be follower os Jesus Christ in Western Europe are at an all-time high. And while hate crimes against Jews in Western society has been on the rise, as usual, persecuted Christians are altogether forgotten.
As reported by the Organization for Security and Co-operation in Europe, at least a quarter, though arguably much more, of all hate crimes registered in Europe in 2020 were anti-Christia—representing a 70 percent increase in comparison to 2019. As explained by Raymond Ibrahim, Christianity is, furthermore, the religion most targeted in hate crimes, with Judaism at a close second.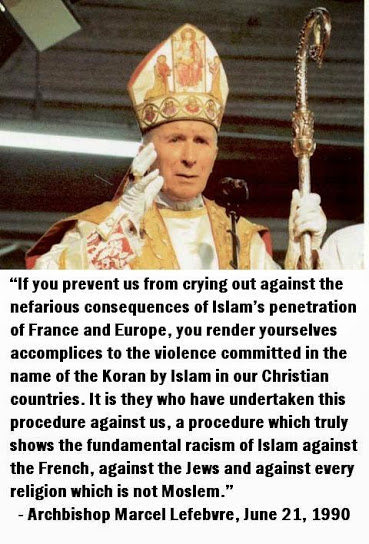 We know that the left-wing control mainstream media hardly ever identifies those behind these anti-Christian hate crimes, many of which revolve around church vandalism. Liberals in Europe have imposed policies under the pretension that Europe's strength lies in its diversity, and embracing differences of approach is necessary to prevent another war from taking place among European nations. Yet it is telling that the European nations suffering the most also happen to have Europe's largest Muslim populations—specifically, Germany (where anti-Christian hate crimes have more than doubled since 2019) and France (where an average of two churches are reportedly attacked every single day, some, just as it is in the Islamic world, with human feces). In fact, camouflaged under tolerance and secularism, the "polite" persecution ultimately serves the purpose of gradual eradication of Christian beliefs from European public life as Islamists continue to gain a foothold.
Many in the West today continue to grapple as to how pro-sharia Muslims have been able to get a foothold in our society. We know of Islamists' present-day means to get government officials to capitulate to their whims through lobbying and the mainstream media, presenting themselves as victims of the same Western society that has helped them. But how have they been able to acquire such political leverage? Apparently, there has been a willful lack of circumspection or foresightedness.
Back in the 1970s, the late archbishop Marcel Lefebvre said:
As long as Muslims are an insignificant minority in a Christian country, they can live on friendly terms, because they accept the laws and customs of the country that receives them. But as soon as they become numerous and organise, they become aggressive and try to impose their laws, which are hostile to [Western] civilization.
Silent Persecution
Political correctness has restrained many who willingly wish to help improve society. Yet like a Trojan horse, Islamists have been able to infiltrate, for example, the Western field of education, creating an environment of receptivity and understanding for the next generation of Americans to accept their sharia-based lifestyle. Saudi money has financed institutions alongside multitudes of other Islamic organizations across the world and within the United States—80 percent of 1,200 mosques operating in the United States were built after 2003. In addition, Islamist nations like Qatar, whose equal vision for America is being peddled through our children's classrooms, targeting a pliable population with a long shelf life.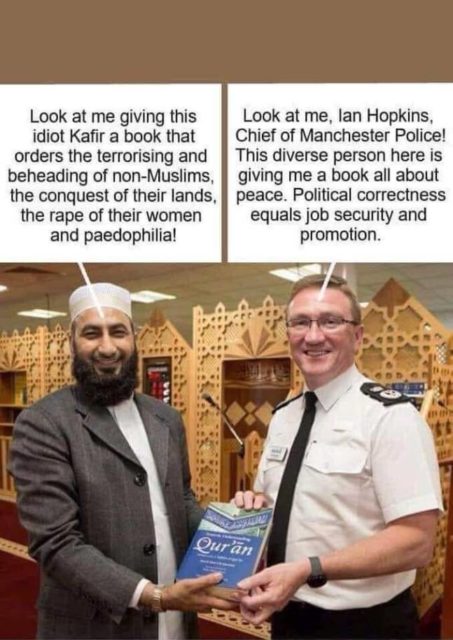 Hostility and vandalism have increased against the Christians, Catholics more so throughout the entire continent involving churches, Christian schools, and Christian monuments. In many countries, persecution against Roman Catholic churches and shrines seems particularly intense.
Such successful endeavours have been facilitated by terrorist-linked NGOs, such as the Council for American-Islamic Relations (CAIR) and the Islamic Society of North America, which have bought off Washington influencers and think-tanks to have them capitulate to Islamic "needs" in our society.
CAIR's mission is "to enhance the understanding of Islam, encourage dialogue, protect civil liberties, empower American Muslims, and build coalitions that promote justice and mutual understanding." Yet, as detailed at length by the Center for Security Policy, since its founding in 1993, CAIR has presented itself publicly as a benign Muslim American "civil rights organization." But from that time to this, the United States government has known that CAIR actually is an entity founded by the Muslim Brotherhood's Palestinian franchise: Hamas, a group officially designated since 1994 as a terrorist organization.
Evidence of of groups like CAIR have proven to politically sustain and financially provide for the jihadists, such as Hamas—and the federal government's certain knowledge of the truth. This did not come to light until the largest terrorism financing trial in the nation's history: the 2007-2008 Holy Land Foundation prosecution. In the course of that trial, FBI Agent Laura Burns testified about the wiretap and surveillance transcripts of two planning sessions held in Philadelphia in October 1993 and leading up to the organizational meeting of CAIR. Specifically, she presented proof that CAIR's mission was to assist "Sister Samah," its founders' hardly opaque code-name for Hamas, as the prospect of its terror designation loomed.
All this being said, U.S. Homeland Security refuses to deal with CAIR as a threat to our national security, to say nothing of its sponsorship of international Islamic terror groups, despite concerns from notable figures, some of them from the Democrat Party:
A Probable Solution?
The problem also is that most Muslims in the Islamic world literally cannot read. The imams—which means that the one who leads in prayer—teach, but they do not necessarily have to be scholars. This is all met by silence in the West, especially by most Churchmen, which has led to Islamists gaining a foothold in what remains of Christendom. A case in point is when Turkish President Recep Tayyip Erdoğan turned Hagia Sophia into a mosque when he lead prayers last year.
A crucial factor to fight against the "silent" Islamic jihad, of which millions of people in the world have already done so, is to inform ourselves properly of what Islam essentially is. This is vital, that of safeguarding and promoting a proper historical position against Islamic infiltration, especially since they subtly continue to increase their socio-political influence.
It is beyond probable that Islam can be defined against on the merits in the West in free and open debate.
Muslim societies usually rely on threat of violence to suppress intellectual critique of Islam and the freedom of other religions to fairly compete, which, if allowed, would be the slow death of Islam. Their counterparts in the West have learned to rely on chance. And regrettably, so long as the majority of the Catholic hierarchy refused to admit the obvious, sharia-type Muslims will take over our Western society.
__________________________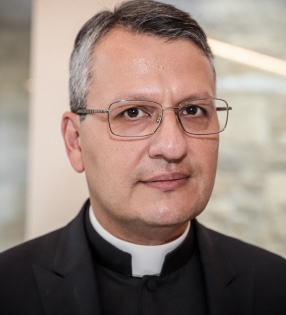 Mario Alexis Portella is a priest of the Cathedral of Santa Maria del Fiore and Chancellor of the Archdiocese of Florence, Italy. He has a doctorate in canon law and civil law from the Pontifical Lateran University in Rome; he also holds a M. A. in Medieval History from Fordham University, as well as a B.A. in Government & Politics from St. John's University. He is also author of Islam: Religion of Peace? – The Violation of Natural Rights and Western Cover-Up.