Islam Prescribes Stoning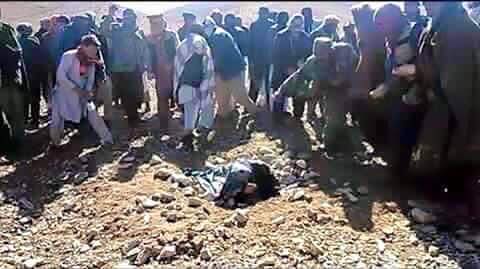 The horrific incidents of stoning women to death remind us of the barbarity Islam advocates. The recent victim of such cruelty and the Sharia prescribed punishment for adultery was Rokhsana who aged between 19 to 21. Rokhsana had allegedly eloped with the man she loved after being married to someone against her will. The punishment was carried out by the Taliban in Afghanistan's Ghor province on 25th of October. A horrifying video that went viral on the internet showed Rokhsana in a ditch while bearded men pelted her with stones.
Such barbaric acts are not only allowed to be carried out but are also accepted in Muslim societies as just punishments due to religious backing for the inhuman treatment. Opposition to such acts stirs anger and is considered rebellion against what Allah's Apostle had ordered. Therefore, most try not to interfere with the so called divine commandments.
The incidents of stoning alleged adulterers particularly women have been on the rise recently in Muslim countries. In July 2014 a women named Farzana Parveen was stoned to death by a mob in front of a court in Pakistan's second most populous city of Lahore. Farzana also accused of extramarital sex was killed by her own relatives including her father. In July 2013 Bibi Arifa was stoned to death in Pakistan also by her relatives for similar accusations. The gruesome list is a long one and also includes the 13 year old Aisha Ibrahim Duhulow who was stoned to death in 2008 in Somalia.
Campaigners against the cruel punishment and human rights activists have raised voice over such incidents and have called for action against those who carry out such barbaric acts. However, they have avoided involving religion (Islam in this case) in the matter which in fact calls for stoning of adulterers. Islamic apologists with their claims that Islam has nothing to do with stoning have countered anti stoning movements by diverting the focus from the roots of the issue.
Stoning for adultery (also called Rajam) is a prescribed punishment in the Islamic Law. It was set down and practiced by the Prophet of Islam himself. Stories of the Prophet ordering stoning of persons charged with adultery (mostly women) are told with all the glorified details by Muslim imams around the world during Friday Sermons. Such glorification also pacifies general Muslims to such cruelty and is another reason why a lot of Muslims remain indifferent to incidents of stoning.
References from Hadith (sayings and practices of Prophet Muhammad) quote several incidents of stoning. Following are a couple of instances from two of the most trusted collections of Hadith:
Sahih Bukhari Volume 8, Book 82, Number 815:
Narrated Abu Huraira and Zaid bin Khalid: While we were with the Prophet, a man stood up and said (to the Prophet), "I beseech you by Allah, that you should judge us according to Allah's Laws." Then the man's opponent who was wiser than him, got up saying (to Allah's Apostle) "Judge us according to Allah's Law and kindly allow me (to speak)." The Prophet said, "Speak." He said, "My son was a laborer working for this man and he committed an illegal sexual intercourse with his wife, and I gave one-hundred sheep and a slave as a ransom for my son's sin. Then I asked a learned man about this case and he informed me that my son should receive one hundred lashes and be exiled for one year, and the man's wife should be stoned to death." The Prophet said, "By Him in Whose Hand my soul is, I will judge you according to the Laws of Allah. Your one-hundred sheep and the slave are to be returned to you, and your son has to receive one-hundred lashes and be exiled for one year. O Unais! Go to the wife of this man, and if she confesses, then stone her to death." Unais went to her and she confessed. He then stoned her to death.
Sahih Muslim 17, 4207
Imran bin Husain reported that a woman from Juhaina came to Allah's Apostle (may peace be upon him) and said she had become pregnant because of adultery. She said "Allah's Apostle, I have done something for which prescribed punishment must be imposed on me, so impose that." Allah's Apostle (may peace be upon him) called her master and said: "Treat her well and when she delivers bring her to me." He did accordingly. Then Allash's Apostle (may peace be upon him) pronounced judgment about her and her clothes were tied around her and then he commanded and she was stoned to death.
Sayings and practices of Muhammad are the second most reliable source of Islamic Laws after Quran. And since he had ordered stoning of adulterers it becomes an inseparable part of Sharia Law. All schools of Islamic Jurisprudence approve the punishment. And although rarely practiced under government supervision the penalty is nevertheless part of the laws in most Muslim countries where Sharia serves as a source of legislation and legal guidance.
Stoning is prescribed and practiced in Islam. Condemning those who stoned Rokhsana and many others to death will not go far until that what supports such barbarity is condemned. Because the first step towards eliminating evil is to realize what it is.