Islam and Jihad: Two Inseparable Concepts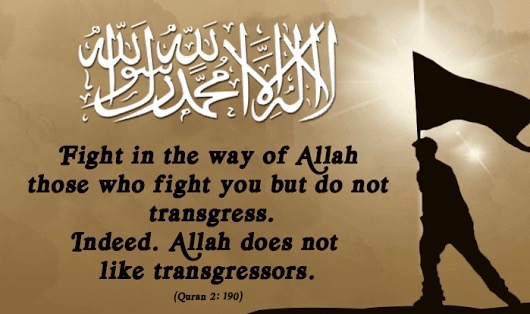 Colorado Governor Jared Polis said he is ruling out claims that the Boulder mass shooting suspect had any ties to terrorist groups.
"From a preliminary perspective, there's been comments from the brother, the family, that there were concerns about this individual's mental health," Polis said in a televised interview on Wednesday, adding that an investigation is ongoing.
The mass shooting in Boulder, Colorado, that left 10 people dead, including Boulder Police Officer Eric Talley is the latest of another shooting spree by a gunman who was mentally disturbed and paranoid, at least according to his brother. 
Prior to the massacre, the Syrian-born Alissa, wrote about Islam on social media and saying: "Muslims might not be perfect but Islam is."
Journalist Jack Posobiec, citing an unidentified White House official, said Joe Biden "has been briefed the Colorado shooter had ISIS sympathies."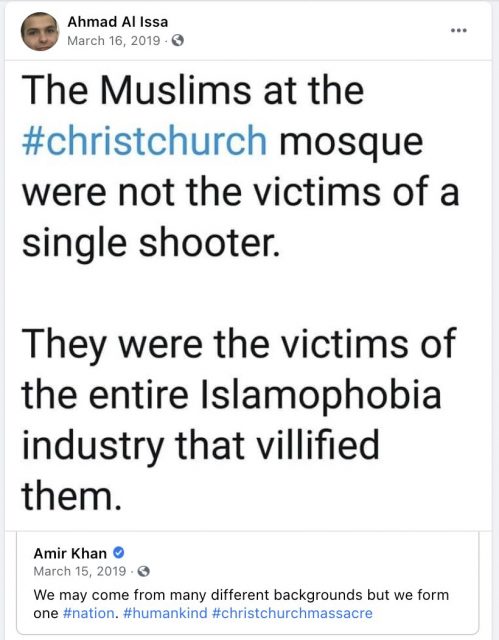 In a subsequent tweet, Posobiec said, "It is beginning to look like the Boulder shooting was a jihadist terror attack." Yet the politically correct mainstream media has done everything to make it look as if Alissa's terrorist act was unrelated to the Islamic religion. The truth of the matter, as per his personal tweets, is that Alyssa's debauchery was in fact a jihad encouraged by the Islamic texts.
Concept of Jihad
Jihad is not a matter that touches the individual Muslim who is wholly detached from violence, in as much as the Quran exhorts him to engage or initiate a holy war against non-Muslims.
The Quran contains at least 109 verses that speak of war with nonbelievers — some are quite graphic, with commands to decapitate infidels. Muslims who do not join the fight are called 'hypocrites' and warned that Allah will send them to Hell if they do not join the slaughter:
As to those who reject faith, I will punish them with terrible agony in this world and in the Hereafter, nor will they have anyone to help. —Sura 3, 56
The concept of jihad, as explained in the Encyclopedia of Islam (1960-1986), stems from the fundamental principle of Islam's universality: "[T]his religion, along with the temporal power which it implies, ought to embrace the whole universe, if necessary by force."
The Muslim's religious and universal mission, therefore, as explained by Ibn Khaldun, is "the obligation [to convert] everybody to Islam either by persuasion or by force." According to the jurist Muhammad al-Ghazali (1058–1111), considered by some historians as the single most influential Muslim after the Prophet's death:
"Everyone must go on jihad (i.e., warlike razzias or raids) at least once a year … one may use a catapult against them [non-Muslims] when they are in a fortress, even if among them are women and children. One may set fire to them and/or drown them.… If a person of the Ahl al-Kitab [People of the Book: Jews and Christians] is enslaved, his marriage is [automatically] revoked, and his wife becomes the rightful property of a Muslim. One may cut down their trees.… One must destroy their useless books. Jihadis may take as booty whatever they decide … the Jihadis may steal as much food as they need."
In 2004, Ali Muhammad Brown, waged a 'one man jihad' on American soil that ended with him shooting dead four men in revenge for military action in the Middle East. He confessed that "all these lives are taken every single day by America, by this government. So a life for a life."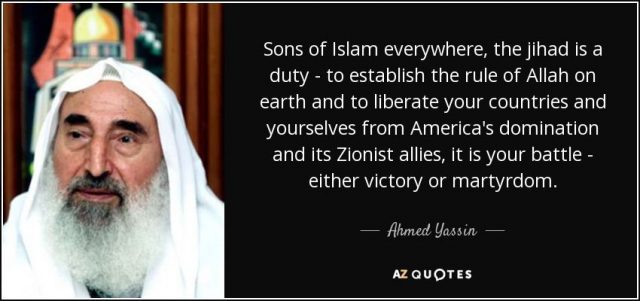 Jihad, does not have to be a group of individuals waging holy war, it can also be part of a moral obligation of an individual Muslim to eradicate Allah's dissenters. Hence, if "Muslims neglect jihad for the sake of Allah, and prefer a life of ease, and focus only on this world, they will face humiliation and scorn, and all their affairs will be corrupted."
Appeal to Jihad
Jihad, in the eyes of Allah, is the first and foremost value for every Muslim seeking victory and is the choice weapon of delivery for the introduction of Islamic rule worldwide. It, in fact, transcends expressions of violence against infidels as it comprises of diverse acts for which all Muslim are ordered to perform.
Jihadist acts are based on the Islamic religious fundamental retention of reward and punishment.  If a Muslim sees the need to fulfill this obligation through acts of terror, he does not need permission from any legitimate authority to do so. Hence, the appeal to holy war:
Fighting [warfare] has been enjoined upon you while it is hateful to you. But perhaps you hate a thing and it is good for you; and perhaps you love a thing and it is bad for you. —Sura 2, 216 
It is not for a Prophet that he should have prisoners of war until he had made a great slaughter in the land…" —Sura 8, 67
Allah's Apostle said, "The Hour will not be established until you fight with the Jews, and the stone behind which a Jew will be hiding will say. "O Muslim! There is a Jew hiding behind me, so kill him." —Sahih al-Bukhari 52, 177
Allah's Apostle said: "I have been made victorious with terror." —Sahih al-Bukhari 52, 122
Without a doubt, Alissa's Islamic affiliation will continue to be downplayed as much as possible. The Qatari-sponsored Al Jazeera is sustaining that his heinous actions were those of a demented man, as opposed to one who was coerced to do so in order to combat Islamophobia. Humoring the argument, this cannot be discounted. Nevertheless, it was he who referred to Islam as a justification, at least inadvertently, carry out the massacres.
__________________________________________________
Mario Alexis Portella is a priest of the Cathedral of Santa Maria del Fiore and Chancellor of the Archdiocese of Florence, Italy. He has a doctorate in canon law and civil law from the Pontifical Lateran University in Rome; he also holds a M. A. in Medieval History from Fordham University, as well as a B.A. in Government & Politics from St. John's University. He is also author of Islam: Religion of Peace? – The Violation of Natural Rights and Western Cover-Up.
Book available on Amazon, Barnes & Noble or WestBow Press.