Is the U.S. Really Pulling Out of Afghanistan?
Afghan nationals who risked their lives to work with the U.S. government over the 20-year war are pleading with the Biden administration to get them and their families out of their country before it is too late. 
A month after President Joe Biden announced the withdrawal of all remaining U.S. troops from Afghanistan by September 11 of this year — over 6,000 NATO troops will also be withdrawn by that time — the country has faced a massive increase in violence by the Taliban against both Afghan security forces and civilians.
According to a Wall Street Journal report, the Taliban is on the move — now contesting more than half of the country's districts and controlling more than does the Kabul government. More than 400 central government forces and about 260 civilians were killed last month, the deadliest since the summer of 2019. The Taliban has targeted translators and their families in the past, killing hundreds, and they will continue to do so as they take more territory.
"These Afghans will have a bullseye on their backs from the moment we leave the country,"said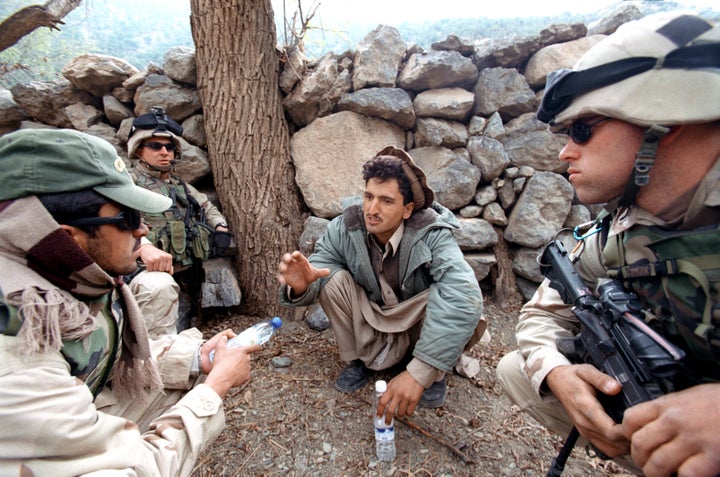 U.S. House Rep. Michael McCaul of the House Foreign Affairs Committee in a statement. "If President Biden abandons them, he is signing their death warrants." This is not an exaggeration.
There are about 18,000 special visa applications (SIV) from Afghan citizens awaiting processing, a backlog that could take some time to ease — the 18,000 SIV applicants also have about 50,000 spouses and children under 21 that can move with them. It reportedly takes 900 days to process applications, meaning U.S. forces will be long gone by the time the backup might be resolved — the U.S. Embassy in Kabul suspended visa operations on Sunday, citing rising Covid-19 cases in Afghanistan; this could take years.
Yet contrary to popular belief, Biden is not ending the U.S. military engagement in Afghanistan, he is privatizing it. In fact, the U.S. government has announced intentions to retain at least two military bases in Afghanistan after the official troop drawdown, and set up over one thousand bases during the war.
Privatizing the War
As The New York Times reported in April, the U.S. would remain after the formal departure of its troops with a "shadowy combination of clandestine Special Operations Forces, Pentagon contractors and covert intelligence operatives."
Their "official" mission will be to "find and attack the most dangerous Qaeda or Islamic state threats, current and former American officials said."
Most of the mercenaries are ex-military veterans, though a percentage are third-country nationals who are paid meager wages to perform menial duties for the military.
One of the biggest mercenary companies is DynCorp International of Falls Church Virginia, which has received over $7 billion in government contracts to train the Afghan army and manage military bases in Afghanistan.
From 2002-2013, DynCorp was awarded with 69 percent of all State Department funding. Forbes Magazine called it "one of the big winners of the Iraq and Afghan Wars;" the losers being almost everyone else.
Are these paid mercenaries being left in Afghanistan for defensive purposes or is there an unknown agenda?
Mineral and Natural Resources Exploitation
In an article "Biden's Claim To Be Ending America's Longest War Misleading" written by Jeremy Kuzmarov, managing Editor of CovertAction Magazine author of "Obama's Unending Wars," Kuzmarov eludes that the U.S. is staying put in Afghanistan because of the country's mineral wealth.
A 2007 United States Geological Service survey discovered nearly $1 trillion in mineral deposit, including huge veins of iron, copper, cobalt, gold and critical industrial metals, such as lithium, which is used in the manufacture of batteries for laptops and blackberries. An internal Pentagon memo stated that Afghanistan could become the "Saudi Arabia of lithium."
In 2001, when the U.S. first invaded Afghanistan, it was in the process of expanding its military infrastructure in Central Asia. Afghanistan provided a key way-station to this new "oil dorado," which holds as much as 200 billion barrels of oil — approximately ten times the amount found in the North Sea, and a third of the Persian Gulf's total reserves.
Afghanistan was further valued at the time as a key location for an oil pipeline that would transport Central Asian oil to the Indian Ocean while bypassing Russia.
In the 1990s, the Southern California oil company, Unocal, began taking steps to build the pipeline, even courting the Taliban. In 2018, ground was broken on a new pipeline project backed by the U.S. that will carry oil from Turkmenistan to northern India.
The U.S. ruling establishment's greatest fear is that a complete U.S. withdrawal from Afghanistan might result in the U.S. losing a strategic foothold to its main geopolitical rivals, China and Russia, in Afghanistan.
The Opium Attraction
Last year, in an article "The Darker Side of the War in Afghanistan," I mentioned that after the 1979 Soviet invasion of Afghanistan — in response to U.S. covert operations in the region, which had been well in place for six months — Afghan opium, derived from the poppy seeds, entered the world market significantly for the first time and grew from nothing to about 60 percent of American consumption by 1980.
It soared from two hundred metric tons in 1980, the first full year of U.S. support for the drug lord of the Mujahideen (Soliders of Allah) — the forefathers of al-Qaeda, the Taliban and ISIS — and future Prime Minister of Afghanistan Gulbuddin Hekmatyar, to almost two thousand metric tons in 1991, when both the United States and the Soviet Union agreed to discontinue their aid.

Much of the opium was trucked from Afghanistan into the northwest Pakistani town of Darra by the Mujahideen where it was sold to the Pakistani governor, Lieutenant General Fazle Huq — he allowed hundreds of heroin refineries to set up in his in his province. From this opium the heroin was refined in labs in Darra, placed on Pakistani army trucks and transported to Karachi — the largest city in Pakistan and seventh largest city proper in the world — then shipped to Europe and the United States. In return, the CIA was reportedly able to set up a factory to manufacture Soviet-style weapons and give them to the Afghan fighters to fight the Communist Russians, simultaneously deceiving the world that the U.S.S.R. had been arming the Islamic terrorists.

Ironically, in 2000, the Taliban government with the support of the UN implemented a successful drug eradication program, which was presented to the UN General Assembly on October 12, 2001, barely a week after on the onset of U.S.-NATO invasion. Opium production had collapsed by 94 percent — in 2001 opium production went to 185 tons down from 3,300 tons in 2000.

The 2001 war on Afghanistan, based on such data, served to restore as well as boost the multibillion dollar drug trade. It also contributed to the surge in heroin addiction in the U.S.

According to the United Nations Office Drugs and Crimes (UNODC), since 2001, the production of opium has increased 50 times, (compared to 185 ton in 2001) reaching 9,000 metric tons in 2017. It has almost tripled in relation to its historical levels. (See Fig below)
Today a rough estimate based on U.S. retail prices suggests that the global heroin market is above the 500 billion dollars mark. This hike is the result of a significant increase in the volume of heroin transacted worldwide coupled with a moderate increase in retail prices.
The Taliban's move into heroin processing comes as it gains ground against the government, particularly in areas where the drug is produced.
Based on a 2017 UNODC report, opium production in Afghanistan is of the order of 9,000 metric tons, which after processing and transformation is equivalent to approximately 900,000 kilograms of pure heroin. In 2018, Afghanistan produced 82 percent of the world's supply.
The White House admitted in 2019, that the continued large-scale Afghanistan poppy cultivation and opium production further complicated the government of Afghanistan's ability to maintain rule of law and promote a road to peace. "This trend," according to the United Nations "has real consequences for peace and security in Afghanistan, as it encourages those within the Taliban movement who have the greatest economic incentives to oppose any meaningful process of reconciliation with the new government."
According to Eskandar Momeni, Iran's chief of counter-narcotics, the production of heroin from poppy harvests in Afghanistan has increased year after year by 50-fold since the US forces invaded the country. "Based on reliable information, planes operated by NATO and the United States transport these illicit drugs in our neighboring country," the official testified in August of last year.
Russia's presidential envoy to Afghanistan, Zamir Kabulov, is quoted as saying that CIA complicity in drug trafficking is "an open secret" in the country.
"US intelligence officers," says Kabulov, "are involved in drug trafficking. Their planes from Kandahar, from Bagram [airfield near Kabul] are flying wherever they want to — to Germany, to Romania — without any inspections," said Kabulov.
It seems as if there is an hidden reason why the a number of SIV Afghan applicants may not get their visas. Unless if U.S. lawmakers are able to get the Biden administration to alter its course in Afghanistan, the so-called end to America's longest war will continue for all the wrong reasons.
__________________________________________________
Mario Alexis Portella is a priest of the Cathedral of Santa Maria del Fiore and Chancellor of the Archdiocese of Florence, Italy. He has a doctorate in canon law and civil law from the Pontifical Lateran University in Rome; he also holds a M. A. in Medieval History from Fordham University, as well as a B.A. in Government & Politics from St. John's University. He is also author of Islam: Religion of Peace? – The Violation of Natural Rights and Western Cover-Up.
Book available on Amazon, Barnes & Noble or WestBow Press.