Jihadis are not Radical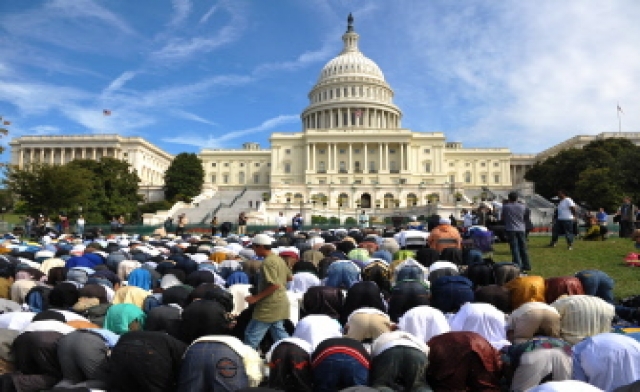 By Howard Pond
Jihadis are not Radical
I love the story told by a writer by the name of David Wallace: "There are these two young fish swimming along, and they meet an older fish swimming the other way, who nods at them and says, 'Morning, boys, how's the water?' And the two young fish swim on for a bit, and then eventually one of them looks over at the other and says, 'What the hell is water?' "
Except for the enlightened who read sites like this, we can wish that the people around us were asking the question: "What the hell is Islam?" While almost everyone has a personal bias from which they think they understand, like the fish in the story, ignorance is the normal, and this presents a big scary problem.
Its like John Wayne said,…."Life is hard,…It's harder when you're stupid." For most politicians and media people, Life is very hard. The masses who need to understand Islamic reality have instead, filled their heads with propagandistic platitudes. As people who understand the threat, we are left with the question of how to break their Islam is a religion of peace bias before we are all killed, converted or subjugated.
A Different Perspective
I would like to offer a new perspective that if became common knowledge, would contribute to lowering the tide of Islamization and expose the reefs of this fraudulent religion. Even for the informed, I believe many of us are confused over the definition of a good vs. bad Muslim. To address this question, let's define two terms that are misunderstood and misused, and then introduce a new term. The words are Radical, Fundamentalist, and Jack- Muslim.
The non-Muslim uses Radical, in describing Muslims who are involved in Jihad. I suggest that rather than Radical, the word Fundamentalist is the correct term. The Merriam- Webster Online Dictionary defines Radical as: "very new and different from what is traditional or ordinary." Contrast this with the Cambridge Dictionaries' Online definition for Fundamentalist, which reads: "The belief that the traditional principles of a religion or set of beliefs should be maintained."
To understand these definitions brings clarity to those mired in the question of Are they peaceful or radicalized? By understanding these two terms, one realizes that framing the question with the words peaceful or radicalized not only asks the wrong question, but forms a question that makes no sense.
How can we call a Muslim Radical if they are doing nothing that is "new or different" from the teachings of Muhammad? These terrorists are doing nothing Radical if they are following the fundamental Islamic teachings. If true believers of Islam are radicalized, this means they are doing something "new and different from the traditional or ordinary."
Jihadis are not Radical
What actions might be radical? Imagine Muslims marching shouting slogans such as "Stop Stoning Now!, Equal Rights to Women!, Sharia is Shameful!," or "Islam Supports Israel!" These would be Radical actions. These protest signs haven't appeared because we know that Muslim Fundamentalists would not endorse these Radical choices.
As readers of Faith Freedom.org, we know that examples of Radical-Muslims are hard to come by, largely because in Islam dominated cultures, such radical thinkers are routinely imprisoned and executed. One possible Radical in America is Zuhdi Jasser. Conversely, Osama bin Laden was a perfect example of a Fundamentalist-Muslim.
Yet, even possessing an understanding of Fundamentalist and Radical, we are still missing something – how that nice fellow down the block suddenly ends up an Islamic suicide bomber.
To understand such a transformation, we need to coin a new term. I suggest the phrase Jack-Muslim. What doesthis mean? First, some background.
Mormons and Muslims
I lived in Salt Lake City, Utah for several years. While there, I had many Mormon acquaintances. Not surprisingly, I found that none of my Mormon friends were equally committed to their religion. Some were totally dedicated. They believed every aspect of what they were taught and strove to live by these teachings. They were unwavering in their belief that Joseph Smith was a prophet, and The Book of Mormon is the word of God. These people represented what would be described as Good-Mormons.
These Good-Mormons did not see Smith as a perfect man; but, they considered his life worthy of imitation. The influence of The Mormon Church on the faithful was to encourage compassion,honesty, helpfulness, and good citizenship. Application of The Golden Rule was central to their personal character. My strict Mormon friends always treated me well, despite my being an "unbeliever." Now, before contrasting this with Islam, let's look at the other end of this Mormon spiritual continuum.
I learned that Mormons whose devotion level is on the lightweight side of the compliance scale, are referred to as Jack-Mormons. This is an important term to understand. These people are not Good-Mormons in that these members are not devout or actively involved with Mormonism. Jack- Mormons might be promiscuous, drink, smoke and use profanity. Yet, here is what surprised me; these Jack- Mormons were still in theory, supportive of the principles of the Mormon religion, and they maintained friendships with active Mormons.
If a Jack-Mormon is asked: "Do you still believe that silly stuff about Joseph Smith being a prophet who talked to a God who gave him the Book of Mormon?" they answer "Yes, I do." I learned from experience that if I made derogatory comments, such as "That Mormon Church is a lot of nonsense," they became defensive (although never aggressive). Why? Because they still believed. Now, this is important – A Jack-Mormon can be thought of as a Mormon on a spiritual leave of absence.
A note of clarification: Jack-Mormons are not to be confused with Apostate-Mormons. Apostates no longer believe in the divinity of The Mormon Church, it's Prophet or any of their holy books. Apostate-Mormons do not believe, period. If while in their company, you disparage MormonChurch doctrine, they will agree with you, and expand on your argument.
Some New Terms
Now, with these definitions in mind, lets create the term Jack-Muslim. The application of the definition for a Jack- Mormon is an exact fit for how to define a Jack-Muslim. As with the Jack-Mormon, these Muslims are not devout and do not follow the many details of their religion. They don't pray five times a day. Mosque attendance is infrequent if at all, and they may not even know the location of the closest mosque. The women in the family don't wear the Islamic clothing, they regularly work outside the home, and both husband and wife might enjoy an occasional adult beverage. But, as was with Jack-Mormons, the Jack-Muslims are often just on a sabbatical. Deep down, they still believe. The "Jack-Muslim" is someone who still accepts Muhammad as a Prophet and a perfect example of how a proper Muslim should live. They just don't want to walk that narrow path at this time in their lives. They still believe the Quran to be a perfect book, given from God to Mohammad. If you ask them: "How do you feel about supporting Israel's right to exist?" or "Can I make you a ham sandwich?" You will hear harsh words or at least see them squirm.
While identifying the Jack-Mormon is easy, our Jack-Muslim can be a deceiver. We can't ignore the Islamic edict that encourages lying to the unbeliever. It is possible that the person we perceive as being a non-threatening "Jack- Muslim" may be deceiving us through their engaging in either Taqiyya (To say something that isn't true) or Kitman (To lie by omission). We don't know.
There is another group of Jack-Muslims, who are incorrectly described as Good-Muslims. These are the least threatening and where the greatest hope lies for their becoming Apostate-Muslims. These are those Muslims who never have been devout. They are minimally Muslim because their parents were Muslim. Most of us know that in Islam, if your father was a Muslim, then you are automatically a Muslim. If our Jack-Muslim lives in a Muslim community, it is easier to be Muslim than anything else. In such a community, one's Muslim Membership would be helpful for social status, business success, and personal survival. While up to now, many people ignorant of Islam would describe this person as a Good-Muslim, they are nothing of the kind. True, they may be a superb person, but they are a very poor Muslim.
The Risk of Returning to the Fold
This leads us to another source of concern. Often with young people of all faiths, as they mature, marry and have children, they see an importance to having religion in their home. I saw this while I lived in Utah. Sometimes an inactive member's return to the Mormon faith occurs in response to an encounter with a spiritual mentor, or when an influential event occurs. Such happenings can kindle a decision to reengage, which leads to an increased level of devotion and commitment to their spiritual life. If this happens to our Jack-Mormon, we say: "No problem." Their becoming a Good-Mormon, reasonably results in their becoming better neighbors to all, including their non- Mormon acquaintances.
Are these returning-to-the fold Mormons now Radicalized? Hardly. We would never think or say that. Are we concerned that they might go to a local pizza place and blow themselves up for Joseph Smith or attack Presbyterians for saying rude things about the Book of Mormon? It doesn't matter how devout they may become, violence isn't in their makeup. The word Radical doesn't fit; but, the term Fundamental does. We need to understand this.
Yet, applying the exact same process to our Jack-Muslim's increase in devotion does multiply the chances of there becoming jihadis and arriving at our door with a sword. Their Islamicdevotion does not make them better neighbors to non-believers. Returning to my major point.
These Muslims are not Radicalized. They are Fundamentalist" (or fundamentalized if that is a word) who now align their vision of life with that of a seventh century mass murderer.
We can always hope that the more our Jack-Muslim neighbors learn of Muhammad and his depraved life, the more likely theywill turn away and become Apostate-Muslims. Occasionally, as evidenced by this site, this occurs; but, that doesn't happen often enough to save usfrom the threat. Instead, more often, through increased devotion, our Jack- Muslims return to the faith and come to believe that they would like tobecome more like Mohammad.
Good is Bad, and Bad is Good
This decision leads to either supporting and contributing to those who are involved in jihad, or personally committing to the life of the jihadi. This results in a very Good-Muslim, which we have mistakenly called a Radical-Muslim. Saying it again, they are not Radical; they are devout, faithful, and pious. They are Fundamentalists. Paraphrasing a slogan from Christianity, the Good-Muslim lives under the motto: "What Would Mohammad Do?" To those of us who understand Islamic teachings, we should recognize that these are the Good-Muslims. Thus, viewed from a non- Muslim perspective, Good is Bad, and Bad is Good.
Understanding the misuse of the term Radical is essential to winning the battle for our civilization's survival. We need to use the correct definition for these Good-Muslims by calling them Fundamentalists. Those Muslims that the uninformed observer accuse of becoming Radicalized are in truth just becoming Good-Quran-Believing-Fundamentalist-Muslims. The closer they model their lives after their spiritual touchstone Muhammad, the better Muslims they become. Our level of fear should rise in exact proportion to their increasing level of Islamic devotion. Paraphrasing an old campaignsoundbite, "Its the Religion, stupid."
What Would Muhammad Do
Here's yet another perspective. If Muhammad were alive today, and we could ask him: "Who are the Radical- Muslims?" he would never name the jihadis. He would point his sword at what the western world mistakenly calls, Good-Muslims. He then wouldcall these Jack-Muslims to repentance, or collect their heads. If our next question of Muhammad was: "Who then do you call Good-Muslims?" He would smile and then embrace the blood soaked soldiers of ISIS, Al-Qaeda, Boko Haram, Hezbollah, the Muslim Brotherhood, and Loan-Wolf attackers, along with every other militant Islamic group. When viewed against the yardstick of What-Would-Mohammad-Do, these terrorists are neither radical or bad. They are the Good-Muslims. Our problem is that Good-Muslims are terrible human beings.
I've never heard or seen the word "Jack" placed in front of "Muslim," yet I can't think of a better term for the peaceful- Muslims we think of as our friends and with whom we can experience friendship and positive dialogue. The term Jack-Muslim should be used until it is a part of the national language. That is the reason forwriting this article.
So, back to our question at the beginning: "What the hell is water?" Introducing the use of the term Jack-Muslim into our language, provides an understanding about the hidden threat that comes from Jack-Muslims becoming Good- Muslims. As long as people in power cling to the ass- backwards idea that the pure form of Islam is represented by Jack-Muslims, and that Muslims are called Radical when they are simply living their religion as directed by their prophet Muhammad, we are doomed. The fish-brained people of the world need to start asking the right question, "What the hell is Islam?"