How Protected Are Non Muslims in Islamic Lands?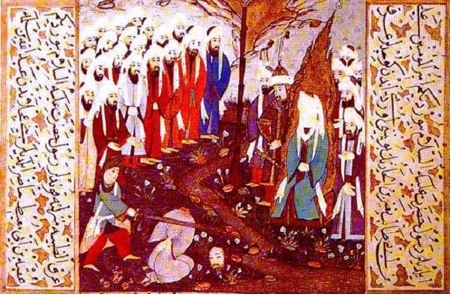 Dear Ali Sina,
I found the following hadith in a Facebook post:
The Prophet of Mercy said: Beware! Whosoever oppresses a Muahid (i.e. Non-Muslim living in Muslim land with agreement) or snatches (any of) his rights or causes him pain which he cannot bear, or takes anything from him without his permission, Then "I WILL FIGHT AGAINST SUCH A (MUSLIM) ON THE DAY OF JUDGEMENT" [Sunnan Abu Dawud, Volume No. 3, Page No. 170, Hadith No. 3052]
Can you tell me if this is authentic?
While such a hadith exists and is recorded by Bukhari, it has nothing to do with protection for non-Muslims. Islam does not protect the life of the unbelievers. Here is what the hadith says:
"The Prophet said, "Whoever killed a Mu'ahid (a person who is granted the pledge of protection by the Muslims) shall not smell the fragrance of Paradise though its fragrance can be smelt at a distance of forty years (of traveling)." [Bukhari: 9: 83: 49]
Arabia was an unsafe place so Arabs devised rules and traditions to make it safe. If you had to travel to another town, someone could kill you and rob your belongings and there was no law to bring that person to justice. Consequently Arabs of two different towns made alliances with each other that if one of them entered in the town of the other, the other person would act as his protector. They made a pact with each other to protect one another in each other's towns, hence the name mu'ahid, which derives from the noun 'ahd (pact)
Everyone respected this rule. If you killed a foreigner who was protected by someone in your town, his protector was bound by honor to take revenge and kill you. If he didn't he would have lost his honor.
Muhammad ratified this tradition. He did not want people start killing a mu'ahid of another Muslim on the ground that he was a non-Muslim.
We read in the biography of Muhammad that when Abul Aus, was recaptured and brought to Medina, his wife Zeinab, daughter of Muhammad, shouted in the streets that he was under her protection. And Muhammad approved it, saying if a Muslim pledges protection to someone, other Muslims must respect that protection.
Another case is that of Abdullah ibn Sa'd Abi Sarh. He was a scribe of Muhammad who corrected his poor Arabic with his approval. This made him realize the Quran is not a revelation from God and escaped to Mecca and exposed the whole charade. Muhammad vowed to kill him, but Abdullah's life was spared by Uthman who acted as his protector.
This was an established Arab tradition. Muhammad himself owed his safety to it. He remained safe in Mecca, despite insulting the religion of the Quraysh because his uncle Abu Talib acted as his protector. After him Muhammad went to Taif offering its inhabitants a share of the wealth of the Meccans if they helped him capture it. They chased him out of the town and the news reached Mecca. Now with his treachery exposed he feared to enter his own town and sent someone to Akhnas ibn Shariq, a dignitary ally of the Meccans, asking him for protection. Akhnas replied that an ally cannot give protection against a member of the home tribe. Muhammad then sent his messenger to Suhayl ibn Amr, a respected citizen of Mecca. Suhayl also declined. He then sent his messenger to Mut'im ibn Adiy and the latter agreed to act as his protector. The next day Mut'im went to the mosque and announced his pledge of protection publicly. Once he made that announcement, Muhammad entered Mecca and no one harmed him even though he was an exposed traitor. Even his strongest foe Abul Hakam, whom he disparagingly called Abu Jahl said, "We give protection to him whom you protect."
Arabs were a lawless folk with no central government. They had however rules based on chivalry and regarded their violation as taboo. Muhammad violated most of them, but preserved some when they suited him.
This rule helped Muslims who travelled to non-Muslim lands. If Muhammad violated this long established tradition, his followers could be killed in non-Muslim towns.
This hadith does not apply to non-Muslims in general. It is restricted to those who have received protection from a Muslim. This pact was of mutual benefit. However, when Islam became dominant, it was abandoned because Muslims were protected everywhere. The non-Muslims can now buy their protection by paying jizyah.
According to the Medinan Treaty, one of the first writings of Muhammad after his entry to Medina, if a Muslim kills a non-Muslim he cannot be prosecuted or killed. Here is what the treaty says:
"A believer shall not slay a believer for the sake of an unbeliever, nor shall he aid an unbeliever against a believer. God's protection is on the believers. The least of them may give protection to a stranger on their behalf. Believers are friends one to the other to the exclusion of outsiders."