How North Korea Is Helping Iran Develop Nuclear Weapons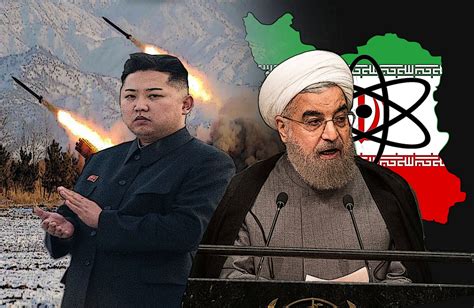 U.S. Special Representative for Iran Elliot Abrams confirmed last week that North Korea, for quite some time, has been helping Iran's quest to become a nuclear weapon state.
Abrams, responding to a reporter's question, attested that Tehran and Pyongyang had resumed a mutual agreement to construct long-range missiles that could potentially carry nuclear warheads.
President Donald Trump has repeatedly vowed that the Islamic Republic of Iran "will never have a nuclear weapon" so long as he is president. With the hope to keep the theocratic regime from having such capabilities, Trump exercised "maximum pressure" after he pulled out of the Joint Comprehensive Plan of Action (JCPOA), also known as the Iran nuclear deal, in 2018, which included the imposition of heavy sanctions. This led, as reports suggest, Iran's currency (the rial) to lose at least 49% of its value, making it effectively one of the most worthless currencies in the world.
Another goal of Trump's "maximum pressure" was to prod Iran with the expectation that it would come crawling back to the bargaining table to renegotiate the JCPOA.
After last month's stinging rebuke at the UN Security Council, when only the Dominican Republic supported a U.S. resolution to indefinitely extend the arms embargo on Iran, and notwithstanding Iran's dire economic situation, it is now clear that Trump's Iran strategy is failing. The mullahs are not going to renegotiate the nuclear deal — at least under the present White House administration — and they are certainly not going to halt their nuclear ambitions, especially now that they are getting ever closer to developing a nuclear bomb with North Korea's help.
North Korea Assisting Iran
The average simpleton probably thought after President Trump and North Korean dictator General Secretary Kim Jong-Un "fell in love," as Trump proclaimed, the Kim regime would halt all of its open and clandestine nuclear operations. 
While Trump was singing the praises of one of the world's cruelest dictators, heralding Kim Jong-Un as a "great leader" and a "man of his word" and fully expecting him to "denuclearize" without so much as defining the term — he would have had better luck proving that the moon is made of cheese — Kim took Trump for a ride, thereupon turning to one of his partners in crime.
According to an unnamed senior U.S. official, North Korea has been transferring "critical parts" to Iran to create long-range missile. In a June 2018 report by James Robbins, Pyongyang may also be providing the regime fissionable material. And as early as January, there are now hundreds of North Korean advisers in Iran providing mid-range Musudan missiles and the technology for the Taepodong intercontinental type. Apparently, Kim has been itching to test-fire them in keeping with his promise of "a new strategic weapon" to intimidate the U.S.
Iranian-North Korean Military Ties
As early as 1979, Iran and North Korea have forged a strategic partnership. Hampered by a common enmity toward the U.S. and a mutual need to weather international isolation, both rogue nations brought something to the table that the other desperately needed — Iran provided oil, while North Korea supplied military expertise and hardware.
The bipartisan agency United Against A Nuclear Iran published how North Korea, since the last decade, has been Iran's crucial nuclear partner:
"North Korea's history," according to the 2018 Worldwide Threat Assessment of the U.S. Intelligence Community, "of exporting ballistic missile technology to several countries, including Iran… illustrates its willingness to proliferate dangerous technologies."
In a written message delivered to the 2020 International Atomic Energy Agency (IAEA) general conference, which commenced in Vienna last week, President Trump said:
"We must ensure that Iran adheres to the commitments it made…with the IAEA to prevent it from ever obtaining a nuclear weapon, and continue to work toward the final, fully verified denuclearization of North Korea."
How the Trump administration will handle the situation, if it can, remains to be seen. One thing is certain, the romance with Kim Jong-Un has ended as Trump's stratagem to curtail Iran's nuclear campaign have been upended by his one-time "lover."
__________________________________________________
Mario Alexis Portella is a priest of the Cathedral of Santa Maria del Fiore and Chancellor of the Archdiocese of Florence, Italy. He has a doctorate in canon law and civil law from the Pontifical Lateran University in Rome; he also holds a M. A. in Medieval History from Fordham University, as well as a B.A. in Government & Politics from St. John's University. He is also author of Islam: Religion of Peace? – The Violation of Natural Rights and Western Cover-Up.
Book available on Amazon, Barnes & Noble or WestBow Press.