Families of 9/11 Victims Fight For Justice Despite Government Opposition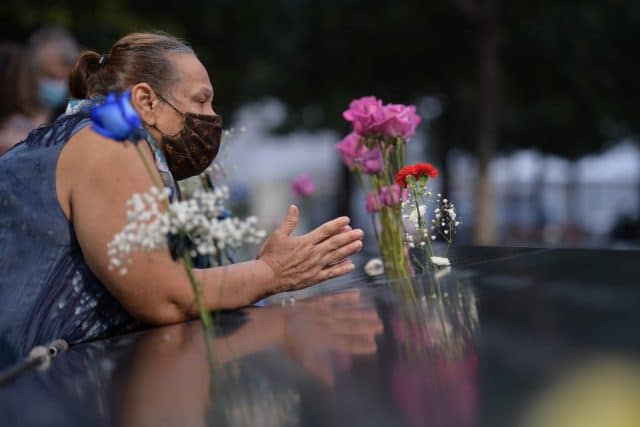 A U.S. federal judge directed Saudi Arabia's government to make 24 current and former officials, including a former ambassador to the United States, available for questioning in litigation claiming it provided assistance for the September 11, 2001 attacks, lawyers for victims said on Friday.
Of those those who could be questioned is Prince Bandar bin Sultan, the Saudi ambassador to the U.S. from 1983 to 2005 and a member of the Saudi royal family — a Joint Congressional Inquiry report found that Prince Bandar personally gave money to one of the alleged hijackers' associates. The Saudi government's media office did not immediately respond to a request for comment after business hours.
Back in May FBI lawyers unintentionally revealed the identity of a Saudi diplomat who agents have suspected helped deliver crucial support to the al-Qaeda terrorists who carried out the 9/11 attacks.
The Saudi official, Mussaed Ahmed al-Jarrah, had his name blocked out in all but one appearance in the document, with the FBI admitting to it was a mistake — Jarrah was a Saudi Foreign Ministry official assigned to the Saudi Embassy in Washington, DC, in 1999 and 2000.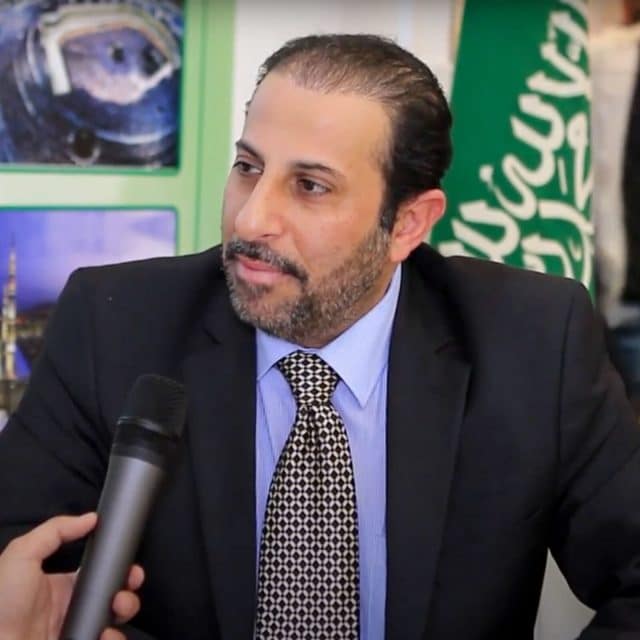 Jarrah continued to work until recently in the Saudi foreign service, apparently seconded from a major Islamic university in Riyadh that had long been his primary employer, news reports and court documents show. That institution, Imam Muhammad Ibn Saud University, has been a center of the kingdom's Wahhabi theology — an intolerant and aggressive form of Sunni Islam practiced primarily in Saudi Arabia, to a lesser extent in Qatar, that continues to inspire Islamists to commit atrocities. It drew scrutiny from U.S. intelligence agencies after 9/11 because a number of al-Qaeda figures had studied there, including four of the alleged 9/11 hijackers.
As reported by Al-Jazeera News,U.S. Magistrate Judge Sarah Netburn's decision was made public on Thursday in Manhattan federal court. It followed another judge's March 2018 rejection of the Saudi regime's bid to dismiss the litigation, where families of those killed, tens of thousands of people who suffered injuries, businesses and insurers are seeking billions of dollars in damages.
Families Denied Justice By Presidents Bush, Obama and Trump
For nearly two decades the handling by the U.S. government of the investigation surrounding the role of Saudi Arabia in the 9/11 attacks has been a slap in the face for the families of victims. To put it succinctly, as Philadelphia-based advocate for 9/11 justice Jon Bold says: "Cover-ups, lies, and deception have marked the myriad attempts by the American people to find answers about the Kingdom's role in the attacks, leaving many to question not only who the government is trying to protect, but also what else it is being dishonest about."
According to over 50 former FBI agents, the Saudis "were [first] exonerated by Bush government" before they could conclude their investigation.
The families of the victims thought they had another chance for justice under President Barack Obama. To their dismay, Obama vetoed legislation in 2016 that would have allowed them to seek justice and sue Saudi Arabia for orchestrating the attacks. Known as the Justice Against Sponsors of Terrorism Act, the bill creates an exemption to the doctrine of sovereign immunity established by a 1976 law, thus allowing U.S. citizens to sue foreign countries for terrorism that kills Americans on U.S. soil.
Saudi Arabia tried to block the bill, using the services of its many lobbyists in Washington. The bill nevertheless was passed unanimously by both the House and Senate.
When it finally seemed that justice would be pursued under the Trump administration, last year the Justice Department refused to hand over investigative files to the families of 9/11 victims that would have helped them in their civil lawsuit against the Saudis, despite a promise from Trump to provide them.
"He looked us in the eye on 9/11, he shook our hands in the White House and said, 'I'm going to help you — it's done,'" recalled one of those present, Brett Eagleson, a banker whose father was killed in the World Trade Center. "I think the 9/11 families have lost all hope that the president is going to step up and do the right thing. He's too beholden to the Saudis."
Attorney General William Barr and then-Director of National Intelligence Richard Grenell invoked 'unprecedented claims' that the documents remain state secrets, which must be locked down to "protect the national security interests" of the U.S. government — experts hold it would have been impossible for Barr an Grenell to take such measures had President Trump not directed them to do so.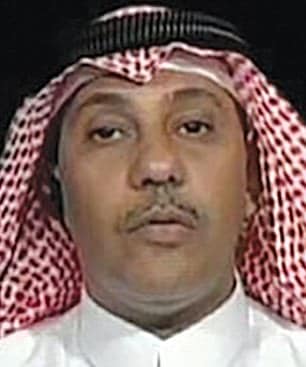 Among the links uncovered in the FBI files were two Saudi nationals, Omar al-Bayoumi and Mohdar Abdullah, both of whom had with the hijackers prior to the 9/11 attacks — Bayoumi moved back to Saudi Arabia in 2002 and the U.S. revoked his visa for 'quasi-terrorist activities.' A redacted copy of a three-and-a-half page October 2012 FBI "update" about the investigation stated that FBI agents had uncovered "evidence" that Bayoumi had been "tasked" to assist the hijackers by yet another individual whose name was blacked out, prompting lawyers for the families to refer to this person as "the third man" in what they argue is a Saudi-orchestrated conspiracy.
While there are legitimate questions raised as to a potential inside government — Deep State — involvement, then candidate twice in a single day accused Saudi Arabia of being behind the 9/11 attacks. "Who blew up the World Trade Center?" Trump asked his pals at Fox and Friends on the morning of February 17, 2016. "It wasn't the Iraqis, it was Saudi — take a look at Saudi Arabia, open the documents."
We should not be surprised Trump reneged on his promise to the aforementioned families since he has been a faithful advocate of the Saudi regime ever since he took over the White House. Last year, as reported by The American Conservative, the Trump administration abused a provision in the Arms Exports Control Act to declare an "emergency" that did not exist in order to expedite arms sales to the Saudis that most members of Congress wanted to block. The so-called emergency declaration led to the passage of several bi-partisan Congressional resolutions disapproving of the arms sales, which Trump vetoed. He has also approved six authorizations for U.S. companies to conduct nuclear-related work with Saudi Arabia, as if the Saudis do not have the same aspirations as the Iranians to build a nuclear bomb. And as disclosed by Bob Woodward in his upcoming book Rage, Trump bragged how he protected the de facto ruler of Saudi Arabia Prince Mohammad bin Salman — an international criminal if there ever was one — from congressional scrutiny after the brutal murder of journalist Jamal Khashoggi two years ago. In Trump's own words: "I saved his ass."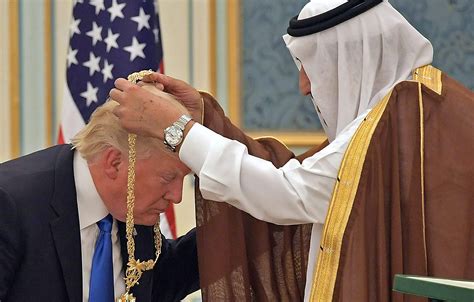 Marine veteran and former intelligence official for the U.S. National Security Agency said: "Despite knowing that the Saudis aided and funded the terrorists who flew planes into two world trade center towers that fateful day back in 2001, presidents George W. Bush, Barack Obama, and Donald Trump have bowed down to the dictatorial regime, quite literally. The support the United States establishment pledges to the terrorist dictatorship in Saudi Arabia is an insult to every single person who has served, is serving in the armed forces, the families of victims who lost their lives during the worst attack on U.S. soil in the 21st century, and every free-thinking American in general."
The Saudi-bashing Trump sold an entire floor of the Trump World Tower to the Saudis for $4.5 million in 2001. "And would it surprise you," as Mehdi Hasan, a senior columnist at The Intercept, said, "to discover that Trump also registered eight companies tied to hotel interests in Saudi Arabia in the midst of his Saudi-bashing presidential campaign?"
This does not undermine the full diplomatic relations Trump recently brokered between Israel and the United Arab Emirates — and the Kingdom of Bahrain as of Friday — which will hopefully lead to some sort of stability in the Middle East region. Yet this success does not warrant the president to protect and 'absolve' at will the Saudis from their heinous crimes.
Let us pray that some honest and courageous persons within the federal government will be able to allow the courts to hold the Saudis accountable and render justice to the families of the 9/11 victims.
__________________________________________________
Mario Alexis Portella is a priest of the Cathedral of Santa Maria del Fiore and Chancellor of the Archdiocese of Florence, Italy. He has a doctorate in canon law and civil law from the Pontifical Lateran University in Rome; he also holds a M. A. in Medieval History from Fordham University, as well as a B.A. in Government & Politics from St. John's University. He is also author of Islam: Religion of Peace? – The Violation of Natural Rights and Western Cover-Up.
Book available on Amazon, Barnes & Noble or WestBow Press.