Europe's Clash with a Islam
On July 2, populists and members of conservative parties across 16 European countries signed a Joint Declaration on the Future of the European Union, criticizing its overreach against national sovereignty, simultaneously stripping Europe from its Judeo-Christian foundation.
"We are convinced," the Declaration states, "that the cooperation of European nations must be based on tradition, on respect for the culture and history of European States, on respect for the Judeo-Christian heritage of Europe and on the common values that unite our nations — and not in their destruction."
Six years ago, the High Representative of the European Union for Foreign Affairs and Security Policy Federica Mogherini had already planted the seeds of such division by insisting that Islam become a fundamental pillar of the EU member states:
"I am not afraid to say that political Islam should be part of the picture. Religion plays a role in politics — not always for good, not always for bad. Religion can be part of the process. What makes the difference is whether the process is democratic or not. Any attempt to divide the peoples of Europe into 'us' and "them" brings us in the wrong direction. The migrants and us. The Muslims and us. The Jews and us, as anti-Semitism has not been defeated at all. The 'other' and us. We learnt from our history that we all are someone else's 'other.' The fear of the other can only lead us to new conflicts."
Since 2014, an unprecedented numbers of immigrants left Muslim-majority countries to come to Europe. And, as presented by authors Claire L. Adida, David D. Laitin, and Marie-Anne Valfort, these immigrants are not integrating well in their host countries.
Many from the left and the mainstream media have blamed right-wing politicians and populists for this. The dilemma of Islamic assimilation, or lack thereof, is not necessarily because they are being discriminated by such person or by native Europeans, which regrettably occurs, in as much as Europeans' concern of Islamic terrorism and Muslims' collective opposition to certain Western values, such as the observance of rule of law.
Points of Dilemma
Islamic Terrorism
Giving Islam a sound legal status in the EU means that certain delicate and polemical issues raised by the Muslim presence in Europe must be addressed. While some may not pose any new legal complexities, others like the building of mosques where in many such places of worship hatred and violence is compelled on the Muslim faithful.
In 2016,, the seafront of Nice turned from a place of celebration to a scene of horror when the Tunisian-born attacker, Mohamed Lahouaiej-Bouhlel, drove a truck through crowds watching fireworks on Bastille Day killing 86 people were killed, including 10 children, and injuring another 458.
The attack was claimed by ISIS, who said that Lahouaiej-Bouhlel had heeded the militant group's call to arms. But according to prosecutors, there was no evidence that Bouhlel had sworn allegiance to the extremist group.
The mass killing was part of a wave of jihadist terror attacks across France. It came less than a year after the deadly assaults in November 2015 that saw 130 people killed in bombings and shootings across Paris, including the victims at the Bataclan concert hall.
Let us also not forget the four people that were shot dead and 14 injured last year in Vienna by a Muslim immigrant or the unreported gang rapes by Muslim immigrants in the United Kingdom.
Apprehension towards Muslims on the part of Europeans, or rather that Islam continues to be viewed unfavorably compared to other religions because of Islamic terrorism is quite substantial:
United Kingdom: 32 percent
France: 49 percent
Germany: 55 percent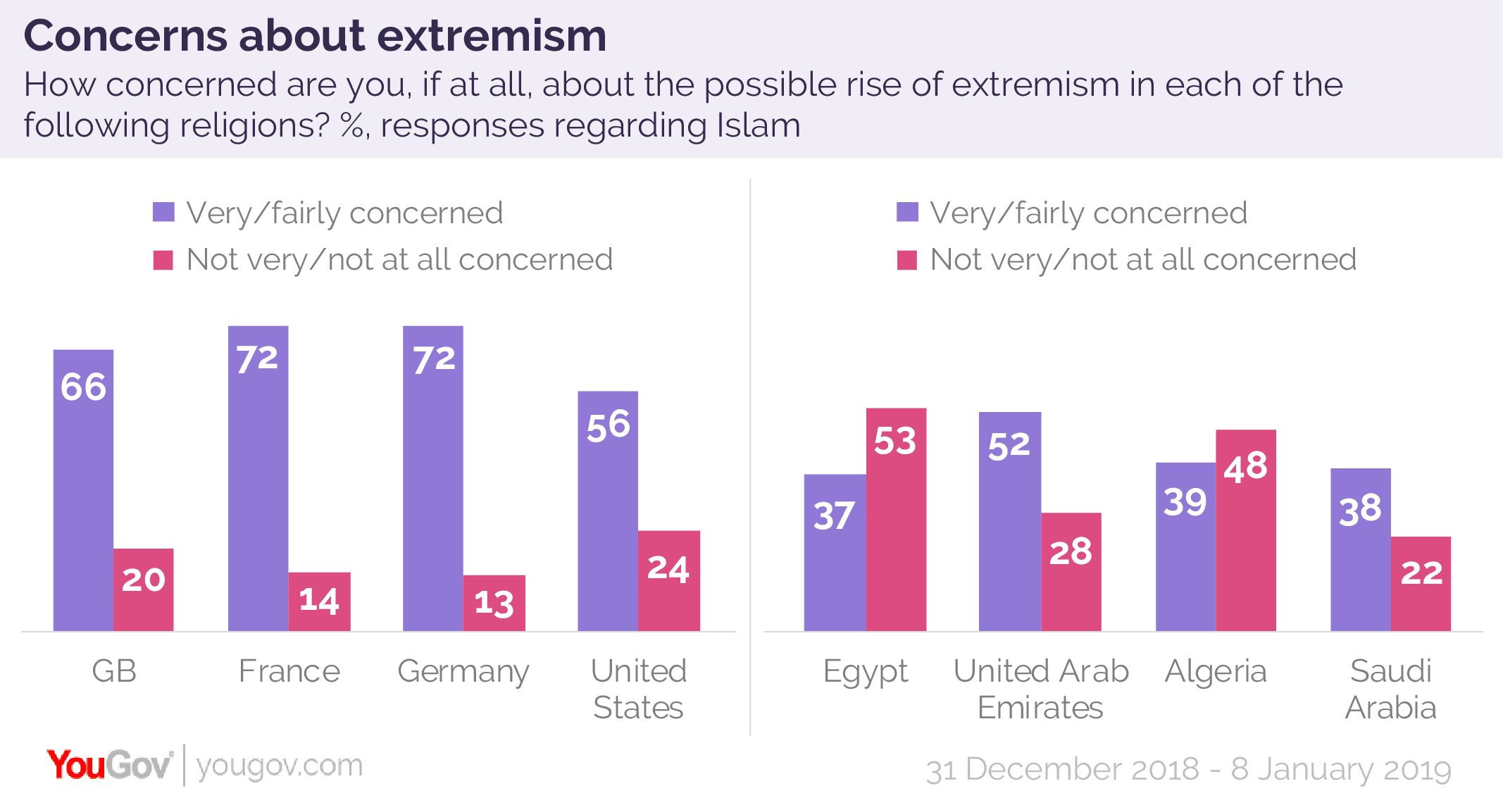 Adida, Laitin, and Valfort sustain, contrary to facts, that "[t]oday's terrorists are therefore not likely to be unemployed and uneducated religious Muslim immigrants fresh off the boat from North Africa or the Middle East. Instead, they tend to come from educated, relatively well-off families, and they often have engineering degrees."
This argument does not hold much weight. As William Kilpatrick explained, "the higher the concentration of Muslims in a given society, the more likely that terrorist attacks will occur." In countries like Hungary, Poland, and the Czech Republic, were the respective governments have decreed or legislated strict immigration laws, therefore having few Muslims, there have hardly been any major terrorist attacks. Whereas in Germany, Belgium, France, and England, where laws on immigration are quite loose, therefore having large Muslim populations, terror attacks have become an almost weekly occurrence.
Lack of Assimilation
The ultimate concern is how Muslim immigrants have been granted flexibility to settle legal issues according to sharia law, as opposed to the law of the land where they are hosted.
In May 2007, the European Parliament published a study entitled Islam in the European Union: What's at Stake in the Future? The document stated that "contrary to an assumption made by many about Muslims, including many Muslims concerning themselves, not all Muslims practice Islam in the same way, and not all Muslims have the same subjective experience of it."
This is true, more so since not all self-professed Muslims are, on a level of faith, are practicing Muslims — it is also important to acknowledge that the internal articulation of the Islamic presence in Europe "an uneven and unfinished process." Nevertheless, despite signs that Muslims are beginning to make recognizable progress in business and academia in countries like France and Germany, many analysts say most of the EU's Muslims are poorly integrated into society: closed ethnic neighborhoods, high crime rates in Muslim communities, calls for use of sharia law in the EU, the wearing of the veil, and other examples as evidence of a conflict with European values.
Already in the UK after 25 years of Muslim immigration, there are 3,000 mosques, 130 Sharia courts, and 50 Muslim Sharia Councils in the country, in addition to the dozens of 'No-Go zones' where 'Sharia' patrols ensure no one disobeys sharia law. In some 'No-Go zones,' host-country authorities are unable or unwilling to provide even basic public aid, such as police, fire fighting and ambulance services, out of fear of being attacked by Muslim gangs that claim control over such areas.
The reason for this is quite simple. It is because of the Quranic doctrine that places a barrier between Muslims and non-Muslims, Islam is considered by the Muslims as a complete civilization that is superior to the European/American one.
Islam is incompatible with Western culture because it is a religion that is intertwined with a socio-political construct in which many Muslims are not willing to make the slightest cultural adaptation. Samuel P. Huntington in his book Clash of Civilizations explained that due to economic modernization and social change, Muslims are separated from longstanding local identities. For them Islam has replaced this gap, which provides a basis for identity and commitment that transcends national boundaries.
The aforementioned July 2 Joint Declaration is important, yet it will take much more to curb the Islamic-sharia ever-increasing campaign if the Judeo-Christian roots are to be preserve preserved. Which "Europe" will prevail? Only time will tell.
__________________________________________________
Mario Alexis Portella is a priest of the Cathedral of Santa Maria del Fiore and Chancellor of the Archdiocese of Florence, Italy. He has a doctorate in canon law and civil law from the Pontifical Lateran University in Rome; he also holds a M. A. in Medieval History from Fordham University, as well as a B.A. in Government & Politics from St. John's University. He is also author of Islam: Religion of Peace? – The Violation of Natural Rights and Western Cover-Up.
Book available on Amazon, Barnes & Noble or WestBow Press.