Criticize Islam: Hate Speech — Criticize Christianity: Freedom of Speech
While the West is preoccupied with fighting hate speech, Islamophobia, and far-right supremacist groups, it seems to have willfully ignored the cultivation of Muslim hate speech and supremacist attitudes toward non-Muslims. This discriminatory movement on the part of Muslims is not a dissent from Islamic teaching but part Quranic doctrine:
Indeed, the vilest of animals in the sight of Allah are those who have disbelieved [kafirs: Jews and Christians]. —Sura 8, 55
Verily, those who disbelieve (in the religion of Islam, the Quran and Prophet Muhammad) from among the people of the Scripture (Jews and Christians) and Al-Mushrikun will abide in the Fire of Hell. They are the worst of creatures. —Sura 98, 6
As Dr. Bill Warner, founder for the Study of Political Islam said: "When I'm called the worst of creatures, does this qualify for hate speech?"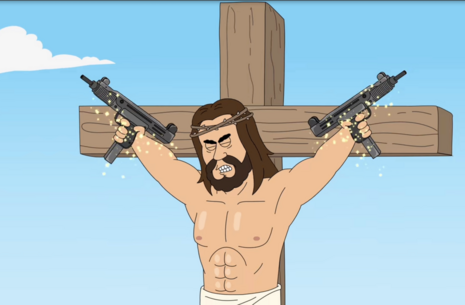 Last week Netflix aired its third season of Paradise P.D. Aside its attack on the Second Amendment and gun owners, the animated series took a blasphemous attack against Christianity, by featuring a video of a gun-wielding Jesus that turns into a porno star. This was is also an incidental derision of Christians everywhere, including those who have been killed and continue to be persecuted by jihadists throughout the world. Yet the blasphemous video was met with a deafening silence by both politically correct politicians and Christian leaders, as well as, Netflix subscribers.
This is a far cry when just over five years ago Muslims killed 12 staff members of Charlie Hebdo magazine in Paris for publishing caricatures of the Prophet Muhammad, or last year's decapitation of Samuel Paty, a history teacher in a suburb of Paris. Paty was beheaded by a Muslim in reaction to a classroom lesson in which he, making a point about the importance of free speech, showed some caricatures of the Prophet to his students.
Pope Francis condemned both attacks as barbarous — but refused to acknowledge that they had anything to do with Islam, notwithstanding the Quranic tenet that calls for the killing of anyone who criticizes or questions Allah, his Prophet, or Islam:
And if you could but see when the wrongdoers are in the overwhelming pangs of death while the angels extend their hands, [saying] "Discharge your souls! Today you will be awarded the punishment of [extreme] humiliation [death] for what you used to say against Allah other than the truth and [that] you were, toward His verses, being arrogant." —Sura 6, 93
Abating Islamophobia while Inciting Anti-Christianity
Most neo-conservative and liberal politicians and Christian leaders (of all denominations), whether they are well-informed about Islam or not, almost instantly either downplay or flatly reject that the hate speech or violent acts committed by Muslims have anything to do with the Islamic texts or their interpretation. They thereby isolate and accuse anyone who raises a concern that there may be a connection between the two as a racist or Islamophobe, to say nothing of those who wholeheartedly say that they are inherently related.
The paradox is that they have been relatively silent when it comes to defending the Christian faith when the same Charlie Hebdo, for example, has printed caricatures mocking Jesus Christ or the Blessed Virgin Mary (and it has done so repeatedly over the years). Hence, we should not be surprised that the Netflix shooting porn-Jesus went uncriticized.
At a joint news conference with Saudi Foreign Minister Adel al-Jubeir in February 2017, UN Secretary General Antonio Guterres, in an apparent effort to appease his Muslim guests, stated: "One of the things that fuel terrorism is the expression in some parts of the world of Islamophobic feelings and Islamophobic policies and Islamophobic speeches."
This type of talk has only aided anti-Semite and Christian-hating inciters, such as Linda Sarsour and Ilhan Omar who have in a Machiavellian manner personified themselves in the media as victims of religious hatred. With the help of philanthropists, such as George Soros, and organizations like the Organization of Islamic Cooperation, the Council of American-Islamic Relations, and the American Civil Liberties Union they have orchestrated conditions through public communications utilizing defensive terminology, thereby classifying Islamophobia as a crime.
According to many Western governments and most mainstream media outlets, such aforementioned Islamists have every right to say and promote hate speech, even if it advocates violence. The ultimate concern, as already highlighted, is that questioning, let alone pointing out, some of the hatred and the call for violence against non-Muslims found in the texts Muslim hold sacred: the Quran and the hadiths of the Prophet Muhammad is automatically identified as unwarranted prejudice against Muslims.
Yet avowed Islamists can openly, and for the most part without any liability, expound their hate speech and incite violence against Jews and Christians, or anyone who does not submit to their sharia-based global campaign — and yes, it is alright to make fun of Jesus so long as it is not the Islamic Jesus. As Robert Spencer points out:
"Netflix would never dare depict Muhammad in anything akin to the obscene way it depicts Jesus in season three of Paradise P.D. The creators of the show would fear for their lives if they did. The sheer magnitude of the global firestorm that would follow would again prove their views wrong about Islam being a religion of peace."
One can at least say that Muslims, despite tending to be more offended by the cartoons of their Prophet than by the Charlie Hebdo killings, will defend their religion. The Grand Imam Al-Azhar Ahmed El-Tayyeb — a personal friend of Pope Francis and a source of inspiration for his latest Encyclical Fratelli tutti — has even called for the drafting of international legislation that would criminalize acts of discrimination and hate directed at Muslims, and has accused those who "justify insulting the prophet of Islam" of hypocrisy. In contrast, Christians and Christian leaders seem not to care enough to protest similar blasphemy when directed against our own religion.
__________________________________________________
Mario Alexis Portella is a priest of the Cathedral of Santa Maria del Fiore and Chancellor of the Archdiocese of Florence, Italy. He has a doctorate in canon law and civil law from the Pontifical Lateran University in Rome; he also holds a M. A. in Medieval History from Fordham University, as well as a B.A. in Government & Politics from St. John's University. He is also author of Islam: Religion of Peace? – The Violation of Natural Rights and Western Cover-Up.
Book available on Amazon, Barnes & Noble or WestBow Press.