Bangladesh Prime minister brazenly supports the machete wielding killers of atheist bloggers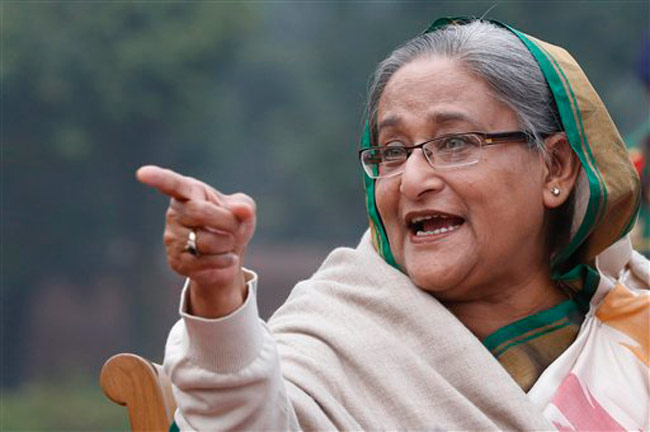 In a recent exchange with the ruling awami league supporters and active leaders, Bangladesh prime minister Sheikh Hasina has brazenly supported the machete wielding killers of Bangladesh atheist bloggers who have already hacked to death at least seven atheist bloggers and publishers of free thinking writers. Many of the bloggers had been hacked to death in open daylight on the streets of Dhaka the capital while the police had been reluctant or incompetent to arrest anyone responsible. The wording of the premier who has been the chief executive of the government since the questionable one party election in earlier 2014, has effectively given the killers a green signal that they can carry on their business and the government will not interfere. "Everyone has to hold their tongue, has to maintain a level of decency in what the write. If they write something provocative and something bad happens, the government will not take responsibility." Translated into understandable language this means, "if someone wants to kill someone because of what the later wrote, the government will do nothing to prevent it"
Talking with the similar minded party workers and leaders the questionably elected premier also opened up and frankly expressed her thought about the recent happenings in the countries websphere.
She was quoted as saying, "If someone writes filthy things about my religion, why should we tolerate it? "
The premier also said, "Recently it has become a fashion to call someone a freethinker who says nasty things about religion. I do not see any free thinking here. All I see is filth."
"Why would they write such nasty things", she asked. "I obey the commandments of my religion, if someone writes bad things about the person whom I obey as my prophet; it would not be acceptable to me. Those who do this only make their filthy mind known to the world" said the premier elected in an election widely viewed as a sham.
The premier, at the end of her speech, retracted a bit though, to her credit. After giving the killers of Bangladesh bloggers at the streets of the country a clear green signal form the government, she said "the government will also not tolerate those who attempt to kill someone just because of what they said", a threat which remain vague and meaningless because of the lack of attempts to bring to justice the killers of bloggers, even a reluctance to vigorous investigation to find commandment network of the killers. This was highly underlined in the case of the death of one Washiqur Babu, who was hacked to death in the streets of Dhaka about a year ago. In contrast with the other killings in his case, a passer-by captured two of the killers and took them to the police. Although interesting clues began to reveal, the government failed to, or as widely held by the public, purposefully abandoned the course of digging deeper into the command network of the killers, for the fear of losing the grip of questionably acquired ruling power for hurting the 'religious feeling' of the mob.
The current government has made numerous concessions and offered many bounties to the religious extremist in an attempt to appease them into reluctance to challenging the government. Bestowing a highly valuable government owned real estate in the port city Chittagong to an extremist religious leader Shafi who has called openly to kill all the atheists of the country and offering such green signals to the killers as above are the tactics the Hasina government has been deploying to cling to state power as long as possible.
(The post is written by Maolana Durer Pakhi)