Assailants hack to death writer Avijit Roy, wife injured
by Ali Sina ·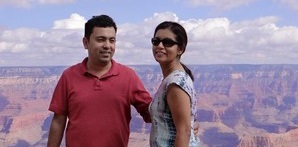 I lost a dear friend.
When I started my online activity exposing Islam back in 1998, I met a group of freethinkers from Bangladesh, who were the first people to open their arms to me and promote my articles. One of them was Ajoy Roy. He had founded a blog called Mukto Mona where we exchanged ideas about freedom, equality, democracy and reason. I never saw his picture until now; and sadly after he has been hacked brutally to death by the enemies of mankind.
Ajoy was a rationalist and claimed not to believe in God. But whether he believed in God or not he is with God. God does not care what we believe, but how we live this life. Ajoy lived an exemplary life of service to humanity. He did everything and gave his life to save his people from the shackles of Islamic savagery. He paid a hefty price. I pray to God that He receives him in His bosom. Please let us all pray for this great man, for the recovery of his wife and his children.
Good bye dear Ajoy. See you soon my brother.
Ali Sina
Unidentified assailants have hacked to death writer Avijit Roy and seriously injured his blogger wife Rafida Ahmed Banna.
Police said the couple came under assault near TSC intersection at Dhaka University around 9:30pm on Thursday.
Witnesses said they were on a rickshaw returning from the Amar Ekushey Book Fair when two attackers stopped it, dragged them onto the footpath and started hacking them.
They were rushed to the Dhaka Medical College and Hospital (DMCH) where doctors declared Avijit dead during an emergency surgery, its police outpost Inspector Mozzamel Haque told bdnews24.com.
DMCH casualty department's Residential Surgeon Riaz Morshed also confirmed bdnews24.com about Avijit Roy's death.
Islamist zealots have been threatening Avijit, a bioengineer and a naturalised US citizen, for his active campaign against Islamist radicals.
Avijit has been a regular bdnews24.com columnist and the founder of popular blog Mukto-mona.
He is the son of well-known physicist Ajay Roy who has taught at Dhaka University for a long time.
Avijit had suffered a deep gash on his head during the assault and Banna lost a finger and suffered cut wounds.
She was still under treatment at DMCH.Two machetes, Banna's severed finger and a bag that possibly belonged to the assailants were recovered from the scene, Shahbagh police Sub-Inspector Sohel Rana said.
He told bdnews24.com: "We found some old folded newspapers inside the bag along with some other things. It seems the machetes were wrapped with the newspapers."
C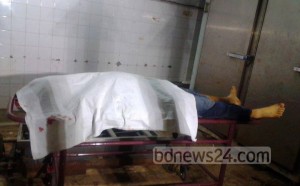 ID officials collected the evidence from the crime scene, he added.
One of the witnesses, a teashop owner in that area, told bdnews24.com that both assailants after carrying out the attack had dumped their weapons at the scene.Then one of them ran towards TSC and the other Suhrawardy Udyan, according to the witness.
Avijit's blogger friends say he was possibly
trapped – some bloggers had invited him to a book fair event.
Police are investigating the lead to track down the culprits.
Avijit Roy is well known for his books 'Biswaser Virus' (Virus of Faith) and 'Sunyo theke Mahabiswa' (From Vacuum to the Great World).
Two of his recent titles had been launched at the ongoing Ekushey Book Fair.
His writing and blogging had evoked the ire of fanatics and he had been regularly threatened.
Thursday's attack bore a striking similarity to the one on legendary writer Humayun Azad in February 2004.
Azad was also returning to home from the Ekushey Book Fair when he was hacked with machetes by radical militants. He later died in Germany while undergoing treatment.
Militants also hacked blogger Ahmed Rajib Haider to death in a similar attack near his home at Dhaka's Mirpur in February 2013.
That was barely 10 days after the secular platform Ganajagaran Mancha started its Shahbagh-based agitation.
Islamist radicals had attacked other secular bloggers like Ashraful Alam and Asif Mohiuddin after the Shahbagh agitation polarised opinions in Bangladesh.
They were demanding capital punishment for war criminals and a ban on communal parties like the Jamaat-e-Islami.
Fanatic blogger Farabi Shafiur Rahman had issued death threats demanding that Rokomari.com, an online shopping portal, stop selling books of Avijit Roy.
Police had arrested Farabi in connection with Rajib Haider's murder, but he managed to secure bail later.